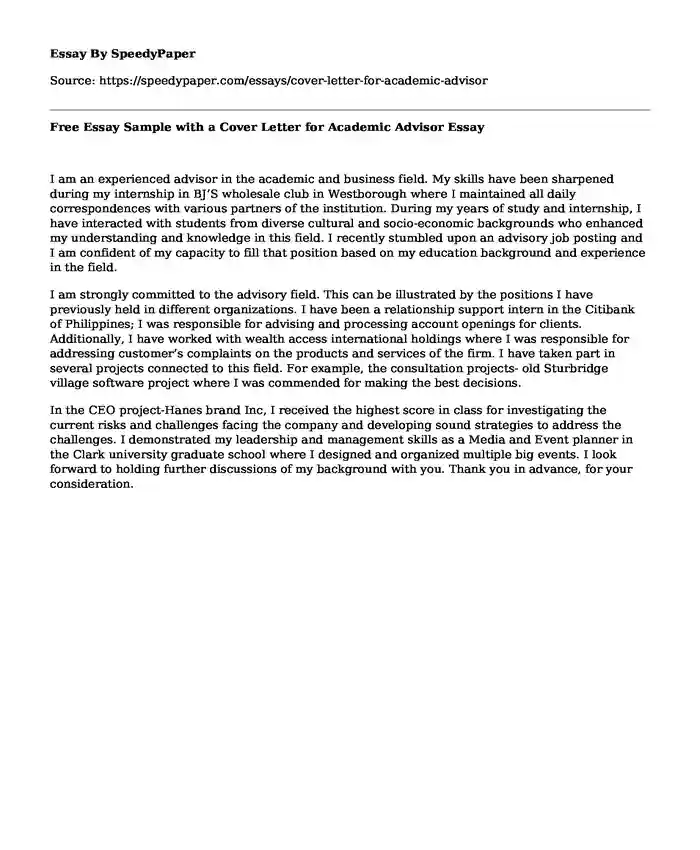 I am an experienced advisor in the academic and business field. My skills have been sharpened during my internship in BJ'S wholesale club in Westborough where I maintained all daily correspondences with various partners of the institution. During my years of study and internship, I have interacted with students from diverse cultural and socio-economic backgrounds who enhanced my understanding and knowledge in this field. I recently stumbled upon an advisory job posting and I am confident of my capacity to fill that position based on my education background and experience in the field.
I am strongly committed to the advisory field. This can be illustrated by the positions I have previously held in different organizations. I have been a relationship support intern in the Citibank of Philippines; I was responsible for advising and processing account openings for clients. Additionally, I have worked with wealth access international holdings where I was responsible for addressing customer's complaints on the products and services of the firm. I have taken part in several projects connected to this field. For example, the consultation projects- old Sturbridge village software project where I was commended for making the best decisions.
In the CEO project-Hanes brand Inc, I received the highest score in class for investigating the current risks and challenges facing the company and developing sound strategies to address the challenges. I demonstrated my leadership and management skills as a Media and Event planner in the Clark university graduate school where I designed and organized multiple big events. I look forward to holding further discussions of my background with you. Thank you in advance, for your consideration.
Cite this page
Free Essay Sample with a Cover Letter for Academic Advisor. (2017, Oct 05). Retrieved from https://speedypaper.com/essays/cover-letter-for-academic-advisor
Request Removal
If you are the original author of this essay and no longer wish to have it published on the SpeedyPaper website, please click below to request its removal: