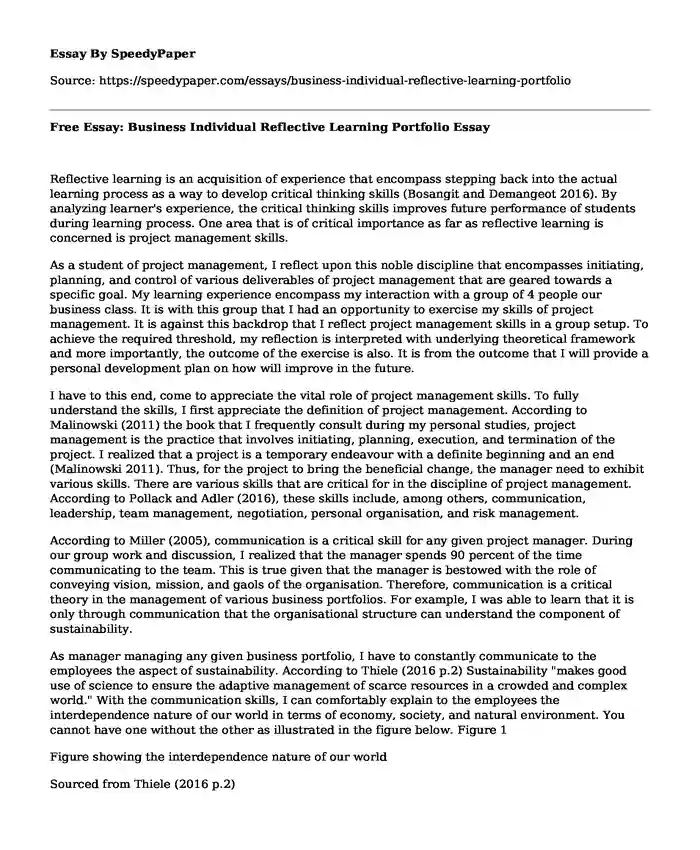 Reflective learning is an acquisition of experience that encompass stepping back into the actual learning process as a way to develop critical thinking skills (Bosangit and Demangeot 2016). By analyzing learner's experience, the critical thinking skills improves future performance of students during learning process. One area that is of critical importance as far as reflective learning is concerned is project management skills.
As a student of project management, I reflect upon this noble discipline that encompasses initiating, planning, and control of various deliverables of project management that are geared towards a specific goal. My learning experience encompass my interaction with a group of 4 people our business class. It is with this group that I had an opportunity to exercise my skills of project management. It is against this backdrop that I reflect project management skills in a group setup. To achieve the required threshold, my reflection is interpreted with underlying theoretical framework and more importantly, the outcome of the exercise is also. It is from the outcome that I will provide a personal development plan on how will improve in the future.
I have to this end, come to appreciate the vital role of project management skills. To fully understand the skills, I first appreciate the definition of project management. According to Malinowski (2011) the book that I frequently consult during my personal studies, project management is the practice that involves initiating, planning, execution, and termination of the project. I realized that a project is a temporary endeavour with a definite beginning and an end (Malinowski 2011). Thus, for the project to bring the beneficial change, the manager need to exhibit various skills. There are various skills that are critical for in the discipline of project management. According to Pollack and Adler (2016), these skills include, among others, communication, leadership, team management, negotiation, personal organisation, and risk management.
According to Miller (2005), communication is a critical skill for any given project manager. During our group work and discussion, I realized that the manager spends 90 percent of the time communicating to the team. This is true given that the manager is bestowed with the role of conveying vision, mission, and gaols of the organisation. Therefore, communication is a critical theory in the management of various business portfolios. For example, I was able to learn that it is only through communication that the organisational structure can understand the component of sustainability.
As manager managing any given business portfolio, I have to constantly communicate to the employees the aspect of sustainability. According to Thiele (2016 p.2) Sustainability "makes good use of science to ensure the adaptive management of scarce resources in a crowded and complex world." With the communication skills, I can comfortably explain to the employees the interdependence nature of our world in terms of economy, society, and natural environment. You cannot have one without the other as illustrated in the figure below. Figure 1
Figure showing the interdependence nature of our world
Sourced from Thiele (2016 p.2)
Team management is another skill that is vital in project management. The skill was evidently demonstrated during group work and discussion. Together with leadership skills, one has to manage the team to lead it to the desired goal. For example, we formed groups from which we discussed the achievement of The Paris Agreement goals and reported back to the class on our findings. Successful presentation was dependent on the cooperation of members within the group. Thus, I concur with Obando's work who points out that skill of team management is disciplined methodology that guides all employees towards a high performance culture in the organisation. Therefore, as a project manager, I can say that team management is a way to manage performance through overall involvement of employees towards defined goal. I have critically illustrated this learning outcome in the figure below.
What is most important / interesting / useful / relevant about the knowledge and skills you have learnt with regards to project management?
How can it be explained e.g. with theory / frameworks / case studies etc.
To this end, I need to grasp the six critical skills of project management. These are communication, team management, negotiation, leadership, personal organisation, and risk management. Through Kolbs learning cycle framework, for instance, concrete experience, reflective observation, abstract conceptualisation, and active experimentation, I was able to relate very well with communication and risk management skills. For example, in regard to risk management skill, I appreciate the role of sustainability in realm of business world.
As a concrete experience, I was able to relate very well with this during group work and case study about global warming rates especially given that 2016 was the warmest year as per the NASA findings. The same also applies to the reduction of the greenhouse gas, for example, reduce the demand for energy by installing Smart Meters, electric cars as a way to minimise emissions from transport industry. Through reflective observation, I related very well with the risk management and the communication skill. For example, through the case study's potential for better communication on Environmental Sustainable Development initiatives, the UCLan's annual event case study provide me with the a reflection on how communicate and manage environmental risk in any given business.
However, I exhibit weakness in the area of negotiation and personal organisation. It has been said that you cannot give what you do not have. As an abstract conceptualisation, I could not get things executed in group work simply because I was not organized well enough to keep things moving in the group work. This is against the definition of project management which as noted in the definition involves execution of plans. Without organisation skills, you can barely execute the project to the required standards.
While I'm good at communication skill, I did not perform very in negotiation skills. I realized that a lot of communication has to do with negotiating with other group members on what is required. According to Obando, communication skill is vital for any given manager because it entails negotiating the resources, budget and other variety of aspects that cannot be avoided in project management. To this end, therefore, I learnt that negotiation is critical component that one cannot do without and is the key to a successful project manager. My poor performance was demonstrated further in group when I was not able to agree with the group on the required resources and scope to execute the assignment. It was after this bad encounter that I came across the book by Roger Fisher and William Ury about "Getting to Yes: Negotiating Agreement Without Giving In". This cycle of learning is referred by Kolbs as active experimentation. The book illustrates negotiations work and how to learn about this unavoidable skill. From the limitation in the skills, knowledge and experience, I decided to form what is referred to as personal development plan. This present an opportunity for me to perform well in the future.
Personal Development Plan
Personal development plan encompass a person, in this case myself as a learner going through cycle of learning experiences as demonstrated in the Kolb theory of experiential learning cycle. In this plan, I will continually develop and refine skills by frequently reflecting upon my learning experience. Thus, the planning development plan can play a critical role in my academic, personal as well as career progression. The reason I'm happy about the personal development plan is the fact that according to Obando, it will help look at my own progression and more fundamentally, enable me to assess my skills and and record achievements.
Record of Achievements (RoA) has an important role within PDP, as this profile/recording progress provides the means for students to improve their skills through RoA, it allows individuals to relate to the learning experiences, to review and reflect upon their learning experiences. This process gradually develops students to be aware of their skills, which initially gives them more confidence. This is achieved through reflecting and reviewing learning experiences that help students make targets and actions plans within profiling. By profiling it turns reflecting into a learning process, learning from experiences.
The Star Technique
Situation As the part of the 2nd year Business Module, I was selected to lead group of 4.
Task To work in groups of 4 students and produce a 4,000 words report which examines the potential for better communication on Environmental Sustainable Development initiatives
Action As a team leader, I had to engage in effective communication and negotiation to find the best way to write the report and make both member in the group to cooperate for the success of the group
Result we submitted the assignment on time and became the second best group in the class
Reflect I learnt about leadership, team management, risk management, and negotiation skills
References
Bosangit, C. and Demangeot, C. 2016. Exploring reflective learning during the extended consumption of life experiences. Journal of Business Research, 69(1), pp.208-215.
Clenney, E., Maurer, T. and Miles, E. 2013. Becoming a Negotiator: A Proposed Negotiation Skill Development Complexity Model. Academy of Management Proceedings, 2013(1), pp.11509-11509.
Fisher, R., Ury, W., Patton, B. and Fisher, R. 2008. Getting to yes. Bensenville, IL: Learning Communications.
Horsburgh, K., Williams, J., Flowerdew, J. and Mylne, K. 2008. Aspects of operational forecast model skill during an extreme storm surge event. Journal of Flood Risk Management, 1(4), pp.213-221.
Ingason, H. and Jonasson, H. 2009. Contemporary knowledge and skill requirements in project management. Project Management Journal, 40(2), pp.59-69.
Kolb, D. 1984. Experimental learning. Englewood Cliffs: Prentice-Hall.
Malinowski, M. 2011. Essential project management skills. Project Management Journal, 42(2), pp.94-94.
Miller, K., 2005. Communication Theories: Perspectives, processes, and contexts. 2nd edition. New York: McGraw-Hill.
Payne, E. and Whittaker, L. 2006. Developing essential study skills. Harlow: FT Prentice Hall.
Pollack, J. and Adler, D. 2016. Skills that improve profitability: The relationship between project management, IT skills, and small to medium enterprise profitability. International Journal of Project Management, 34(5), pp.831-838.
Wills, K., and Clerkin, T. 2009. Incorporating Reflective Practice Into Team Simulation Projects for Improved Learning Outcomes. Business Communication Quarterly, 72(2), pp.221-227.
Wysocki, R.,K., 2013. Effective Project Management: Traditional, Adaptive, Extreme (Seventh Edition). John Wiley & Sons.
Cite this page
Free Essay: Business Individual Reflective Learning Portfolio. (2022, May 09). Retrieved from https://speedypaper.com/essays/business-individual-reflective-learning-portfolio
Request Removal
If you are the original author of this essay and no longer wish to have it published on the SpeedyPaper website, please click below to request its removal: