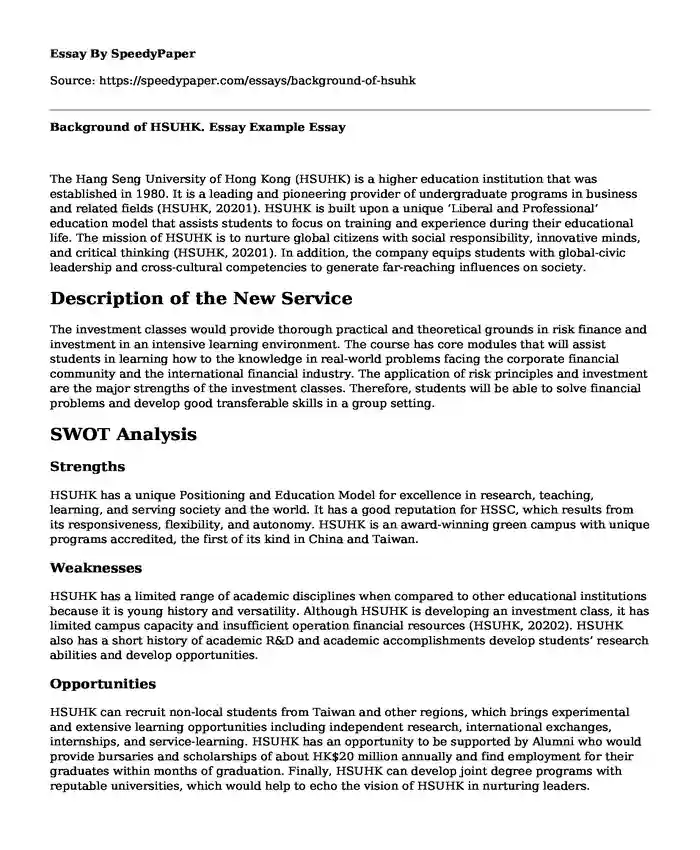 The Hang Seng University of Hong Kong (HSUHK) is a higher education institution that was established in 1980. It is a leading and pioneering provider of undergraduate programs in business and related fields (HSUHK, 20201). HSUHK is built upon a unique 'Liberal and Professional' education model that assists students to focus on training and experience during their educational life. The mission of HSUHK is to nurture global citizens with social responsibility, innovative minds, and critical thinking (HSUHK, 20201). In addition, the company equips students with global-civic leadership and cross-cultural competencies to generate far-reaching influences on society.
Description of the New Service
The investment classes would provide thorough practical and theoretical grounds in risk finance and investment in an intensive learning environment. The course has core modules that will assist students in learning how to the knowledge in real-world problems facing the corporate financial community and the international financial industry. The application of risk principles and investment are the major strengths of the investment classes. Therefore, students will be able to solve financial problems and develop good transferable skills in a group setting.
SWOT Analysis
Strengths
HSUHK has a unique Positioning and Education Model for excellence in research, teaching, learning, and serving society and the world. It has a good reputation for HSSC, which results from its responsiveness, flexibility, and autonomy. HSUHK is an award-winning green campus with unique programs accredited, the first of its kind in China and Taiwan.
Weaknesses
HSUHK has a limited range of academic disciplines when compared to other educational institutions because it is young history and versatility. Although HSUHK is developing an investment class, it has limited campus capacity and insufficient operation financial resources (HSUHK, 20202). HSUHK also has a short history of academic R&D and academic accomplishments develop students' research abilities and develop opportunities.
Opportunities
HSUHK can recruit non-local students from Taiwan and other regions, which brings experimental and extensive learning opportunities including independent research, international exchanges, internships, and service-learning. HSUHK has an opportunity to be supported by Alumni who would provide bursaries and scholarships of about HK$20 million annually and find employment for their graduates within months of graduation. Finally, HSUHK can develop joint degree programs with reputable universities, which would help to echo the vision of HSUHK in nurturing leaders.
Threats
HSUHK is under stiff competition in the market as it is up against reputable companies with long histories of academic excellence and performance. HSUHK if facing the uncertain economy amid COVID-19 infections that have affected government policies and fundraising. Finally, HSUHK is facing funding concerns because there is no level playing field for research funding for its projects in the local self-financing degree-granting institutions (HSUHK, 20202).
Marketing Objectives
The major marketing objectives are:
To promote an interdisciplinary and student-centered curriculum with academic flexibility, innovations and rigour.
Enhance student's employability by strengthening the programme with technology and innovation.
Substantiate the pursuit of academic excellence by fostering inclusive, collaborative, multi-disciplinary, and creative teaching and learning.
Increase enrollment and improve marketing
Target market
The target market is audiences such as high school students, government, and nonprofit agencies, employees in business, and returning students who wish to earn a college degree in finance and investment or who wish to complete lower-division transfer requirements. However, the targeted students are from
Marketing mix strategy (7Ps)
The marketing mix will provide a comparative advantage in the market.
Product: The product includes a course in finance and investment and services. Students are expected to understand and rank investments based on the expected returns and risk, identify and describe Acts on investment in China for investors, corporate management, and auditors, and calculate the return on investment.
Price: Price is part of the tuition fees for the services offered. Price will determine HSUHK's income and profit and the value that the services offered have on the students. Therefore, the price will inform customers about what to expect in terms of quality and cost (Saidani & Sudiarditha, 2019). Therefore, the tuition fees for the students of 2020/21 cohort is as outlined in the table below:
Place: The service product will be offered at HSUHK in Siu Lek Yuen, Sha Tin, New Territories.
Promotion: Promotion includes most methods of communication in the market through sales promotion, personal selling activities and advertisement (Saidani & Sudiarditha, 2019).. Advertisement will be carried out on the HSUHK website, and through online educational opportunities.
People: People is a critical element that define the service. Students who will be enrolled in the programme will define the service and they would make or break the success of the new venture.
Process: Process determine how the service will be delivered (Saidani & Sudiarditha, 2019). Lecturers will be available to deliver the course through lecturing, workshops and sharing modules and materials to impart investment and finance skills to the students.
Physical Evidence: This involves the physical environment in HSUHK where students will interact and other tangible evidences such as classroom that will facilitate communication and performance of the service product (Saidani & Sudiarditha, 2019). The tangible evidences will involve books, reports, articles and other learning materials that send strong messages on the purpose of the Investment classes.
Budget
The following is a list of the budget which involves advertisements through the radio, newspapers and television.
Advertisements Budget
Newspaper $8,000 yearly in newspapers
Television A$20,000 a year contract in TV
Radio $8,000 yearly contract with radio
Total $36,000
Control
To maximize the returns, controls will be implemented to monitor the progress of the plan. Changes will be made according to the assessment of the control measures. For example, SUHK will monitor students' feedback, target market sales including profit amount or revenue generated, budget and monitoring spending, and market share milestones.
References
HSUHK. ( 2020, May 7). HSUHK Pioneers the Establishment of Honours Academy to Nurture Future Leaders. Retrieved from https://www.hsu.edu.hk/en/hsuhk-pioneers-the-establishment-of-honours-academy-to-nurture-future-leaders/

HSUHK. ( 2020). The Hang Seng University of Hong Kong Retrieved from https://www.hsu.edu.hk/en/about-hsuhk/introduction/

Saidani, B., & Sudiarditha, I. K. R. (2019). Marketing Mix-7ps: The Effect on Customer Satisfaction. Jurnal Pendidikan Ekonomi Dan Bisnis (JPEB), 7(1), 72-86. http://journal.unj.ac.id/unj/index.php/jpeb/article/view/9844
Cite this page
Background of HSUHK. Essay Example. (2023, Jul 31). Retrieved from https://speedypaper.com/essays/background-of-hsuhk
Request Removal
If you are the original author of this essay and no longer wish to have it published on the SpeedyPaper website, please click below to request its removal: