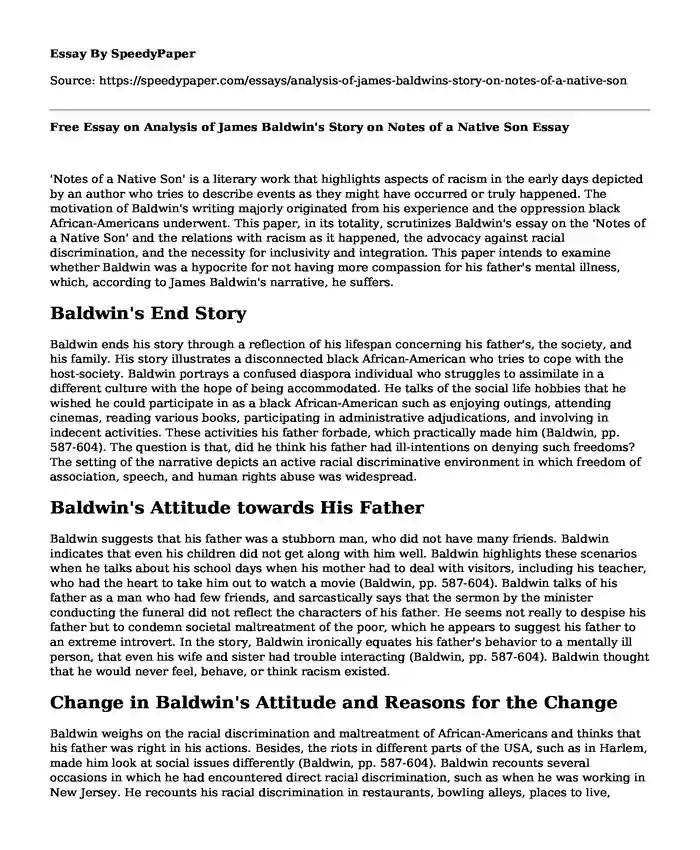 'Notes of a Native Son' is a literary work that highlights aspects of racism in the early days depicted by an author who tries to describe events as they might have occurred or truly happened. The motivation of Baldwin's writing majorly originated from his experience and the oppression black African-Americans underwent. This paper, in its totality, scrutinizes Baldwin's essay on the 'Notes of a Native Son' and the relations with racism as it happened, the advocacy against racial discrimination, and the necessity for inclusivity and integration. This paper intends to examine whether Baldwin was a hypocrite for not having more compassion for his father's mental illness, which, according to James Baldwin's narrative, he suffers.
Baldwin's End Story
Baldwin ends his story through a reflection of his lifespan concerning his father's, the society, and his family. His story illustrates a disconnected black African-American who tries to cope with the host-society. Baldwin portrays a confused diaspora individual who struggles to assimilate in a different culture with the hope of being accommodated. He talks of the social life hobbies that he wished he could participate in as a black African-American such as enjoying outings, attending cinemas, reading various books, participating in administrative adjudications, and involving in indecent activities. These activities his father forbade, which practically made him (Baldwin, pp. 587-604). The question is that, did he think his father had ill-intentions on denying such freedoms? The setting of the narrative depicts an active racial discriminative environment in which freedom of association, speech, and human rights abuse was widespread.
Baldwin's Attitude towards His Father
Baldwin suggests that his father was a stubborn man, who did not have many friends. Baldwin indicates that even his children did not get along with him well. Baldwin highlights these scenarios when he talks about his school days when his mother had to deal with visitors, including his teacher, who had the heart to take him out to watch a movie (Baldwin, pp. 587-604). Baldwin talks of his father as a man who had few friends, and sarcastically says that the sermon by the minister conducting the funeral did not reflect the characters of his father. He seems not really to despise his father but to condemn societal maltreatment of the poor, which he appears to suggest his father to an extreme introvert. In the story, Baldwin ironically equates his father's behavior to a mentally ill person, that even his wife and sister had trouble interacting (Baldwin, pp. 587-604). Baldwin thought that he would never feel, behave, or think racism existed.
Change in Baldwin's Attitude and Reasons for the Change
Baldwin weighs on the racial discrimination and maltreatment of African-Americans and thinks that his father was right in his actions. Besides, the riots in different parts of the USA, such as in Harlem, made him look at social issues differently (Baldwin, pp. 587-604). Baldwin recounts several occasions in which he had encountered direct racial discrimination, such as when he was working in New Jersey. He recounts his racial discrimination in restaurants, bowling alleys, places to live, among other joints that he was forced to leave, silently, or with related insults because of his color. Baldwin recounts his dismissal from several places because of his race. However, Baldwin concludes that he might have hated his father for no reason (Baldwin, pp. 587-604). The events that preceded his father's death had caused him to change his attitude towards his father. Baldwin eventually recalls his youthful days when he enjoyed the company of his father, how his father loved his mother, his grin when he was happy. Baldwin notices that his father was never cruel.
Baldwin's Last Night in New Jersey
Baldwin had gone out with a white friend to watch a movie in Trenton. He recalls that his friend had saved him from whipping. The counterman never served him because, in that very restaurant, they did not serve Negroes. Baldwin encountered racial discrimination, which made him hate whites. His actions demonstrate a man full of hate and highly angered at the events that occurred to him. He narrates the circumstances in which he went to the next restaurant, but what he could feel was hatred for white people, including the waitress (Baldwin, pp. 587-604). His anger was so intense that violent thoughts overwhelmed him. Baldwin, in his wrath and full of contempt for white people, tries to assault the waitress with an ordinary water mug. The character narrates that he felt his life was in danger from the hatred he harbored in his heart. He wanted to commit murder.
Baldwin's writing About Opposites and Hatred
Baldwin writes about opposites when he talks about his father's death and the birth of their last born. He also narrates how they waited for the end of their father, and the arrival of the newborn while in Detroit, one of the bloodiest race riots, was taking place. Baldwin also talks about his father as a bitter man but asserts that his father had a crushing charm. The author also argues that his father claimed to be proud of his color. However, race caused him a lot of misery.
Baldwin mentions hate when suggest that they had nothing to be stolen, hence hated his father for denying freedom to invite his friends over to their house (Baldwin, pp. 587-604). Baldwin also demonstrates hatred that his father had for whites when he asserts that his father was trapped in terror because his children had reached out to the world that had despised him, which made hate and fear everyone. The author writes about opposites when Baldwin illustrates his father's attitudes and feelings as a man of courage, but ludicrously stiff. Besides, he notes that his father's voice was harsh but vindictively polite. Although his father hated whites, when they were desperate, Baldwin had to accept assistance from Baldwin's white teacher. Baldwin notes that he hated his father and came to hate whites because of what happened to him in New Jersey (Baldwin, pp. 587-604). The incident at New Jersey actively portrays the adverse effects of hatred.
Baldwin's hate for his father, as is illustrated in the story, shows a character who, in his youthful stage, did not comprehend the social issues that disturbed his father. He thought that his father was bitter, antisocial, and cruel to his neighbors and even his children. As Baldwin grew and got exposed to the world, he realized that also he had to battle the social injustice of racial discrimination. His father's behavior outweighed his reasoning, making not to think of any positive attributes if his father. The last sentence is a nostalgic memory of what Baldwin's father had always fought for in his entire life, equality, and fair treatment of all races. Baldwin recalls the days when his father had been beside him and taught him the bible, encouraged his singing and preaching, and talked to him about social issues affecting the society (Baldwin, pp. 587-604). This examination of this paper concludes that Baldwin had been hypocritical for not having more compassion for his father's mental illness. The mental illness of his father resulted from the inability to provide for his family. Besides, racial discrimination resulted in his isolation, and the failure of his family to be compassionate during those moments.
Work Cited
Baldwin, James. Notes of a Native Son. Penguin UK, 2017. Retrieved from http://www2.csudh.edu/ccauthen/570f15/baldwin.pdf. pp. 587-604
Cite this page
Free Essay on Analysis of James Baldwin's Story on Notes of a Native Son. (2023, Mar 29). Retrieved from https://speedypaper.com/essays/analysis-of-james-baldwins-story-on-notes-of-a-native-son
Request Removal
If you are the original author of this essay and no longer wish to have it published on the SpeedyPaper website, please click below to request its removal: