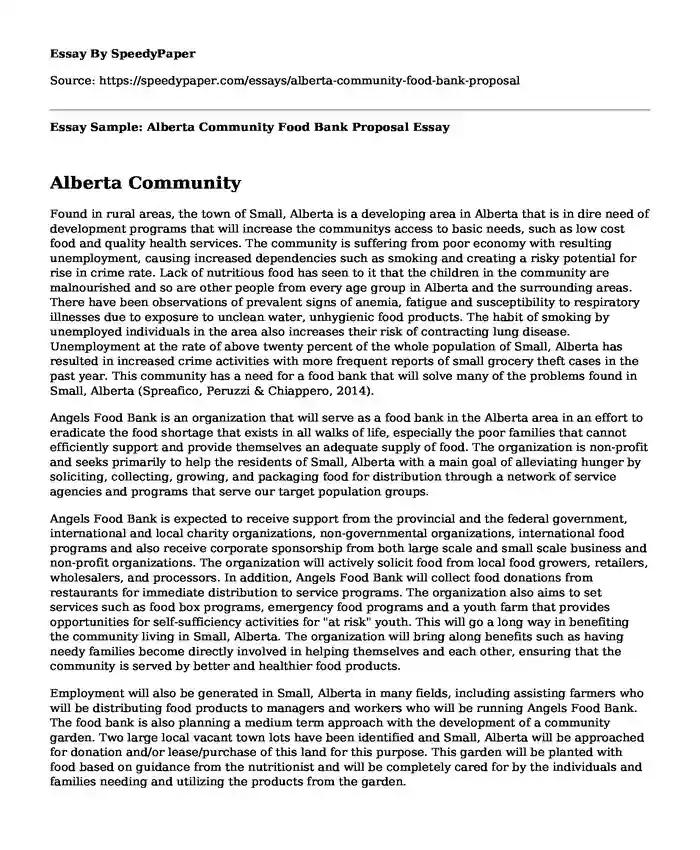 Alberta Community
Found in rural areas, the town of Small, Alberta is a developing area in Alberta that is in dire need of development programs that will increase the communitys access to basic needs, such as low cost food and quality health services. The community is suffering from poor economy with resulting unemployment, causing increased dependencies such as smoking and creating a risky potential for rise in crime rate. Lack of nutritious food has seen to it that the children in the community are malnourished and so are other people from every age group in Alberta and the surrounding areas. There have been observations of prevalent signs of anemia, fatigue and susceptibility to respiratory illnesses due to exposure to unclean water, unhygienic food products. The habit of smoking by unemployed individuals in the area also increases their risk of contracting lung disease. Unemployment at the rate of above twenty percent of the whole population of Small, Alberta has resulted in increased crime activities with more frequent reports of small grocery theft cases in the past year. This community has a need for a food bank that will solve many of the problems found in Small, Alberta (Spreafico, Peruzzi & Chiappero, 2014).
Angels Food Bank is an organization that will serve as a food bank in the Alberta area in an effort to eradicate the food shortage that exists in all walks of life, especially the poor families that cannot efficiently support and provide themselves an adequate supply of food. The organization is non-profit and seeks primarily to help the residents of Small, Alberta with a main goal of alleviating hunger by soliciting, collecting, growing, and packaging food for distribution through a network of service agencies and programs that serve our target population groups.
Angels Food Bank is expected to receive support from the provincial and the federal government, international and local charity organizations, non-governmental organizations, international food programs and also receive corporate sponsorship from both large scale and small scale business and non-profit organizations. The organization will actively solicit food from local food growers, retailers, wholesalers, and processors. In addition, Angels Food Bank will collect food donations from restaurants for immediate distribution to service programs. The organization also aims to set services such as food box programs, emergency food programs and a youth farm that provides opportunities for self-sufficiency activities for "at risk" youth. This will go a long way in benefiting the community living in Small, Alberta. The organization will bring along benefits such as having needy families become directly involved in helping themselves and each other, ensuring that the community is served by better and healthier food products.
Employment will also be generated in Small, Alberta in many fields, including assisting farmers who will be distributing food products to managers and workers who will be running Angels Food Bank. The food bank is also planning a medium term approach with the development of a community garden. Two large local vacant town lots have been identified and Small, Alberta will be approached for donation and/or lease/purchase of this land for this purpose. This garden will be planted with food based on guidance from the nutritionist and will be completely cared for by the individuals and families needing and utilizing the products from the garden.
Angels food bank will also bring food services closer to the rural area seeing as the closest urban area is a four hour drive from Small, Alberta. In addition to the donated food, the food bank will be coordinating a weekly bulk purchase trip to the nearest urban areas. This trip will purchase needed foods for the food bank with the small spending allocation they have through donated funds. In addition, individuals struggling with tight finances will be able to purchase items at a net lesser cost than some of the more expensive local providers offer.
In combination with the support groups developed by the local health authority, the individual and group counseling provided by the nutritionist and the individual and group assistance of the volunteer accountant, the affected individuals and families will be able to address both their nutritional status as well as their financial and emotional status. Self-dependency and provision of employment shall gradually reduce and even possibly halt the rise of theft in grocery stores. It shall also provide adequate balanced diet to the population, in addition to the educational support from the nutritionist and is expected to reduce the potential of disease caused by lack of proper nutrition including anemia and also fatigue.
Objectives of Angels Food Bank
Help families become self-sufficient and support themselves in acquiring basic needs.
Provide healthy food products to the community.
Establish donation network of local growers, retailers, wholesalers, and processors in Alberta area.
Organization summary
Angels Food Bank is an initiative started by the local group of farmers and businessmen, affected individuals and families and community volunteers. The organization focuses on identifying and utilizing resources for food in the county in order to eliminate hunger among low-income individuals and families in the area. The group coordinates volunteers and users of the service in order for them to work together to obtain and distribute free or inexpensive food, guidance to access financial, nutritional, social and health related services. It will perform tasks such as:
Increasing the availability of nutritious food
Increasing the ability of the town to make healthy choices
Improve the overall mindset of the community.
Start-up summary
This organization was based in the interaction of three models; Vollman, Anderson and McFarlane identify the models that serve as a framework for this proposal. The first of these models is identified by the Honourable Jake Epp, Minister of Health and Welfare, 1986 published by the government of Canada in A Framework for Health Promotion in Canada (Vollman et all p 8, 9 and figure 1.1). The second model was developed by the Ottawa Charter for Health Promotion using different terminology, and addresses similar aspects that need to be addressed in this proposal. The third is Hamilton and Bhattis (1996) model, which also incorporates the previously mentioned attributes.
The team to initially run this organization includes community leaders, representatives from the local health team and the volunteer nutritionist. The organizations startup costs have been significantly minimalized by a local accountant who also volunteered to sit down with each family, as well as the local businesses and various credit agencies, to develop a long term approach to pay. The local community center has volunteered a large room for the families to use as an exchange/donation room; a nutritionist and a local farmer have also offered their assistance in choosing which vegetables to grow, as well as providing help with canning and preserving once the lots are able to be harvested. Local farmers and other organizations have been approached and agreed to donations of a modest amount of fruit, a vacant building for the food bank and a small stipend to assist with purchasing food. The local government has agreed to waive property taxes for the value of the building which the owner has agreed to use toward operational expenses relating to the building (utilities etc.). Charitable organizations from a radius around the town will be provided with a list of best nutritional items to donate.
Publicity
Angels food bank will depend primarily on the effort of the beneficiaries and the community as a whole to publicize the organization to more donors and charitable organization, while individuals are selected for the purpose of communication to businesses, nongovernmental organizations and other government organizations for assistance in sustaining the food bank.
The proposed budget
$1,000Initial employment.$50,000Acquisition of land for food product growth and purchase.Totaling $51,000
The above solutions help lay a foundation, however the most critical factor is of course the availability of food. Short term and long term solutions for the challenge of food availability have also been addressed in this proposal. Success of the food bank, as well as the improvement of the nutritional status of Small, Alberta, is predicated on the active participation of the individuals and families requiring the support of the food bank. The participation of the nutritionist and accountant for education and support relating to nutrition and finances assists these individuals and families in feeling more positive and supported in their struggles. This is based on an assumption that the economic/unemployment situation in the town will not be resolved quickly.
References
College & Association of Registered Nurses of Alberta. (2008, September). Primary health care. Italicize titleRetrieved August 28, 2015add comma from http://www. nurses.ab.ca/content/dam/carna/pdfs/DocumentList/Guidelines/PrimaryHealthCare_Sep2008.pdf
Hamilton, N., & Bhatti, T. (1996). Population health promotion: An integrated model of population health and health promotion. Retrieved August 28, 2015 from Public Health Agency of Canada Web site: http://www.phac-aspc.gc.ca/ph-sp/php-psp/index-eng.php
Heaney, L.add comma & Holyk T. (2008). Proposal Writing for Health Communities Workbook. Retrieved September 1, 2009 from http://cahr.uvic.ca/nearbc/documents/2010/Appendix%20C%20Proposal%20Writing%20Workbook%20-%20Final%202008.pdf
Ontario Health Communities Coalition Strategies for Effective Proposal Writing. Retrieved September 1, 2015 from http://www.ohcc-ccso.ca/en/webfm_send/186
Public Health Agency of Canada. (1986). Ottawa charter for health promotion: An international conference on health promotion. Retrieved August 28, 2015 from http://www.phac-aspc.gc.ca/ph-sp/docs/charter-chartre/pdf/charter.pdf
Service Canada, (date) Managing Your Debt, modified January 27, 2015 Retrieved September 6, 2015, from http://www.servicecanada.gc.ca/eng/lifeevents/debt.shtml
Spreafico, A. M. C., Peruzzi, A. D., & Chiappero, E. (2014). Youth unemployment in the EU15: regional and national inequalities throughout the 2008 economic crisis. Economics and Business Letters, 3(3), 177-190.
Stamler, L. L., & Yiu. L. (Eds.). (2012). Community health nursing: A Canadian perspective (3nd ed.). Toronto: Pearson/Prentice Hall. Watch spelling of the abbreviation 3rd
Vollman, A. R., Anderson, E. T., & McFarlane, J. (2012). Canadian community as partner: Theory and practice in nursing (3nd ed.). Philadelphia: Wolters Kluwer | Lippincott Williams & Wilkins.
World Health Organization: Preamble to the Constitution of the World Health Organization as adopted by the International Health Conference, New York, 19-22 June, 1946; signed on 22 July 1946 by the representatives of 61 States (Official Records of the World Health Organization, no. 2, p. 100) and entered into force on 7 April 1948. Retrieved August 28, 2015 from "http://www.who.int/suggestions/faq/en/" \t "_blank" http://www.who.int/suggestions/faq/en/
Reference tips
References must provide the information necessary for a reader to locate and retrieve any source that is cited in the body of the paper. Each reference contains the following elements: author, year of publication, title and publishing data all the information necessary for a unique identification. (APA, 2010, ) Note when referencing electronic references that the url address takes place of the publishing location and the publisher when no doi is available. -A Web Document -Include author or organization first, and...
Cite this page
Essay Sample: Alberta Community Food Bank Proposal. (2020, Jun 10). Retrieved from https://speedypaper.com/essays/alberta-community-food-bank-proposal
Request Removal
If you are the original author of this essay and no longer wish to have it published on the SpeedyPaper website, please click below to request its removal: