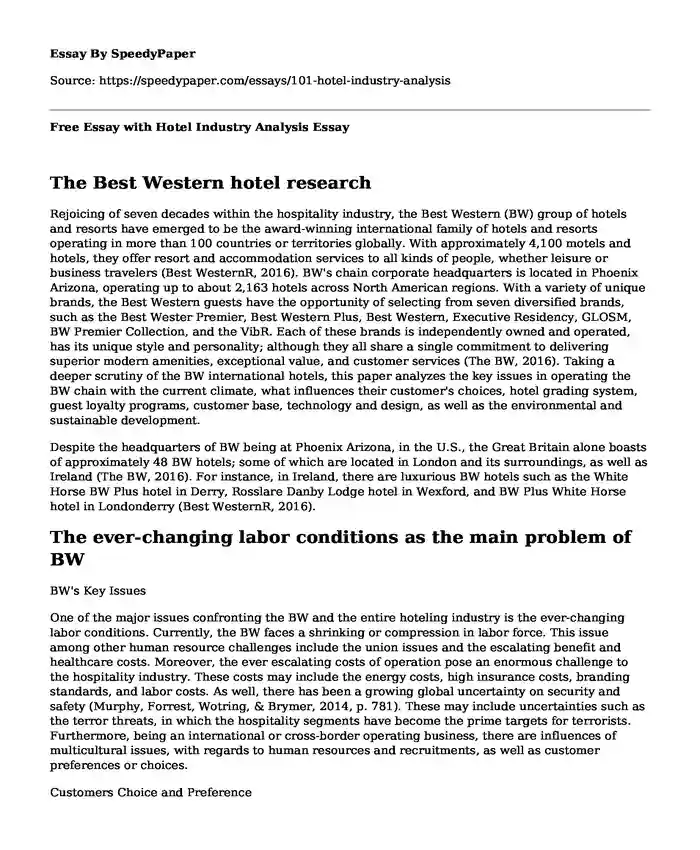 The Best Western hotel research
Rejoicing of seven decades within the hospitality industry, the Best Western (BW) group of hotels and resorts have emerged to be the award-winning international family of hotels and resorts operating in more than 100 countries or territories globally. With approximately 4,100 motels and hotels, they offer resort and accommodation services to all kinds of people, whether leisure or business travelers (Best WesternR, 2016). BW's chain corporate headquarters is located in Phoenix Arizona, operating up to about 2,163 hotels across North American regions. With a variety of unique brands, the Best Western guests have the opportunity of selecting from seven diversified brands, such as the Best Wester Premier, Best Western Plus, Best Western, Executive Residency, GLOSM, BW Premier Collection, and the VibR. Each of these brands is independently owned and operated, has its unique style and personality; although they all share a single commitment to delivering superior modern amenities, exceptional value, and customer services (The BW, 2016). Taking a deeper scrutiny of the BW international hotels, this paper analyzes the key issues in operating the BW chain with the current climate, what influences their customer's choices, hotel grading system, guest loyalty programs, customer base, technology and design, as well as the environmental and sustainable development.
Despite the headquarters of BW being at Phoenix Arizona, in the U.S., the Great Britain alone boasts of approximately 48 BW hotels; some of which are located in London and its surroundings, as well as Ireland (The BW, 2016). For instance, in Ireland, there are luxurious BW hotels such as the White Horse BW Plus hotel in Derry, Rosslare Danby Lodge hotel in Wexford, and BW Plus White Horse hotel in Londonderry (Best WesternR, 2016).
The ever-changing labor conditions as the main problem of BW
BW's Key Issues
One of the major issues confronting the BW and the entire hoteling industry is the ever-changing labor conditions. Currently, the BW faces a shrinking or compression in labor force. This issue among other human resource challenges include the union issues and the escalating benefit and healthcare costs. Moreover, the ever escalating costs of operation pose an enormous challenge to the hospitality industry. These costs may include the energy costs, high insurance costs, branding standards, and labor costs. As well, there has been a growing global uncertainty on security and safety (Murphy, Forrest, Wotring, & Brymer, 2014, p. 781). These may include uncertainties such as the terror threats, in which the hospitality segments have become the prime targets for terrorists. Furthermore, being an international or cross-border operating business, there are influences of multicultural issues, with regards to human resources and recruitments, as well as customer preferences or choices.
Customers Choice and Preference
Consumer or customer decision-making on choice or preference is greatly influenced by the products or services offered, shared information, or personal experience. BWts customers in Ireland and elsewhere, would thereby make their decisions depending on the quality of products and/or services offered at different hotels, such as food quality, breakfast, room space and cleanliness, as well as comfort and the freshness of surrounding environment (Enz & Siguaw, 2009, p. 766). Other guests would make their decision or preference depending on their previous experience in a given hotel, or simply the information they received from and friend or colleague who had once used the services.
The Best Western hotel loyalty programs
Hotel Grading System
The BW charges its franchised hotels a rate that is determined by the initial costs plus the revenues accrued from every additional room or hoteling segment. Moreover, the BW published a list of standards annually, which every hotel (franchisee) must uphold or adhere to. The hotels keep their independent identities but are obliged to use the BW's signage. There are three progressive levels at BW depending on the amenities, features, and types of services offered. These level include Best Western, Best Western Plus, and finally Best Western Premier. The first level (Best Western) simply have the hotel basics such as free local calls, in-room coffee makers, free breakfast, free Wi-Fi, and cable television among others. The BW Plus level has the all the amenities of BW but with additional facilities or services such as swimming pool, fitness room, onsite laundry room, and business room (The BW, 2016). Finally, the Premier level has all the amenities of Plus but with extra onsite dining, premium towels and bath materials, high-quality finishing, meeting rooms, onsite snack shops, and LCD TV with HD channels.
Guest Loyalty Programs
Being a broadly diversified business, the BW, through their loyalty programs, offers some benefits to help uphold their customers loyalty. These extra services or activities may include plenty of free night awards, free parking, complimentary breakfasts, VIP event tickets, golf clubs, a guarantee of early check-in, as well as customer frequency grading. As well, the BW management regularly offer different rewards to their frequent or loyal customers, which are often aired to the public via corporate adverts and annual reports (BWR, 2017). All these offers aimed at boosting the BW's customer loyalty at different hotels and resorts.
Customer Base of BW
The primary target audience for BW are the business people who travel across the entire globe, crossing borders into and out of different countries. This group of individuals are targeted through offering accommodation services, recreation, and business support services, such as the provision of free high-speed Wi-Fi and computers for accessing the internet at the lobbies. They can then use these services to carry on their daily business errands. Another prime target group is the people who travel for leisure during holidays, work-leaves, or family retreats into and out of Ireland. This particular group is targeted by offering both high class and middle-class leisure and recreational services.
Design and Technologies
BW in their flagship properties offers booth business and leisure services to their customers at every independent branch across the globe. What matters most is that the Best Western brand offers a welcoming environment, comfortable, and clean rooms; accompanied by incredibly great and satisfactory services (BWR, 2017). All BW hotels and resorts offer their guests a free and high-speed internet service, alongside a great deal of breakfast, usually served each day. In most hotels, the breakfast offer is often given at no extra cost; hence helping win the hearts of many customers and capture their loyalty. At the Best Western hotels and resorts, guests find spacious rooms with the most modern entertainment systems, which include In-room Tea/Coffee Makers, Flat-screen TVs, Workspaces, Desks, and in some cases Fixed-room Desktops/Computer Systems and Printers installed in the guest lobby. Several hotels also incorporate microwaves and mini-refrigerators within the rooms (The BW, 2016).
BW's environmental care
Environmental and Sustainable Developments
Being the biggest chain of independently managed and owned hotels, the BW upholds plenty of ideas regarding taking care of the environment, as well as the general local community (Murphy, Forrest, Wotring, & Brymer, 2014, p. 779). For instance, at the BWts central office/headquarters, the group holds a bi-monthly CSR (corporate social responsibility) meetings. During these meetings, they jointly discuss the new, appropriate, and sustainable organizational behaviors that can help them become a socially responsible business. BW always keep thinking the best ways and new ideas for recycling wastes such as tea bags, papers, and orange skins. They also intervene in helping children learning in local schools to get to read and write (BWR, 2017). As well, the BW group of hotels in Ireland work closely with their guests to help reduce excessive energy consumption when at the premises during their stay, and this is the business trend everywhere else. As such, these hotels always think of going green in all their activities.
Differences between Business and Leisure Hotels
While the business hotels focus so much on the service speed, efficiency, and service quality to the business people, both middle and high-class, the leisure hotels major on comfort, recreation and the quality of room materials. The leisure hotels are often designed in a classy way to comfort the people looking for refreshing moments (Enz & Siguaw, 2009, p. 728). Unique from the business hotels, leisure hotels are most likely to be on the outskirts of a city or major towns, connect a large group of families and tourists, and are commonly limited to a few floors. However, leisure hotels tend to have higher costs of maintenance as opposed to hotels that target the business class.
Conclusion
In conclusion, the Best Western group of Hotels is one of the worldts leading franchises or chain of hotels, which thrives in more than 100 countries across the globe. It operates more than 4,100 hotels and resorts. Despite the modern-day challenges from the issues of management and climatic conditions, BW still upholds its successful operations and serves as a preferred choice for many hotel service consumers, who are commonly the business people and those who are looking for leisure or luxurious joints. The BW also employs different environmental and sustainability programs, which aim at upholding the required operational and ecological standards. With exemplary foods, guest services, and other recreational services, I would prefer or recommend any other traveler to visit any BW hotel. Motel or Resort, and enjoy the services that are worth their money.
References
Best WesternR, 2016. Best Western hotels data and information. Retrieved on 8th March 2017 from https://www.bestwestern.com/en_US/hotels/discover-best-western/brands/best-western.html
BWR, 2017. Best Western Hotels Rewards: Members Get More. Retrieved on 8th March 2017 from https://www.bestwestern.com/en_US.html
Enz, C.A. and Siguaw, J.A., 2009. Best hotel environmental practices.T The Cornell Hotel and Restaurant Administration Quarterly,T 40(5), pp.725-77.
Murphy, J., Forrest, E.J., Wotring, C.E. and Brymer, R.A., 2014. Hotel management and marketing on the Internet: An analysis of sites and features.T The Cornell Hotel and Restaurant Administration Quarterly,T 37(3), pp.770-82.
The BW, 2016. About Best Western. Retrieved on 6th March 2017 from https://www.bestwestern.co.uk/company/about-us
The BW, 2016. 47 Hotels Near London. Retrieved on 8th March 2017 from http://www.bestwestern.ie/component/wsbw/availability?destination=london,%20Great%20Britain%20(UK)&DateIn=09/03/2017&DateOut=10/03/2017&nbr_chambre=1&Adultes1=2&idville=28881&idvilleg=28881&destinationmi=48&gclid=Cj0KEQiA9P7FBRCtoO33_LGUtPQBEiQAU_tBgGQc2qDaL7SGPpz6cdb3SsQYXBt8Td4px1lbTaJZ6HAaAob_8P8HAQ
Cite this page
Free Essay with Hotel Industry Analysis. (2018, May 08). Retrieved from https://speedypaper.com/essays/101-hotel-industry-analysis
Request Removal
If you are the original author of this essay and no longer wish to have it published on the SpeedyPaper website, please click below to request its removal: