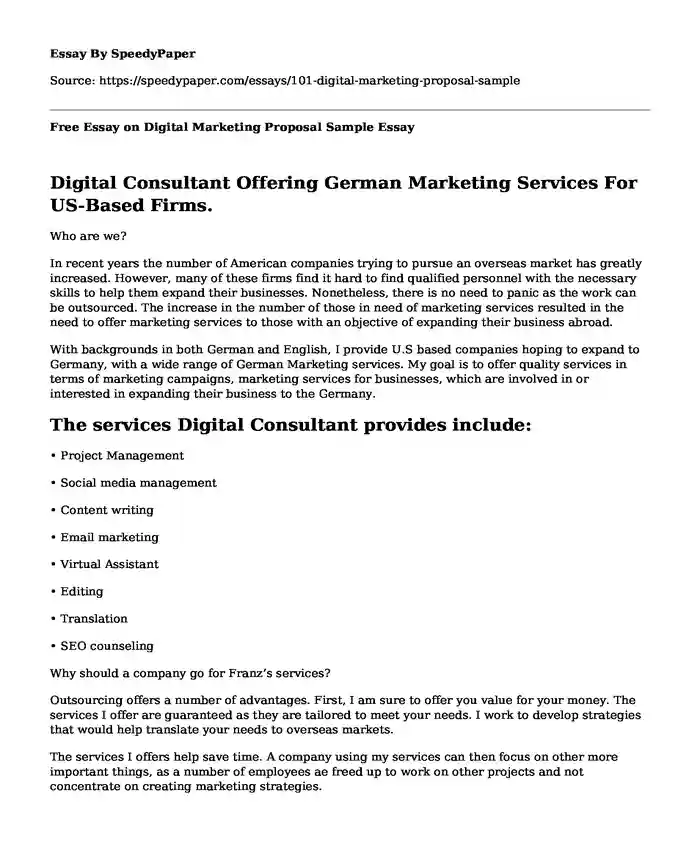 Digital Consultant Offering German Marketing Services For US-Based Firms.
Who are we?
In recent years the number of American companies trying to pursue an overseas market has greatly increased. However, many of these firms find it hard to find qualified personnel with the necessary skills to help them expand their businesses. Nonetheless, there is no need to panic as the work can be outsourced. The increase in the number of those in need of marketing services resulted in the need to offer marketing services to those with an objective of expanding their business abroad.
With backgrounds in both German and English, I provide U.S based companies hoping to expand to Germany, with a wide range of German Marketing services. My goal is to offer quality services in terms of marketing campaigns, marketing services for businesses, which are involved in or interested in expanding their business to the Germany.
The services Digital Consultant provides include:
• Project Management
• Social media management
• Content writing
• Email marketing
• Virtual Assistant
• Editing
• Translation
• SEO counseling
Why should a company go for Franz's services?
Outsourcing offers a number of advantages. First, I am sure to offer you value for your money. The services I offer are guaranteed as they are tailored to meet your needs. I work to develop strategies that would help translate your needs to overseas markets.
The services I offers help save time. A company using my services can then focus on other more important things, as a number of employees ae freed up to work on other projects and not concentrate on creating marketing strategies.
I can work with tight deadlines to ensure that content and services required are offered within stipulated time. The ability to adapt to scheduling changes, help me create flexible schedules helping to keep everyone happy. I am skilled and qualified having lived in different parts of the world makes us suited to translate our experiences in helping your company attain its goal.
Digital Marketing Consultant Services
Email marketing.
In marketing emails can be a powerful tool. The ability to create compelling well-structured email newsletters is often a hard task to master. The process is also time consuming, with this time being put to other use. This is where I come in. having worked on numerous similar projects; I am in the position to offer better services without consuming time that might be put on other use. I am also confident that I can help create compelling newsletter that would help market the company's products.
Content writing
I offer content writing services to companies. A lot of work goes into adequately managing a brand. With skills in copywriting and freelance feature writer, I provide cheaper and on time delivery of content. The advantages of using my services include my ability to adjust schedules to suit your company. I also have also extensive experience in content writing having done it professionally for some time now. Furthermore, I am adequately experienced with word processing and blogging software, which enable me help my clients properly. Knowledge of HTML has also helped me serve clients with needs in developing a web presence.
Social media management
Today social media remains an avenue through which companies can market their goods. The misconception that social media automation tools can get the job done has led to losses for some businesses. With too much at stake, I offer social media management services. Hiring me is beneficial as I takes the time to interact with users and efficiently governing a company's social media presence. Creativity levels are also improved through hiring me.
Project management
Companies often focus on different projects at a go. A lot of time and resources are often spent to ensure that the company is completing the projects as scheduled. By hiring a freelance project manager, employees are freed up to make sure that they complete other tasks. I have vast experience in project management and therefore hiring me to manage your project offers your company an advantage with regards to opportunity cost.
Revolutionize your next marketing campaign
The ability to gain more customers depends on the ability for a company to market its products adequately. I have adequate knowledge in running marketing campaigns. By hiring me, your company can readily revolutionize an otherwise old marketing strategy. My Knowledge on how consumers in Germany behave offers your business an added advantage when considering advancing services into the German market.
Editing
Visitors on a website are intrigued by excellent content. Having worked as a writer, an editor, and content creator, I can develop content for your website that would appeal to visitors of your site; helping to keep customers coming for more. Furthermore, the understanding that good enough is not sufficient for the web helps me create perfect content for your company.
SEO Counseling
The ability for clients to find information about the services provided by a company lies in the capacity to develop websites with content that has been optimized for search engines. Having helped some businesses optimize their content, I can readily offer advice on how to create content that would increase the number of hits by optimizing company websites for search engines.
Virtual assistant
Virtual assistant help companies or individuals to accomplish the different task they cannot perform because they are too busy. I can help a business or individual readily manage their email inbox, manage your social media platforms, and even manage your blog. In offering these services, I maintain high levels of professional conduct.
Blogger Outreach
Having helped companies develop blogs to market their services, I can readily help businesses reach out to other bloggers and entrepreneurs, who would help a company, sell its ideas. By attaining my services, a company can have original content created by bloggers I have helped the company contact.
Meet Franz
I am Franz, a young professional with interest in business development, marketing, and project management. Currently, I am seeking new opportunities in a fast-paced, high-energy work environment with an international atmosphere in areas such as marketing management, business development, and project management.
With a global profile and bilingual background in German and English, I have the necessary skills to help offer a wide range of services to companies intending to expand to reach the German market. I am uniquely suited as I possess broad international experience, having studied and worked in Germany, Latvia, Lithuania and the Netherlands before recently settling in Dallas, Texas.
Please feel free to reach out to discuss international marketing and business development ideas to assist with your business goals. You can contact me via Facebook, Twitter or any major social media platform.
I am enthusiastic about meeting and sharing ideas on personal growth and ways of making improvements. Being outgoing, I am ready to take up challenges that would make me even better. Anyone with ideas to share can readily reach out via social media.
Cite this page
Free Essay on Digital Marketing Proposal Sample. (2018, Feb 08). Retrieved from https://speedypaper.com/essays/101-digital-marketing-proposal-sample
Request Removal
If you are the original author of this essay and no longer wish to have it published on the SpeedyPaper website, please click below to request its removal: