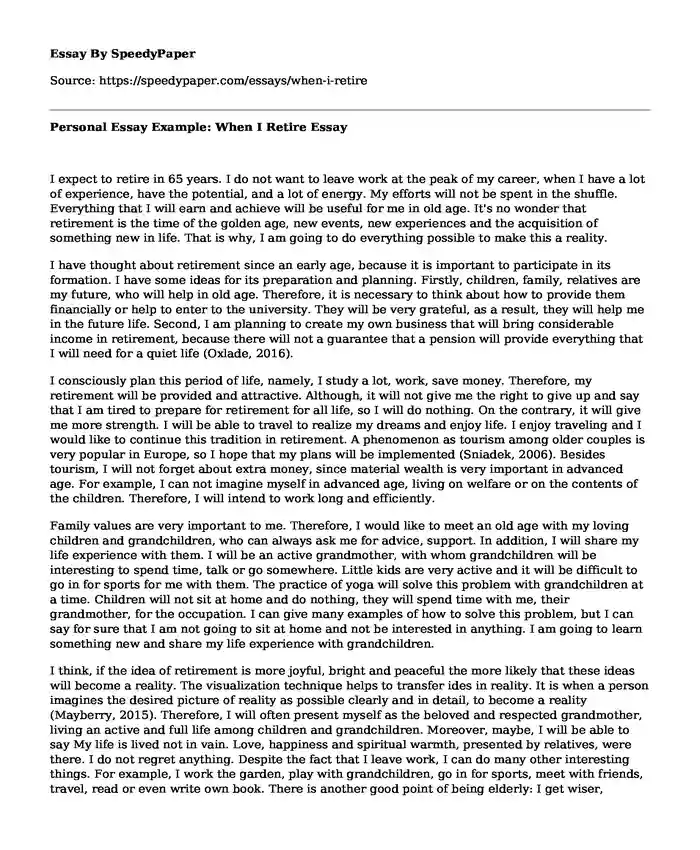 I expect to retire in 65 years. I do not want to leave work at the peak of my career, when I have a lot of experience, have the potential, and a lot of energy. My efforts will not be spent in the shuffle. Everything that I will earn and achieve will be useful for me in old age. It's no wonder that retirement is the time of the golden age, new events, new experiences and the acquisition of something new in life. That is why, I am going to do everything possible to make this a reality.
I have thought about retirement since an early age, because it is important to participate in its formation. I have some ideas for its preparation and planning. Firstly, children, family, relatives are my future, who will help in old age. Therefore, it is necessary to think about how to provide them financially or help to enter to the university. They will be very grateful, as a result, they will help me in the future life. Second, I am planning to create my own business that will bring considerable income in retirement, because there will not a guarantee that a pension will provide everything that I will need for a quiet life (Oxlade, 2016).
I consciously plan this period of life, namely, I study a lot, work, save money. Therefore, my retirement will be provided and attractive. Although, it will not give me the right to give up and say that I am tired to prepare for retirement for all life, so I will do nothing. On the contrary, it will give me more strength. I will be able to travel to realize my dreams and enjoy life. I enjoy traveling and I would like to continue this tradition in retirement. A phenomenon as tourism among older couples is very popular in Europe, so I hope that my plans will be implemented (Sniadek, 2006). Besides tourism, I will not forget about extra money, since material wealth is very important in advanced age. For example, I can not imagine myself in advanced age, living on welfare or on the contents of the children. Therefore, I will intend to work long and efficiently.
Family values are very important to me. Therefore, I would like to meet an old age with my loving children and grandchildren, who can always ask me for advice, support. In addition, I will share my life experience with them. I will be an active grandmother, with whom grandchildren will be interesting to spend time, talk or go somewhere. Little kids are very active and it will be difficult to go in for sports for me with them. The practice of yoga will solve this problem with grandchildren at a time. Children will not sit at home and do nothing, they will spend time with me, their grandmother, for the occupation. I can give many examples of how to solve this problem, but I can say for sure that I am not going to sit at home and not be interested in anything. I am going to learn something new and share my life experience with grandchildren.
I think, if the idea of retirement is more joyful, bright and peaceful the more likely that these ideas will become a reality. The visualization technique helps to transfer ides in reality. It is when a person imagines the desired picture of reality as possible clearly and in detail, to become a reality (Mayberry, 2015). Therefore, I will often present myself as the beloved and respected grandmother, living an active and full life among children and grandchildren. Moreover, maybe, I will be able to say My life is lived not in vain. Love, happiness and spiritual warmth, presented by relatives, were there. I do not regret anything. Despite the fact that I leave work, I can do many other interesting things. For example, I work the garden, play with grandchildren, go in for sports, meet with friends, travel, read or even write own book. There is another good point of being elderly: I get wiser, respected, have more experience and ability to help with advice.
References
Mayberry, M. (2015). The Extraordinary Power of Visualizing Success. Entrepreneur. Retrieved from https://www.entrepreneur.com/article/242373
Oxlade, A. (2016). State pension ages: look up when you will retire. The Telegraph. Retrieved from http://www.telegraph.co.uk/pensions-retirement/financial-planning/state-pension-age-look-up-when-you-will-retire/
Sniadek, J. (2006). Age of seniors - a challenge for tourism and leisure industry. Studies In Physical Culture And Tourism, 13(Supplement), 103-105. Retrieved from http://www.wbc.poznan.pl/Content/61372/Sniadek_REV.pdf
Cite this page
Personal Essay Example: When I Retire. (2019, Oct 22). Retrieved from https://speedypaper.com/essays/when-i-retire
Request Removal
If you are the original author of this essay and no longer wish to have it published on the SpeedyPaper website, please click below to request its removal: