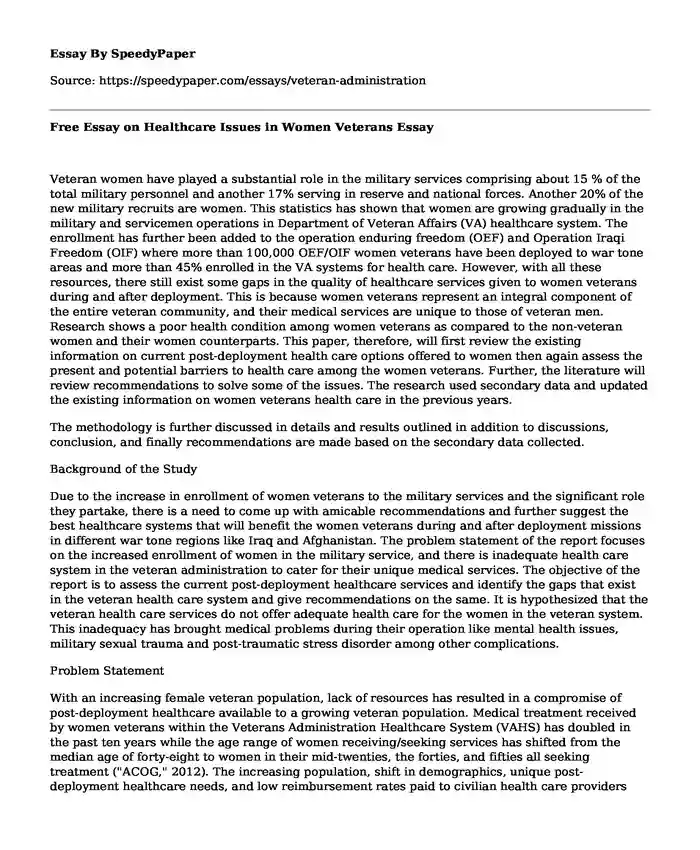 Veteran women have played a substantial role in the military services comprising about 15 % of the total military personnel and another 17% serving in reserve and national forces. Another 20% of the new military recruits are women. This statistics has shown that women are growing gradually in the military and servicemen operations in Department of Veteran Affairs (VA) healthcare system. The enrollment has further been added to the operation enduring freedom (OEF) and Operation Iraqi Freedom (OIF) where more than 100,000 OEF/OIF women veterans have been deployed to war tone areas and more than 45% enrolled in the VA systems for health care. However, with all these resources, there still exist some gaps in the quality of healthcare services given to women veterans during and after deployment. This is because women veterans represent an integral component of the entire veteran community, and their medical services are unique to those of veteran men. Research shows a poor health condition among women veterans as compared to the non-veteran women and their women counterparts. This paper, therefore, will first review the existing information on current post-deployment health care options offered to women then again assess the present and potential barriers to health care among the women veterans. Further, the literature will review recommendations to solve some of the issues. The research used secondary data and updated the existing information on women veterans health care in the previous years.
The methodology is further discussed in details and results outlined in addition to discussions, conclusion, and finally recommendations are made based on the secondary data collected.
Background of the Study
Due to the increase in enrollment of women veterans to the military services and the significant role they partake, there is a need to come up with amicable recommendations and further suggest the best healthcare systems that will benefit the women veterans during and after deployment missions in different war tone regions like Iraq and Afghanistan. The problem statement of the report focuses on the increased enrollment of women in the military service, and there is inadequate health care system in the veteran administration to cater for their unique medical services. The objective of the report is to assess the current post-deployment healthcare services and identify the gaps that exist in the veteran health care system and give recommendations on the same. It is hypothesized that the veteran health care services do not offer adequate health care for the women in the veteran system. This inadequacy has brought medical problems during their operation like mental health issues, military sexual trauma and post-traumatic stress disorder among other complications.
Problem Statement
With an increasing female veteran population, lack of resources has resulted in a compromise of post-deployment healthcare available to a growing veteran population. Medical treatment received by women veterans within the Veterans Administration Healthcare System (VAHS) has doubled in the past ten years while the age range of women receiving/seeking services has shifted from the median age of forty-eight to women in their mid-twenties, the forties, and fifties all seeking treatment ("ACOG," 2012). The increasing population, shift in demographics, unique post-deployment healthcare needs, and low reimbursement rates paid to civilian health care providers have attributed to limited access to medical suppliers and facilities. Given this growing population and their evolving role in the military, the VAHS current health care services for this populations needs to be examined to ensure that women veterans have adequate medical care, specifically among women veterans who have been deployed overseas. If more were known about the health care needs of female veterans who returned home from deployment, the VAHS could allocate more resources to help this population.
Purpose and Objectives of the Study
Women service members play a vital role in daily military operations such as gunners, police officers, pilots, truck drivers and fuel suppliers (ACOG, 2012). As the female population of service members grows the evolution of the role in which women in the military play also grows; thus resulting in unique healthcare needs. The purpose of this study is to examine the current post-deployment healthcare options available to female veterans, access the present and potential barriers to health care among women veterans and make recommendations to the VAHS that can be implemented to address further the healthcare needs of women veterans.
The first objective of the study will be to examine the type of health care currently being provided to women veterans by the VAHS. The purpose of this aim is to determine if the VAHS is providing adequate access to health care for female veterans; what type of treatment is being offered specifically to women veterans who have recently returned from serving in a combat zone overseas.
The second objective will access the specific health care needs of female veterans posted deployment, identifying potential gaps in health care services and the third objective will make recommendations on what actions should be taken to address the gaps in health care services among female veterans in the VAHS.
Rationale of the study
The aim of this study is to identify barriers that female veterans face when it comes to comprehensive health care by the VAHS when returning from deployments and make a recommendation to the VAHS on how to reduce barriers to health care among women. Further, the Veterans Administration (VA) have invested billions of dollars in improving the medical services provided to women veterans to include a broad range of services including annual physical, mental health services, gynecological care and mammograms yet long wait times and limited access to civilian providers deter many women from seeking necessary treatment.
The first objectives focus on the VAHS providing adequate health care services for the influx women service members returning from military deployment overseas. The second objective focus will examine the health care needs of female veterans after post-deployment and currently available options, and explore if there is a gap in health care services in this population. The final objective focuses on providing for the education of medical providers on gender sensitivity and training on the unique health care needs of female veterans, specifically the women veterans who have recently returned home from a deployment overseas.
Research Hypotheses
Women veterans are less healthy than their nonveteran female counterparts and are in poorer emotional health about male veterans (ACOG, 2012). Women veterans face unique challenges in the jobs that affect their long-term mental and physical health, some military service-specific issues to include gynecological care, military sexual trauma (MST) and posttraumatic stress disorder (PTSD).
It is hypothesized that the VAHS current medical services are not adequate to women veterans. This inadequate specifically affects women veterans who have recently returned home from deployment overseas and have specialized health care needs that are not being addressed in the VAHS for example PTSD and long-term reproductive health issues (ACOG, 2012). Therefore, women veterans who experience deployment are expected to have worst health outcomes in comparison to the female civilian population.
First, research will reveal that although VAHS has designated resources to ensure all veterans have access to the healthcare, benefits, and services they are entitled to receive there is sufficient evidence that supports that the resources available are limited, thus, accessibility to healthcare for post-deployment women veterans is also limited. Second, the unique healthcare needs of post-deployment women veterans attribute to an increased need for VAHS to place well-trained, designated women's provider in every VA facility or provide increased funding via Tricare to increase civilian providers participation. This will allow women to go to one provider for a range of services, including annual physicals and mental health services. Finally, this research will conclude that the unique health care needs of post-deployment women veterans demands VAHS facilities be readily accessible to woman or that alternative means for care are available to women veterans who do not live within a few hours of veteran facilities vis a vis community clinics, private physicians, or other privatized contracted healthcare means.
Literature ReviewThe literature review section is used to collect secondary data. This data is in the form of books, articles, websites, journals, dissertations, and existing case studies. This section is important in providing a background for the study and sets the expectations of the research. My background of the study used existing information on the healthcare systems in veteran administration and examines the availability of healthcare services offered to them. This information was useful in highlighting the need to focus on the health conditions of the veteran women working in the military overseas and when they come home.
The Committee on Health Care for Underserved Women estimates that eight percent of the total U.S. Veterans population is women, and this proportion is anticipated to grow to eleven per cent by 2020 (ASOG, 2012). Women veterans may seek health care at military treatment facilities through the U.S. Department of Veterans Affairs (USDVA) or at civilian sector facilities. The number of female veterans who used services provided by the Veteran Health Administration (VHA) has doubled in the past ten years from 160,000 in 2000 to more than 337,000 in 2011 (ASOG, 2012). Although the use of veterans services by women has increased, literature will show that the Veteran Administration Health Care System (VAHS), faces challenges in meeting the medical needs of the influx of post-deployment health care for female veterans. It is known that the post-deployment health care needs for women veterans are unique; however, there is little research on the long-term health care needs of women who serve in combat (ACOG, 2012). I...
Cite this page
Free Essay on Healthcare Issues in Women Veterans. (2019, Jun 05). Retrieved from https://speedypaper.com/essays/veteran-administration
Request Removal
If you are the original author of this essay and no longer wish to have it published on the SpeedyPaper website, please click below to request its removal: