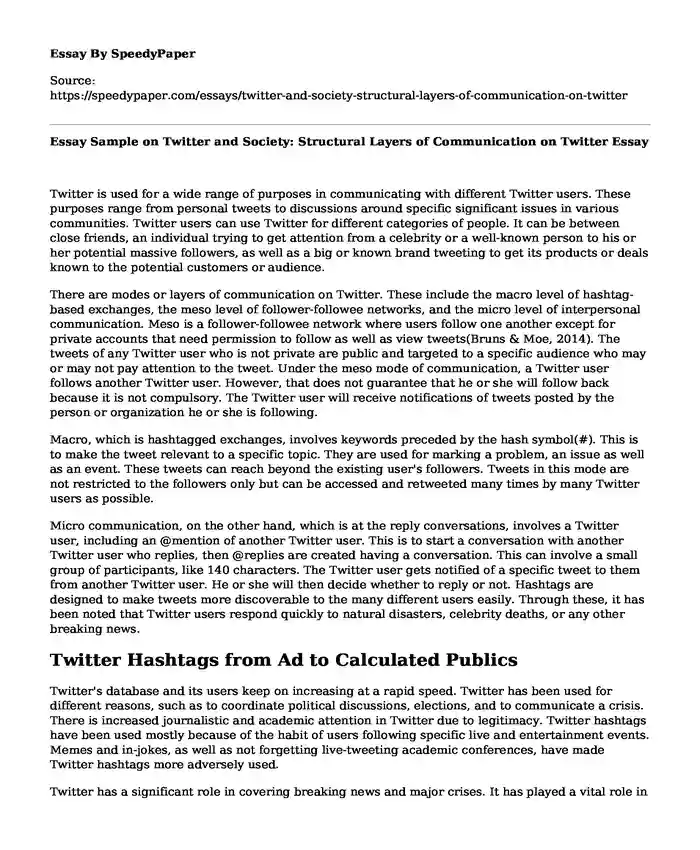 Twitter is used for a wide range of purposes in communicating with different Twitter users. These purposes range from personal tweets to discussions around specific significant issues in various communities. Twitter users can use Twitter for different categories of people. It can be between close friends, an individual trying to get attention from a celebrity or a well-known person to his or her potential massive followers, as well as a big or known brand tweeting to get its products or deals known to the potential customers or audience.
There are modes or layers of communication on Twitter. These include the macro level of hashtag-based exchanges, the meso level of follower-followee networks, and the micro level of interpersonal communication. Meso is a follower-followee network where users follow one another except for private accounts that need permission to follow as well as view tweets(Bruns & Moe, 2014). The tweets of any Twitter user who is not private are public and targeted to a specific audience who may or may not pay attention to the tweet. Under the meso mode of communication, a Twitter user follows another Twitter user. However, that does not guarantee that he or she will follow back because it is not compulsory. The Twitter user will receive notifications of tweets posted by the person or organization he or she is following.
Macro, which is hashtagged exchanges, involves keywords preceded by the hash symbol(#). This is to make the tweet relevant to a specific topic. They are used for marking a problem, an issue as well as an event. These tweets can reach beyond the existing user's followers. Tweets in this mode are not restricted to the followers only but can be accessed and retweeted many times by many Twitter users as possible.
Micro communication, on the other hand, which is at the reply conversations, involves a Twitter user, including an @mention of another Twitter user. This is to start a conversation with another Twitter user who replies, then @replies are created having a conversation. This can involve a small group of participants, like 140 characters. The Twitter user gets notified of a specific tweet to them from another Twitter user. He or she will then decide whether to reply or not. Hashtags are designed to make tweets more discoverable to the many different users easily. Through these, it has been noted that Twitter users respond quickly to natural disasters, celebrity deaths, or any other breaking news.
Twitter Hashtags from Ad to Calculated Publics
Twitter's database and its users keep on increasing at a rapid speed. Twitter has been used for different reasons, such as to coordinate political discussions, elections, and to communicate a crisis. There is increased journalistic and academic attention in Twitter due to legitimacy. Twitter hashtags have been used mostly because of the habit of users following specific live and entertainment events. Memes and in-jokes, as well as not forgetting live-tweeting academic conferences, have made Twitter hashtags more adversely used.
Twitter has a significant role in covering breaking news and major crises. It has played a vital role in covering as well as commenting on such events. The hashtag being the most widely used or recognized method or mode of coordination of such coverage, are efficient because they enable users to participate and communicate with other users of Twitter, the same interest about the hashtag topic without them forming a mutual relationship of a follower or follow the link. In addition to that, hashtags make it possible for someone to follow the stream of messages of a specific hashtag without being a registered user of Twitter (Bruns, & Burgess, 2015). Some use the #spill hashtag. They can tweet about the event without even using the hashtag itself. People love to enjoy something without having to undergo a long process.
The Twitter hashtag has a history too. Twitter was launched in 2006. Twitter users were being asked questions to be able to follow the accounts of their friends. Such items were like something like this," what do you do." The use of the hashtag in Twitter was proposed originally by Chris Messina, who lived in San Francisco. This was around mid-2007. It was aimed at filtering contents, improving the process of contextualization as well as exploring. This was to allow people to follow and contribute to conversations about topics of common interest by creating a system of channel tags using the hash symbol #. He introduced several things that some made it to the platform, and some did not. He added the issue of reusing hashtags.
This is seen even today where companies or organizations have annual conferences; they use the same hashtag every year. The difference is that they leave it unused or dormant for the rest of the year. Hashtags would create ad hoc channels rather than just groups. Every moment an individual decides to use a channel tag, the other users will be able to know something specific about that status as well as they will have the privilege of eavesdropping on the content of the status channel tag. When the other users know about the context, they can join the channel and contribute as well. In October 2007, San Diego urged people to use the hashtag for coordination of information. As a result, hashtags included both social and communication practices. It played both roles as social media as well as media for communicating essential issues or topics or events.
Towards a typology of hashtag publics
Messina had a vision of the tweets targeting individual members of the inner circle. This was so that people could quickly respond to those tweets. The suggestion of creating an inner circle would lead to targeted users or individuals only instead of having random visits from individuals who may not be genuine and genuinely interested in that particular topic or issue. Twitter hashtags have been growing ever since 2007 in all aspects, including memes or jokes.
Hashtags have different uses. Apart from the two primary purposes: coordination of public discussion and sharing of information on news and political topics, hashtags have other purposes. They can be used to mark tweets that are necessary or significant or relevant to specific themes and issues. A good example is the #spill. The spreading of the hashtag is very high, under a #spill. Hashtags make it easier for people to find and engage with others (Bruns, Moon, Paul, & Munch, 2016). They enable a user to get what they need by just keying in the tag. Towards a typology of hashtag publics: a large-scale comparative study of user engagement across trending topics.
Twitter's hashtags are used for a large or wide variety of purposes. This can range from covering crises and breaking news events to gathering a community of users around a shared interactive media text for discussion purposes. These media texts may be sporting events or Television broadcasts. The hashtag does not stop at that but also moves to signal states or the intended audience with emotions from all corners, such as from amusement to despair. The most attention is on the ability of hashtags to create hashtags public. A series of hashtag datasets can lead to a significant incidence of retweets and tweets comprising URLs. Such a series enables the chance of identify of other further hashtag types that are beyond the current crisis or the main media event.
A study of the various patterns in the use of the different diverse hashtags, compiled over the past few years at least five years, will enable the confirmation of previous findings as well as knowing how the use of hashtags shifts over time. Hashtags keep on revolving from time to time. Hashtags are not static or constant. A format of a hashtag used last year is different from the one used this year. The study promotes the activity of identification of other hashtags that can be used apart from the current use. This study will facilitate the classification of other hashtags in the near or far future. As a result, researchers will be able to form a system that automatically classifies or distinguishes new trends or patterns on specific topics of choice. This will help detect a crisis that could happen in the future.
You can check how well a hashtag is doing on the Twitter stream. Well, you may be asking how. You can do so by exposing the hashtag to analytics tools. These tools will tell you how many tweets have been made by it as well as how many impressions it is making online. In addition to that, the devices will tell you who is talking about it as well as what other hashtags are being used on top of what kind of people are saying what exactly. You can get feedback from the hashtags.
A summary of the three books
The books explore the use of Twitter and its activities. Twitter users can communicate with different audiences. This gives rise to the three critical layers of communication on Twitter. One user can tweet to a public audience targeting a particular group of people who may respond if interested in giving us the follower-followee layer of communication known as meso. When the user tweets a specific another user by using @mention and gets @replies, then this presents as the microlayer or mode of communication. It is in reply to conversations. The third layer of discussion on Twitter is the macro layer of communication. This is a hashtag exchange among different Twitter users on a specific topic of common interest to the users on that tweet.
It involves a hashtag symbol# before the text of a topic or an issue or an event. Hashtags are playing a significant role in Twitter practices. They form a substantial part of the communication and purpose of Twitter. Hashtags are used to mark important issues that are supposed to be conveyed to the targeted audience as well as primary or significant events or topics. Hashtags are used to notify people that are Twitter users of a particular crisis that has occurred or is anticipated to happen shortly. Television as well as uses Twitter hashtags to communicate breaking news since many people react to hashtags more quickly than watching the story on Television.
This is the history of hashtags on Twitter. It was launched in 2006 and first brought to Twitter on August 23, 2007. Chris Messina was the one who brought the suggestion. In the early years, Twitter was based on groups. This was not what Chris wanted but an improved contextualization, exploring as well as content filtering on Twitter. He created the issues that we can design and leave behind hashtags on an ad hoc basis. This is why we see up-to-date hashtags that have been created than dropped on om-the-fly. In today's time, we see organizations using the same hashtag every year. This is mostly under companies having annual conferences. It was introduced by Chris Messina, where you can reuse a hashtag. This has an advantage since Twitter users will be able to get familiar with the hashtag and, as a result, be more accessible to a broader audience.
A study of the patterns of the hashtags is well evaluated to determine the shift in the mode of hashtag practices on Twitter. Such a review is also useful in detecting a crisis that may happen shortly as well as the development of a system for the classification of patterns in the future to save on time and resources to be used.
References
Bruns, A., & Moe, H. (2014). Organic layers of communication on Twitter. In K. Weller, A. Bruns, J. Burgess, M. Mahrt, & C. Puschmann (Eds.), Twitter and society (pp. 15-28). New York: Peter Lang.
Bruns, A., & Burgess, J. (2015). Twitter hashtags from ad hoc to calculated publics. In N. Rambukkana (Ed.), Hashtag publics: The power and politics of discursive networks (pp. 13-27). New York: Peter Lang.
Cite this page
Essay Sample on Twitter and Society: Structural Layers of Communication on Twitter. (2023, Mar 30). Retrieved from https://speedypaper.com/essays/twitter-and-society-structural-layers-of-communication-on-twitter
Request Removal
If you are the original author of this essay and no longer wish to have it published on the SpeedyPaper website, please click below to request its removal: