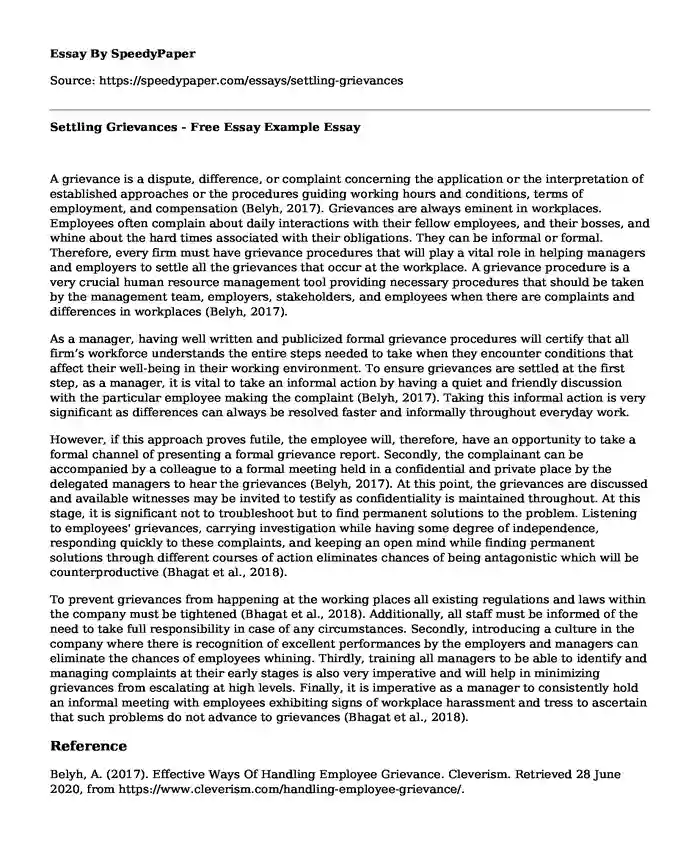 A grievance is a dispute, difference, or complaint concerning the application or the interpretation of established approaches or the procedures guiding working hours and conditions, terms of employment, and compensation (Belyh, 2017). Grievances are always eminent in workplaces. Employees often complain about daily interactions with their fellow employees, and their bosses, and whine about the hard times associated with their obligations. They can be informal or formal. Therefore, every firm must have grievance procedures that will play a vital role in helping managers and employers to settle all the grievances that occur at the workplace. A grievance procedure is a very crucial human resource management tool providing necessary procedures that should be taken by the management team, employers, stakeholders, and employees when there are complaints and differences in workplaces (Belyh, 2017).
As a manager, having well written and publicized formal grievance procedures will certify that all firm's workforce understands the entire steps needed to take when they encounter conditions that affect their well-being in their working environment. To ensure grievances are settled at the first step, as a manager, it is vital to take an informal action by having a quiet and friendly discussion with the particular employee making the complaint (Belyh, 2017). Taking this informal action is very significant as differences can always be resolved faster and informally throughout everyday work.
However, if this approach proves futile, the employee will, therefore, have an opportunity to take a formal channel of presenting a formal grievance report. Secondly, the complainant can be accompanied by a colleague to a formal meeting held in a confidential and private place by the delegated managers to hear the grievances (Belyh, 2017). At this point, the grievances are discussed and available witnesses may be invited to testify as confidentiality is maintained throughout. At this stage, it is significant not to troubleshoot but to find permanent solutions to the problem. Listening to employees' grievances, carrying investigation while having some degree of independence, responding quickly to these complaints, and keeping an open mind while finding permanent solutions through different courses of action eliminates chances of being antagonistic which will be counterproductive (Bhagat et al., 2018).
To prevent grievances from happening at the working places all existing regulations and laws within the company must be tightened (Bhagat et al., 2018). Additionally, all staff must be informed of the need to take full responsibility in case of any circumstances. Secondly, introducing a culture in the company where there is recognition of excellent performances by the employers and managers can eliminate the chances of employees whining. Thirdly, training all managers to be able to identify and managing complaints at their early stages is also very imperative and will help in minimizing grievances from escalating at high levels. Finally, it is imperative as a manager to consistently hold an informal meeting with employees exhibiting signs of workplace harassment and tress to ascertain that such problems do not advance to grievances (Bhagat et al., 2018).
Reference
Belyh, A. (2017). Effective Ways Of Handling Employee Grievance. Cleverism. Retrieved 28 June 2020, from https://www.cleverism.com/handling-employee-grievance/.
Bhagat, S., Virdi, M., & Raju, R. (2018). Grievance Handling Procedure a case of Soft Zeal Technology Pvt. Ltd, Pune. International Journal Of Trend In Scientific Research And Development, Volume-2(Issue-4), 918-924. https://doi.org/10.31142/ijtsrd13101
Cite this page
Settling Grievances - Free Essay Example. (2023, Sep 18). Retrieved from https://speedypaper.com/essays/settling-grievances
Request Removal
If you are the original author of this essay and no longer wish to have it published on the SpeedyPaper website, please click below to request its removal: