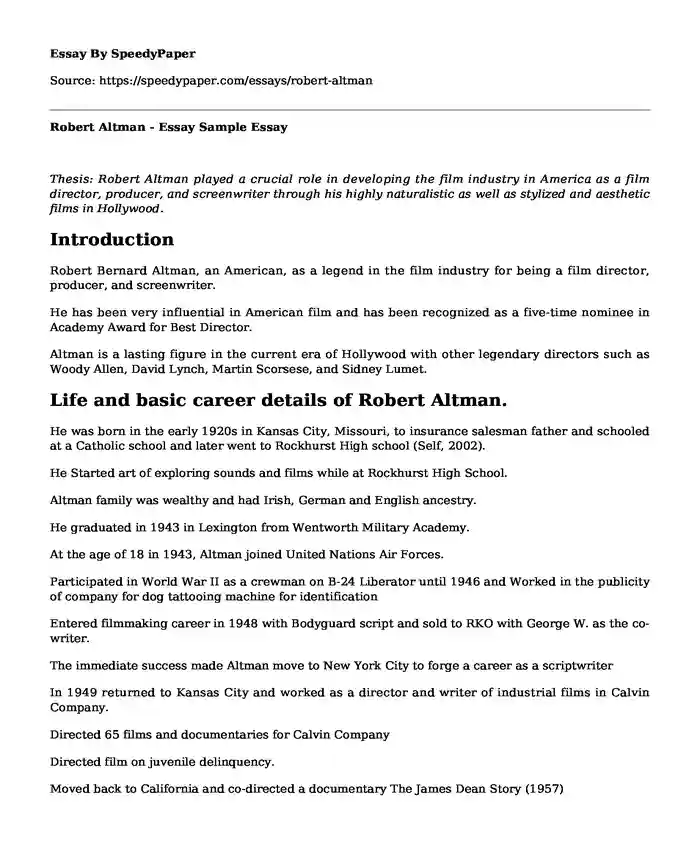 Thesis: Robert Altman played a crucial role in developing the film industry in America as a film director, producer, and screenwriter through his highly naturalistic as well as stylized and aesthetic films in Hollywood.
Introduction
Robert Bernard Altman, an American, as a legend in the film industry for being a film director, producer, and screenwriter.
He has been very influential in American film and has been recognized as a five-time nominee in Academy Award for Best Director.
Altman is a lasting figure in the current era of Hollywood with other legendary directors such as Woody Allen, David Lynch, Martin Scorsese, and Sidney Lumet.
Life and basic career details of Robert Altman.
He was born in the early 1920s in Kansas City, Missouri, to insurance salesman father and schooled at a Catholic school and later went to Rockhurst High school (Self, 2002).
He Started art of exploring sounds and films while at Rockhurst High School.
Altman family was wealthy and had Irish, German and English ancestry.
He graduated in 1943 in Lexington from Wentworth Military Academy.
At the age of 18 in 1943, Altman joined United Nations Air Forces.
Participated in World War II as a crewman on B-24 Liberator until 1946 and Worked in the publicity of company for dog tattooing machine for identification
Entered filmmaking career in 1948 with Bodyguard script and sold to RKO with George W. as the co-writer.
The immediate success made Altman move to New York City to forge a career as a scriptwriter
In 1949 returned to Kansas City and worked as a director and writer of industrial films in Calvin Company.
Directed 65 films and documentaries for Calvin Company
Directed film on juvenile delinquency.
Moved back to California and co-directed a documentary The James Dean Story (1957)
Robert Altman most important films
The Delinquents (1957)
MASH (1970)
Critics over the Korean War comedy and winning of multiple awards (Karp, 1981).
Mc Cabe and Mrs. Miller (1971)
The Long Goodbye (1973)
Humor in the infusion of two auteurs styles.
Thieves like Us film of 1974
Nashville film of 1975
Come Back to the five and Dine of 1982 together with Jimmy Dean.
A wedding film of 1978
Altman received various honors and awards for being a director for various films
He was a winner and nominee in Academy Awards, USA
Winner of the award in 2006 for continuously investing in filming career that has inspired and impacted the audience as well as the filmmakers (Wire, 2007).
Altman as a nominee in 2002, 1994, 1993, 1976, and 1971 as best director for Gosford Park, Shortcuts, The Players, Nashville, and MASH, respectively.
Robert Altman participation in Golden Globes.
Winner in 2002 as best director Golden Park
Nominee in 1971, 1976, 1993,1994, and 2002 for best screenplay, best director in the player, Nashville, and Mach.
Participated in Primetime Emmy Awards
Nominee in 1993as an outstanding individual directing a variety of films and music programs
He won as an outstanding director in 1889 in drama series.
Altman nominations in Writers guide of America awards, Venice Film Festival
International awards and honors
Robert Altman had a unique style in directing films.
He used realistic sounds and large collective casts (Gilbey, 2015)
Replicated natural sounds during conversations by using hidden microphones hidden inside the actors
Produced large audio experience to the audience
Altman was distinctive in photography use.
He used widescreen compositions.
Altman being selective in music scores for his films.
Used music that personally loved
Conclusion
Altman contributed to the use of comedy in films.
He shaped the American film industry.
References
Gilbey, R. (2015). Robert Altman: the genius who 'reinvented the language of cinema.' Retrieved from https://www.theguardian.com/film/2015/mar/19/robert-altman-genius-who-reinvented-language-of-cinema
Karp, A. (1981). The Films of Robert Altman.
Self, R. T. (2002). Robert Altman's subliminal reality. U of Minnesota Press.
Wire, B. (2007). Robert Altman to Receive Honorary Spirit Award at the 2007 Film Independent's Spirit Awards. Retrieved from https://www.businesswire.com/news/home/20070215005312/en/Robert-Altman-Receive-Honorary-Spirit-Award-2007
Cite this page
Robert Altman - Essay Sample. (2023, Sep 12). Retrieved from https://speedypaper.com/essays/robert-altman
Request Removal
If you are the original author of this essay and no longer wish to have it published on the SpeedyPaper website, please click below to request its removal: