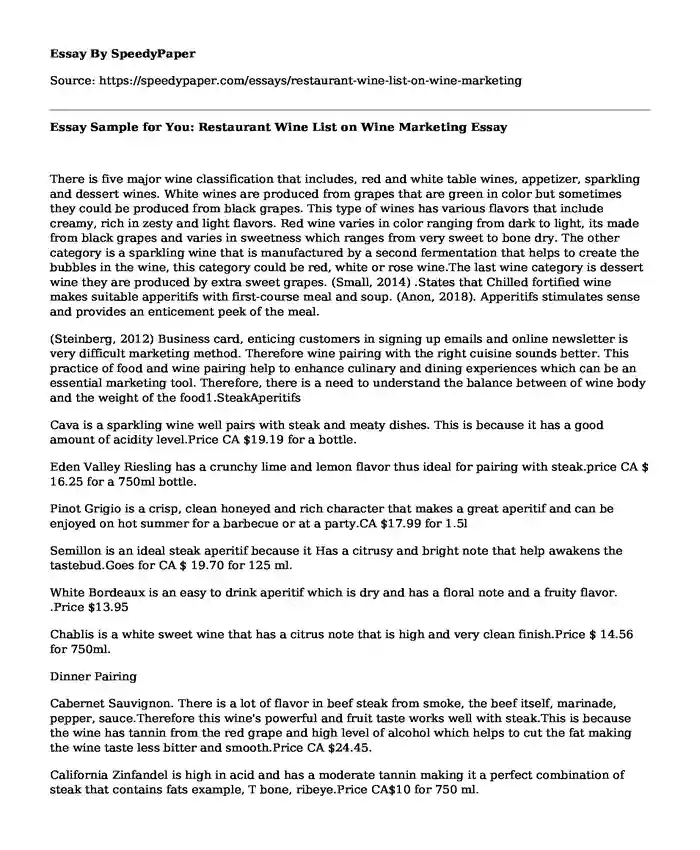 | | |
| --- | --- |
| Type of paper:  | Research paper |
| Categories: | Food Hospitality |
| Pages: | 8 |
| Wordcount: | 2024 words |
There is five major wine classification that includes, red and white table wines, appetizer, sparkling and dessert wines. White wines are produced from grapes that are green in color but sometimes they could be produced from black grapes. This type of wines has various flavors that include creamy, rich in zesty and light flavors. Red wine varies in color ranging from dark to light, its made from black grapes and varies in sweetness which ranges from very sweet to bone dry. The other category is a sparkling wine that is manufactured by a second fermentation that helps to create the bubbles in the wine, this category could be red, white or rose wine.The last wine category is dessert wine they are produced by extra sweet grapes. (Small, 2014) .States that Chilled fortified wine makes suitable apperitifs with first-course meal and soup. (Anon, 2018). Apperitifs stimulates sense and provides an enticement peek of the meal.
(Steinberg, 2012) Business card, enticing customers in signing up emails and online newsletter is very difficult marketing method. Therefore wine pairing with the right cuisine sounds better. This practice of food and wine pairing help to enhance culinary and dining experiences which can be an essential marketing tool. Therefore, there is a need to understand the balance between of wine body and the weight of the food1.SteakAperitifs
Cava is a sparkling wine well pairs with steak and meaty dishes. This is because it has a good amount of acidity level.Price CA $19.19 for a bottle.
Eden Valley Riesling has a crunchy lime and lemon flavor thus ideal for pairing with steak.price CA $ 16.25 for a 750ml bottle.
Pinot Grigio is a crisp, clean honeyed and rich character that makes a great aperitif and can be enjoyed on hot summer for a barbecue or at a party.CA $17.99 for 1.5l
Semillon is an ideal steak aperitif because it Has a citrusy and bright note that help awakens the tastebud.Goes for CA $ 19.70 for 125 ml.
White Bordeaux is an easy to drink aperitif which is dry and has a floral note and a fruity flavor. .Price $13.95
Chablis is a white sweet wine that has a citrus note that is high and very clean finish.Price $ 14.56 for 750ml.
Dinner Pairing
Cabernet Sauvignon. There is a lot of flavor in beef steak from smoke, the beef itself, marinade, pepper, sauce.Therefore this wine's powerful and fruit taste works well with steak.This is because the wine has tannin from the red grape and high level of alcohol which helps to cut the fat making the wine taste less bitter and smooth.Price CA $24.45.
California Zinfandel is high in acid and has a moderate tannin making it a perfect combination of steak that contains fats example, T bone, ribeye.Price CA$10 for 750 ml.
Malbec is a red wine that is ideal for beef pairing.it has a tannin and acidity. Price 12.49 for 750 ml bottle.Price CA $13.76 for 1-litre bottle.
Brut Blanc de Noirs is ideal for pairing with steaks and game meat as there are earthiness and an added depth to the wine that works well with the meat flavor. Price CA $17.67 for 750 ml bottle.
Rose wine that includes white zinfandel, Syrah, and Grenache. This wines are fresh and light and have a fruity currant and cherry note its perfect accompaniment for cold meat, grilled meat and for a starter, it has a low sugar level of 1. Price CA $14.21 for 1-litre bottle.
Pinot noir Eleve en fut de chene Has a roasted coffee, tannin and blackcurrant aroma making it ideal for the accompaniment of streaks, strong cheese, and red meat Price CA 25.47 for 750 ml bottle.Dessert
Neige apple ice wine has a golden yellow in color and boasts of the crisp and pure aroma of vividly intense and fresh apple taste.It has a balance of acidity and sugar thus its ideal for steak dessert.The wine is produced in the premiere, La face cache de la pomme glass is CA$ 10.50, CA $ half bottle 63.
Inniskillin Vidal Icewine is a dessert wine that goes well with flavored food and steaks.It has an intense flavor, is luscious and rich in aroma and tropical fruits flavors. is produced in Niagra Canada a glass goes for CA $8 and a half bottle for CA $17
Inniskillin Riesling icewine boosts lime and lemon flavor and tropical aroma.It has a good amount of acidity that makes it ideal for after steak meal.It is produced in Niagra and a half bottle goes for CA $145 and a glass CA $24.
inniskillin Vidal gold icewine it is rich and very sweet with delicate flavor with balanced acidity level.It has a tropical fruit flavor making it ideal dessert wine.also produced in Canada in Niagra where a glass goes for CA$4 and a half bottle goes for CA$14
Inniskin Carbarnet Franc Icewine It has a strawberry, rhubarb, and raspberry characteristic while its palate shows red fruit concentration.It is Canadian produced and a glass costs CA $31 while a half bottle goes for CA$185
Jackson Triggs Vidal icewine has a nectar texture and flavor It has a vanilla and honey notes and has a creamy and lush mouthfeel that is supported by fresh acidity.The wine is sourced in Canada and is sold in a 185ml bottle that costs CA$502.Sea Food Aperitifs
Demi-Sec Vouvray its off-dry and can go well with seafood dishes or a souffle of blue cheese.Price CA $ 15.57 for the 1.5-litre bottle.
Prosecco is less complex and light in the body thus making it ideal as before dinner drink.It is a citrusy wine and can be paired with salty and seafood snacks example fritto Misto .it can also be paired with anything that needs a lemon twist or is citrusy such as fish carpaccio or oyster.Price CA $14.79 for 750 ml bottle.
Sherry this wine can vary from a spectrum of dry to sweet and is suitable for pairing with umami or savory, seafood dishes, cured food or spicy food. Price CA $ 20.99 for 1-liter bottle.
Brut champagne works well oysters the raw oyster's minerality is perfectly accented by subtle acidity and fine bubbles in this champagne Price CA $78.17 for 750 ml
Pinot Gris. It has a perfect balance between acidity and sweetness, fruity flavor and is very smooth, with exotic character and has slight acid flavor making it ideal aperitif to that goes well with, prawns or foie grass.Price CA $13 half bottle.
Candoni Pinot Grigio is sophisticated and structured and has a crisp acidity and pear-like flavor and has a very delicious mouthfeel making it ideal for fish accompaniment and a hot summer aperitif.Price CA $11.99 for 1.5 l bottleDinner pairing
Sauvignon blanc has a high level of acidity, therefore, can be paired with seafood such as oysters, fatty white fish, scallops, lobster, and shrimps.Price CA $16.95 for 750 ml
Riesling lieu-dit hagenschlauf it has a rich, powerful elegance citrus fruit aroma which makes it the best accompaniment to fish or shellfish cuisines.Price 29.47 for a 1.5-liter bottle.
Riesling grand cru Mandelberg its has a lemon, quince, and pear aroma taste and is slightly sweet.This wine is ideal for salmon, pan-fried foie grass or large prawn dishes.Price
Sylvaner Coeur de barrique has a caramel, vanilla and hazelnut aroma mouth feel thus offering a velvety sensation its ideal for fish in sauce, and snails.It has a sugar level of 2.Price CA $22.17.
Vinho Verde it has a lot of cleansing acidity with some tidge of bubbles.Price CA $ 14.99.
NV Terre Gaie Prosecco.It is sourced in Italy and has a hint of white fruits and citrus and is slightly sweet thus making it an ideal for seafood pairing.Price CA $ 18.76.Dessert
Moscato d'Asti goes well with after seafood dishes because it is moderately sweet. a bottle goes for CA$19.99
Heaven on earth Muscat d'Alexandrie has a blend of the flavor of ripe apricot and honey.
Barolo Chinato Cocchi it has an addition of quinine, rhubarb, mace and some other spices giving it a digestive characteristic. Price CA $27.8
Semillon Riverina has a concentration of strong flavor making it ideal for seafood dishes dessert.
Cremant Brut is an artisan delicate wine that is sparkling with delicate bubbles and is fruitful its ideal as a dessert. Price CA $25.55
Madeira wines such as malmsey is an ideal dessert wine that is perfect with fish dishes.It has a very sweet taste and is intense. Price CA $27.673.Asian FusionAperitifs
Riesling .it can work well as a refreshing before dinner drink.It is ideal to sip this wine with Asian fish dishes.This wine is racy, slightly fruity and dry and is characterized by delicate citrus fruit and bouquet. Price CA $ 24.66
Gewurztraminer has a powerful seductive exuberant and robust slight taste.Its bouquet develops floral rich fruit or spicy aroma making it ideal apperitifs for Asian cuisine. Price CA $31.11
Nectar de Bachus its a combination of four grapes that combines riesling elegance, pinot gris spiciness, and Muscat fruitfulness thus making it the best aperitif accompaniment of Asian cuisines.it has level 3 sugar. Price CA $28.88
Fino sherry is a dry white wine dried under yeast layer.it has a yellow straw to pale gold color and is delicate in the bouquet and with an almond taste with wild herbs and fresh dough hint.It a perfect companion of fish and shellfish dishes or raw shimi.It has low acetic acid.Thus making it ideal for curried food. Price CA $25.67
Manzanilla has a sharp bouquet that is very delicate with the floral aroma of chamomile, dough, and almond.It has alight acidity this characteristic helps to pair with seafood and fish cuisines as well with cured meat because it has low acidity level. Price CA $24.56Dinner Pairing
Chardonnay goes perfectly well with seared scallops that are cooked with fried Nori this is because the wine enhances mouthfeel of this meal while the savory flavor of the fruit balances the ginger and nori element. Price CA $27.89
Rosabrook shiraz goes well with mushroom and beef skewers if offers aroma of ripe fruit it gives a rich texture and smooth texture of dark berry with ripe tannin.it offers a long warm spicy persistence. Price CA $29.46
Merlot can be best enjoyed with curry dish e.g massaman curry.The flavor of this dish requires a wine that will complement with soft tannins that wouldn't clash with hot chili spices. Price CA $31.77.
Chardonnay million goes well with Asian dishes with citrus flavor hint like lemongrass stir-fried beef. Price CA $30.11
a sweet wine such as Riesling, Grenache, and gewurtztraminer could be paired with sweet dishes such as sour and sweet beef or chicken wings in a sweet soy sauce. Price CA $21.54
Rose champagne and Blanc de Blancs works well with Thai food the sweet, bubbles and fruity flavors are great in salinity softening of a dish and thus keeps the palate fresh. Price CA $23.33Dessert
Tenuta Carretta Moscato d'Asti it has a slightly sweet frizzante and has delicate flavor its excellent paired with fruity desserts, sorbet, and meringues. Price CA $25.54
Muscat Beaumes de Venise this wine is sweet and has a light nectar with rose petal aroma its perfect for golden brown pastries, tarts, ice cream, flan and creme caramel. Price CA $ 29.67
Quinta do Vesuvio Vintage 1998 is referred to as a complex wine with woody taste and nice texture the wine is perfectly paired with Stilton cheese.the nutty and salty nature of this cheese will balances perfectly with this sweet with the aroma of dry fruit. Price CA $23.24
Chateau signals rabaud .The cellar temperature gives this wine a lift and freshness and is naturally warm where it develops aromatic complexities and freshness.This wine can be served as a dessert wine after a seafood dish, spicy Asian cuisine or sashimi and sushi. Price CA $22.43
Royal Tokaji has uplifting acidity and colorful flavor that makes it ideal to be enjoyed by an Asian fusion or a chocolate dessert. Price CA $21.55
4.General North America Aperitifs
Omerto moelleux is a fruit wine made from tomato.It achieves a great balance of acidity Price CA $25.67
Heritage haskap is made from ha...
Cite this page
Essay Sample for You: Restaurant Wine List on Wine Marketing. (2022, Apr 08). Retrieved from https://speedypaper.com/essays/restaurant-wine-list-on-wine-marketing
Request Removal
If you are the original author of this essay and no longer wish to have it published on the SpeedyPaper website, please click below to request its removal: