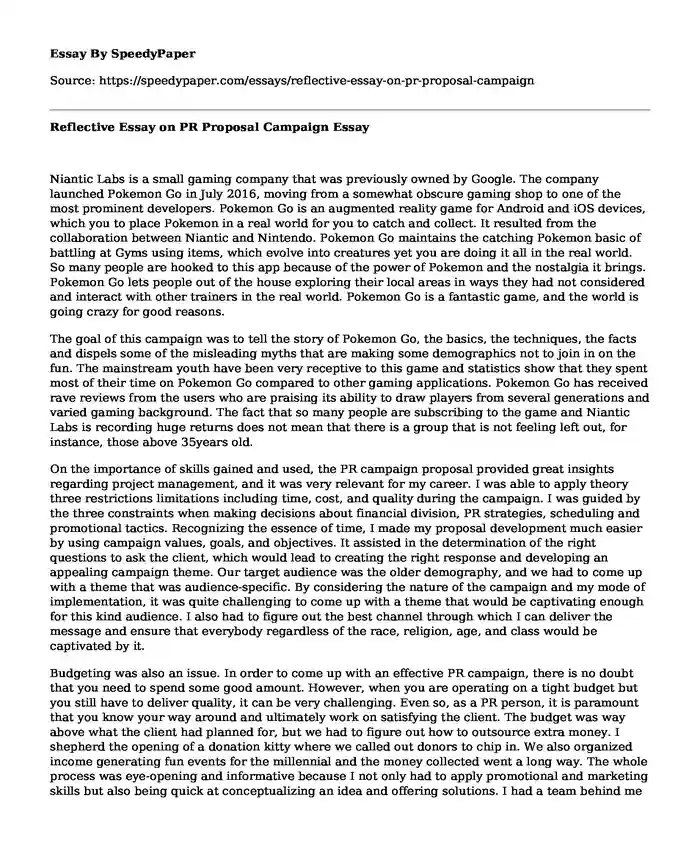 Niantic Labs is a small gaming company that was previously owned by Google. The company launched Pokemon Go in July 2016, moving from a somewhat obscure gaming shop to one of the most prominent developers. Pokemon Go is an augmented reality game for Android and iOS devices, which you to place Pokemon in a real world for you to catch and collect. It resulted from the collaboration between Niantic and Nintendo. Pokemon Go maintains the catching Pokemon basic of battling at Gyms using items, which evolve into creatures yet you are doing it all in the real world. So many people are hooked to this app because of the power of Pokemon and the nostalgia it brings. Pokemon Go lets people out of the house exploring their local areas in ways they had not considered and interact with other trainers in the real world. Pokemon Go is a fantastic game, and the world is going crazy for good reasons.
The goal of this campaign was to tell the story of Pokemon Go, the basics, the techniques, the facts and dispels some of the misleading myths that are making some demographics not to join in on the fun. The mainstream youth have been very receptive to this game and statistics show that they spent most of their time on Pokemon Go compared to other gaming applications. Pokemon Go has received rave reviews from the users who are praising its ability to draw players from several generations and varied gaming background. The fact that so many people are subscribing to the game and Niantic Labs is recording huge returns does not mean that there is a group that is not feeling left out, for instance, those above 35years old.
On the importance of skills gained and used, the PR campaign proposal provided great insights regarding project management, and it was very relevant for my career. I was able to apply theory three restrictions limitations including time, cost, and quality during the campaign. I was guided by the three constraints when making decisions about financial division, PR strategies, scheduling and promotional tactics. Recognizing the essence of time, I made my proposal development much easier by using campaign values, goals, and objectives. It assisted in the determination of the right questions to ask the client, which would lead to creating the right response and developing an appealing campaign theme. Our target audience was the older demography, and we had to come up with a theme that was audience-specific. By considering the nature of the campaign and my mode of implementation, it was quite challenging to come up with a theme that would be captivating enough for this kind audience. I also had to figure out the best channel through which I can deliver the message and ensure that everybody regardless of the race, religion, age, and class would be captivated by it.
Budgeting was also an issue. In order to come up with an effective PR campaign, there is no doubt that you need to spend some good amount. However, when you are operating on a tight budget but you still have to deliver quality, it can be very challenging. Even so, as a PR person, it is paramount that you know your way around and ultimately work on satisfying the client. The budget was way above what the client had planned for, but we had to figure out how to outsource extra money. I shepherd the opening of a donation kitty where we called out donors to chip in. We also organized income generating fun events for the millennial and the money collected went a long way. The whole process was eye-opening and informative because I not only had to apply promotional and marketing skills but also being quick at conceptualizing an idea and offering solutions. I had a team behind me and I had to use excellent managerial skills including human and technical skills.
For the PR, I reckoned that it was paramount to create a specific PR team for the campaign, preferably hand-picked by you or experts. When you are recruiting the members, let it be purely by merit, talent, passion, and competence. You will need several technocrats on your team ranging from the social media analysts to digital designers. I contracted a digital designer who came up the social applications and visual assets for the campaign and also managed the social profiles. The social media analyst handled social media insights while the social media marketer was focused on driving traffic to social media pages and the website. I also contracted a grounds manager who would report to me about the relevant conversations regarding the app and what people are saying concerning it. The project manager was focused on ensuring that the execution is done with great finesse and the campaign was completed as scheduled, with the set budget and quality. As a PR manager, I supervised all the roles and worked to see to it that the campaign was running with utmost efficiency.
Having learned some administration skills, I managed to plan and organize the campaign and ensured there was coordination between the activities of my team and the client. Conceptualization also came in handy during the whole process since I kept obtaining information that I needed to interpret and make proper decisions. Mostly, you rely on the information during planning and execution of the campaign, and you cannot afford to make mistakes. Moreover, managerial functions including planning, organizing, coordination, staffing and controlling are quite essential, especially when the resources are scarce. During some technicalities, the technical skills should be helpful to aid in the execution of the plan. There was also the recruitment of competent staff where I applied my human resource management skills. When you have a team behind you, it is important that you do job specialization with a clear description of what each individual on the team will be handling to avoid scheduling clash.
Now, on the importance of PRs contribution to social awareness issues, the PR campaign was enlightening, providing keen insights on the whole idea of Pokemon Go and the story behind it. I learned that it has an interesting story behind it with the nostalgic Pokemon coming live right before your eyes. Pokemon Go lets people explore the world, turns couch potatoes into active gym fanatics and has exciting features that will make your experience worthwhile. By taking some time to learn about Niantic Labs before and after its Pokemon debut has made me realize how smart and business-savvy CEO John Hanke is and the incredible AR idea, which is definitely the future of mobile technology. The most paramount thing that I have learned is the importance of maximizing in the untapped areas. Pokemon Go scored enormous success because it got an idea that existed (Pokemon), gave it an interesting twist and now people are hooked to it. It was interesting to learn that several government agencies, businesses, and celebrities are endorsing it. Scientists, researchers, and educationists are also considering possible research found around the concept of Pokemon Go and how it can be incorporated in the classroom.
The PR campaign plan was very instrumental in impacting on me relevant skills that will positively influence my career. I acquired many life and professional skills including negotiating, marketing, initiating, integrity, persistent, teamwork and persistence, which will help in my personal and professional life. It was quite refreshing to be thrown into the real PR arena where I had to learn and deliver results at the same time. I learned new skills and applied some including social media marketing skills, strategy development skills, as well as budgeting skills. I have learned that with the digital era, so many new jobs have been created, which most people do not consider conventional but are relevant. My negotiations skills were put to the test when pitching the campaign idea to the mainstream media platforms. It also requires patience and persistence because they do not give you audience just on the first try. The project planning and management was a learning experience, and so was the monitoring and evaluation. There are three major evaluation methods include ongoing, summative and formative, which are different but very important in any program.
Ultimately, the whole PR campaign was fulfilling, inspirational and one of the most valuable experiences of my entire life. I am happy I was able to push myself to do this; I set out goals and diligently worked towards them. As an aspiring entrepreneur, I learned the value of sound conceptualization, asking for help when you need it, investing in the right people for specific jobs and proper decision-making. I am totally inspired by the whole process and the chance to apply my PR skills and learn more about project management and planning. I feel ready to take on the challenging of using my skills in a real world scenario. I would like to keep following the story of Pokemon Go, Niantic Company and look out for the new features the app will keep inventing. It would be interesting to get a chance to work with their PR team in pushing the product in other countries, especially the developing ones. I had my challenges through the process, saw the gaps in the PR field, and I want to be the person who will start those hard conversations that would bring change and make it easier for other people who would want to be part of it in future.
Cite this page
Reflective Essay on PR Proposal Campaign. (2019, Nov 18). Retrieved from https://speedypaper.com/essays/reflective-essay-on-pr-proposal-campaign
Request Removal
If you are the original author of this essay and no longer wish to have it published on the SpeedyPaper website, please click below to request its removal: