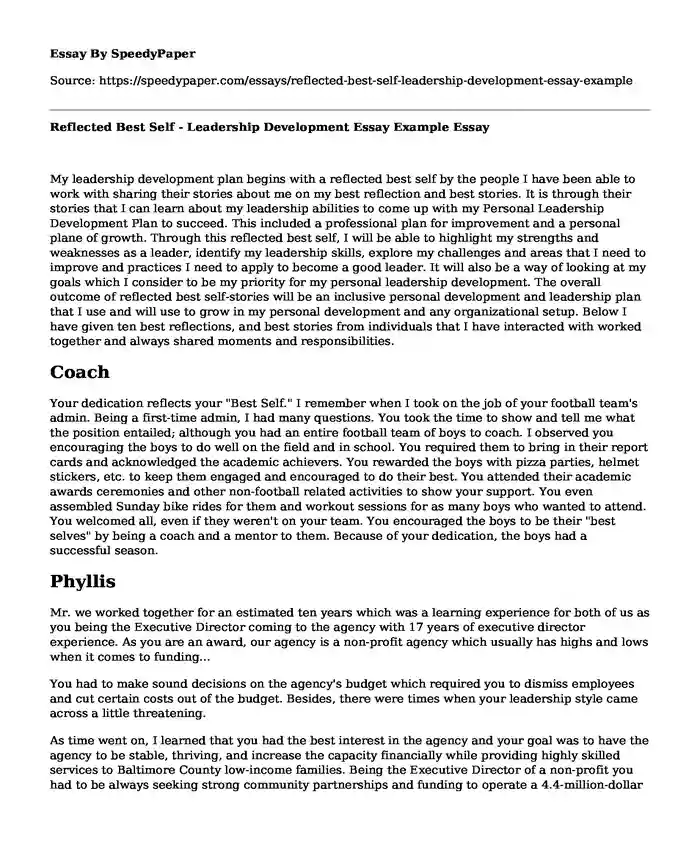 My leadership development plan begins with a reflected best self by the people I have been able to work with sharing their stories about me on my best reflection and best stories. It is through their stories that I can learn about my leadership abilities to come up with my Personal Leadership Development Plan to succeed. This included a professional plan for improvement and a personal plane of growth. Through this reflected best self, I will be able to highlight my strengths and weaknesses as a leader, identify my leadership skills, explore my challenges and areas that I need to improve and practices I need to apply to become a good leader. It will also be a way of looking at my goals which I consider to be my priority for my personal leadership development. The overall outcome of reflected best self-stories will be an inclusive personal development and leadership plan that I use and will use to grow in my personal development and any organizational setup. Below I have given ten best reflections, and best stories from individuals that I have interacted with worked together and always shared moments and responsibilities.
Coach
Your dedication reflects your "Best Self." I remember when I took on the job of your football team's admin. Being a first-time admin, I had many questions. You took the time to show and tell me what the position entailed; although you had an entire football team of boys to coach. I observed you encouraging the boys to do well on the field and in school. You required them to bring in their report cards and acknowledged the academic achievers. You rewarded the boys with pizza parties, helmet stickers, etc. to keep them engaged and encouraged to do their best. You attended their academic awards ceremonies and other non-football related activities to show your support. You even assembled Sunday bike rides for them and workout sessions for as many boys who wanted to attend. You welcomed all, even if they weren't on your team. You encouraged the boys to be their "best selves" by being a coach and a mentor to them. Because of your dedication, the boys had a successful season.
Phyllis
Mr. we worked together for an estimated ten years which was a learning experience for both of us as you being the Executive Director coming to the agency with 17 years of executive director experience. As you are an award, our agency is a non-profit agency which usually has highs and lows when it comes to funding...
You had to make sound decisions on the agency's budget which required you to dismiss employees and cut certain costs out of the budget. Besides, there were times when your leadership style came across a little threatening.
As time went on, I learned that you had the best interest in the agency and your goal was to have the agency to be stable, thriving, and increase the capacity financially while providing highly skilled services to Baltimore County low-income families. Being the Executive Director of a non-profit you had to be always seeking strong community partnerships and funding to operate a 4.4-million-dollar agency.
Your strengths were maintaining community partners such as United Way of Central, Baltimore County Department of Planning, and state of Maryland Department of Housing and Development just to name a few. These businesses are heavy hitters and provide serval grants to deserving and productive agencies.
As you supervise your leadership team, you continue to support them and let them know how each one of them was very important to the agency as well as the families that they served. There were times when the leadership team had to face adversity. However, you protected their character.
'Great leaders get the wrong people off the bus, the right people on the bus - then get the right people sitting in the right seats - and only then decide where you want to go.'
I wish you good luck and great success.
Edi
Mr. is a great communicator and motivator. He always found encouraging words in our leadership meetings. He would bring out the best of the leadership team. He knew how to guide us for our state and county monitor visits by helping us work through our challenges. When issues would arise with personnel and clients, he would meditate and would always reach a satisfactory outcome.
Trezaline
You are a very caring person with a big heart. As a little league football coach, you ensure that your athletes perform their best on and off the field. I was thoroughly impressed to learn of the tutoring program you started for your team members to ensure that they were all scholar-athletes. You always go above and beyond to ensure that the kids on your team have all they need to excel on the field and in the classroom. One specific incident that resonated with me is when you were made aware that a mom of one of your players on your team walked to attend the games, carrying her infant on her entire hip way. It touched you to know that the mom could not afford a stroller but still made an effort to support her son. To make things easier for the mom to continue to show support, you went out and purchased a stroller for the mom. This is one of the many instances in which I have witnessed you at your best.
Charles
You are a man of strength, tenacity. And courage, I recall when you had a personal life changing event happen to you that was emotionally taxing and yet in your darkest hour you continued to keep your head high, walk in confidence and move through the hurt and pain, you never wavered in your belief that good would come from the hurt and when the dust cleared, you would be standing strong for your sons and more importantly, for yourself. THANK you for setting a great example for me as every man you know. On a tombstone, you will find an individual's date of birth and date of death and in between those two dates is a little dash- The dash is so much more powerful than either of the dates because it identifies everything and everyone has been a part of your life. THANK you for making me a part of your dash and THANK you for making me a part of your dash and THANK you for being my Brother, my Friend.
Sheronda
I have always had admired and respect for your opinion. Before I met you, I would ask here about how Associated Black Charities wanted to hire. Your presence within the community as the Executive Director of the Boys and Girls Club of Harford County was a major influence on this decision. You were making a difference within the Harford County community that sparked interested in the Associated Black Charities. In hearing about your impact, I wanted to know you and why you were the chosen one. In meeting and having the opportunity to work on several projects with you as a fellow Director was refreshing. I was able to take away a nugget from all interactions that I feel enhance my growth as a professional. Although I was a bit stern in my decision making as a product from the corporate sector becoming acclimated to the nonprofit world, you were the one to remind me to lighten up; things were not that serious. Your complaints about me being tight forced me to take an internal look at myself. I realized that I did not have to be that stern and just to have fun.
You always had a Rolodex of contacts at your fingertips whenever someone needed something. This was truly a reflection of your work within the community. Any time that I needed a business lead, job opportunity, or just a character and skills reference, you were unyielding in your support. I have found that you are passionate about helping others accomplish their goals both personally and professionally. Working as the Director of Leaders2000 gave you another platform to lead and encourage community involvement and to allow others to self-diagnose their 'why.' You truly keep me grounded, and when asked, you force me to assess the quality of my decisions.
Alain
Tony, you continue to offer your unwavering support to the Howard County Terps. Your commitment to the Terps has inspired and motivated me to do more and be better. By following your example, I have turned my hobby into a passionate mission inspired journey to be a positive influence in the lives of young men and women. By watching your preparation techniques and game day rituals, I have learned how to be a winner on the field which then allowed me more time to focus on teaching kids how to be winners off the field.
Vaughn
Looking at a time when you were at your best, was during the 2015 football season. People looked at your team like a well-oiled machine, showing its dominance at will, without realizing the hard-work and dedication to get there. That team though very talented could be very difficult for most to handle and would have run a lot of coaches out of town. Your decisiveness as a coach allowed you to make tough decisions regarding players helped get them tuned in and understand that no one player is bigger than the team. Which humbled those players and to me allowed you to be honest and create a reliable foundation of trust that they needed to be successful. I'd say it was inspirational to me, ended up convincing me to coach the next year and while managing your team had the awareness to realize where my team struggled and helped me make the adjustments to have a successful season.
Team Player
Your perseverance reflects your "Best Self." We won our league's Super Bowl, the highest championship in the regular season. After our winning the Super Bowl, we had a few hiccups along the way, including not being supported by our county (that provided our regular-season uniforms) and having no equipment to play in the State Championship. You made some phone calls, borrowed equipment from another football program in a distant county and made sure were provided with liability insurance for the game. I admire your perseverance. You showed the boys that there might be obstacles in life but keep striving, and things will likely work out to their satisfaction.
Friend
Your selflessness reflects your "Best Self." I organized a team of football moms, to play in a friendly competition of flag football, to raise awareness for breast cancer. Our team of moms desperately needed a coach. Although you had just enrolled in your graduate program, had your youth football team, a full-time job, AND a family and you STILL agreed to coach us. You took time out on the weekend to coach us. You were very patient. Some of us never even played football! You taught us by using your humor and football expertise, making us moms a great team. Your compassion to help others goes unmeasured.
Self-Assessment
From the reflected best self I can agree that my leadership philosophy is based on my collective experience, successes, observations, challenges, and failures. I view leadership as a social influence process which plays a crucial role in influencing an individual or a group of people in structuring activities and relationship in an organization. A leader becomes the team leader who thinks creatively out of the box and proposes great ideas and decisions. A leader also needs to be experienced in a certain aspect of the business that makes him/her proven useful to the management team. Any individual needs to implement a leadership style that can help in achieving the plan, motivating and influencing employees. Leaders will have a vision of the achievements then communicate them for better strategies in realizing the vision. Leadership motivates people, and through it, resources can be negotiated in support of the goals.
Cite this page
Reflected Best Self - Leadership Development Essay Example. (2022, May 17). Retrieved from https://speedypaper.com/essays/reflected-best-self-leadership-development-essay-example
Request Removal
If you are the original author of this essay and no longer wish to have it published on the SpeedyPaper website, please click below to request its removal: