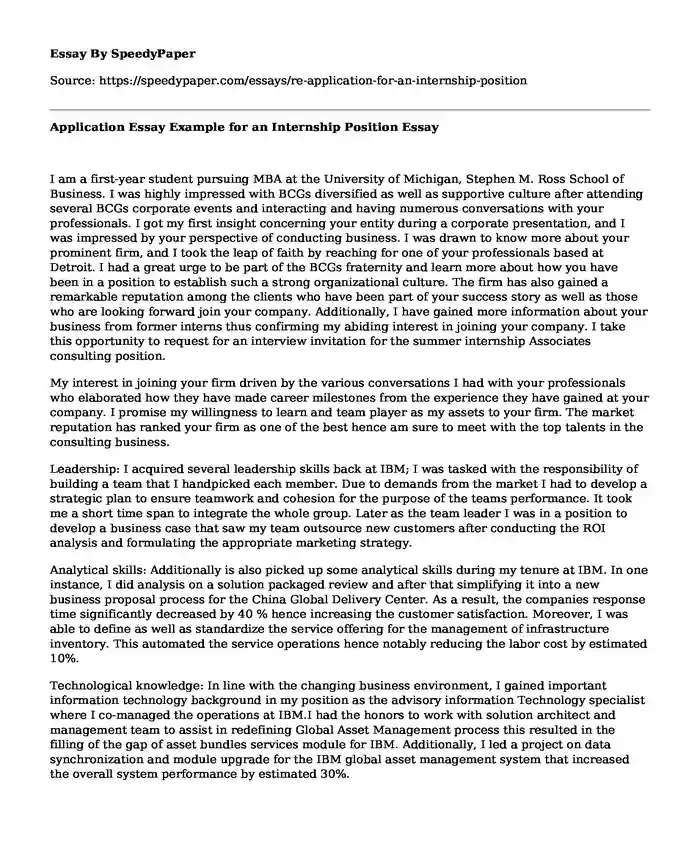 I am a first-year student pursuing MBA at the University of Michigan, Stephen M. Ross School of Business. I was highly impressed with BCGs diversified as well as supportive culture after attending several BCGs corporate events and interacting and having numerous conversations with your professionals. I got my first insight concerning your entity during a corporate presentation, and I was impressed by your perspective of conducting business. I was drawn to know more about your prominent firm, and I took the leap of faith by reaching for one of your professionals based at Detroit. I had a great urge to be part of the BCGs fraternity and learn more about how you have been in a position to establish such a strong organizational culture. The firm has also gained a remarkable reputation among the clients who have been part of your success story as well as those who are looking forward join your company. Additionally, I have gained more information about your business from former interns thus confirming my abiding interest in joining your company. I take this opportunity to request for an interview invitation for the summer internship Associates consulting position.
My interest in joining your firm driven by the various conversations I had with your professionals who elaborated how they have made career milestones from the experience they have gained at your company. I promise my willingness to learn and team player as my assets to your firm. The market reputation has ranked your firm as one of the best hence am sure to meet with the top talents in the consulting business.
Leadership: I acquired several leadership skills back at IBM; I was tasked with the responsibility of building a team that I handpicked each member. Due to demands from the market I had to develop a strategic plan to ensure teamwork and cohesion for the purpose of the teams performance. It took me a short time span to integrate the whole group. Later as the team leader I was in a position to develop a business case that saw my team outsource new customers after conducting the ROI analysis and formulating the appropriate marketing strategy.
Analytical skills: Additionally is also picked up some analytical skills during my tenure at IBM. In one instance, I did analysis on a solution packaged review and after that simplifying it into a new business proposal process for the China Global Delivery Center. As a result, the companies response time significantly decreased by 40 % hence increasing the customer satisfaction. Moreover, I was able to define as well as standardize the service offering for the management of infrastructure inventory. This automated the service operations hence notably reducing the labor cost by estimated 10%.
Technological knowledge: In line with the changing business environment, I gained important information technology background in my position as the advisory information Technology specialist where I co-managed the operations at IBM.I had the honors to work with solution architect and management team to assist in redefining Global Asset Management process this resulted in the filling of the gap of asset bundles services module for IBM. Additionally, I led a project on data synchronization and module upgrade for the IBM global asset management system that increased the overall system performance by estimated 30%.
I am impressed by the adequate potential fit that I expect at GCB consulting. I presume that the leadership, teamwork as well as analytical skills I have gained during my employment as well as academic avenues have equipped me with the tool required to perform in the consulting career as I contribute to your firm's growth.
I have attached my resume so that you can review. I humbly welcome any opportunity where I can meet with you.Thank you for your consideration as well as time. I am looking forward to hearing from you
Sincerely,
Name
Cite this page
Application Essay Example for an Internship Position. (2019, Jun 26). Retrieved from https://speedypaper.com/essays/re-application-for-an-internship-position
Request Removal
If you are the original author of this essay and no longer wish to have it published on the SpeedyPaper website, please click below to request its removal: