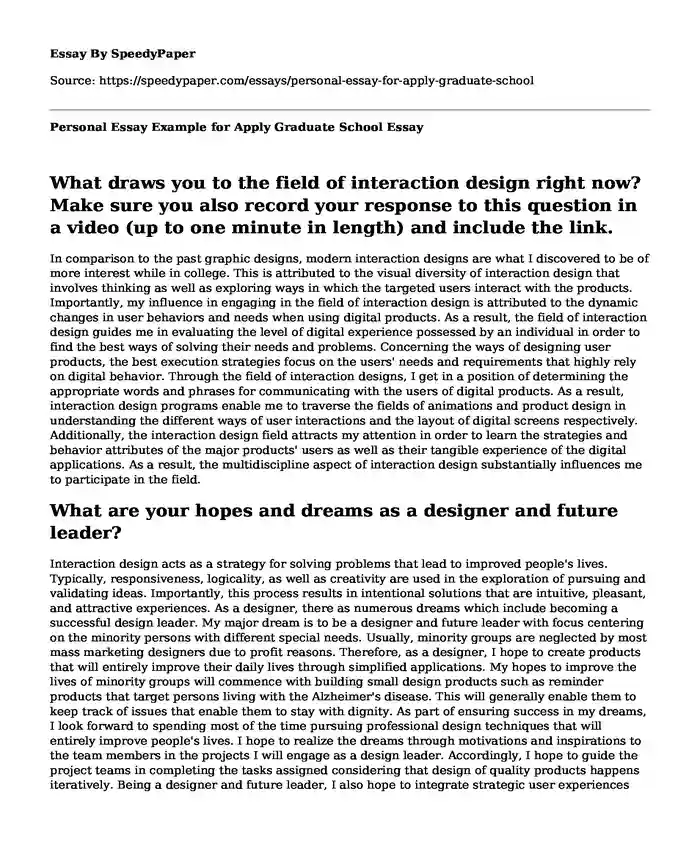 What draws you to the field of interaction design right now? Make sure you also record your response to this question in a video (up to one minute in length) and include the link.
In comparison to the past graphic designs, modern interaction designs are what I discovered to be of more interest while in college. This is attributed to the visual diversity of interaction design that involves thinking as well as exploring ways in which the targeted users interact with the products. Importantly, my influence in engaging in the field of interaction design is attributed to the dynamic changes in user behaviors and needs when using digital products. As a result, the field of interaction design guides me in evaluating the level of digital experience possessed by an individual in order to find the best ways of solving their needs and problems. Concerning the ways of designing user products, the best execution strategies focus on the users' needs and requirements that highly rely on digital behavior. Through the field of interaction designs, I get in a position of determining the appropriate words and phrases for communicating with the users of digital products. As a result, interaction design programs enable me to traverse the fields of animations and product design in understanding the different ways of user interactions and the layout of digital screens respectively. Additionally, the interaction design field attracts my attention in order to learn the strategies and behavior attributes of the major products' users as well as their tangible experience of the digital applications. As a result, the multidiscipline aspect of interaction design substantially influences me to participate in the field.
What are your hopes and dreams as a designer and future leader?
Interaction design acts as a strategy for solving problems that lead to improved people's lives. Typically, responsiveness, logicality, as well as creativity are used in the exploration of pursuing and validating ideas. Importantly, this process results in intentional solutions that are intuitive, pleasant, and attractive experiences. As a designer, there as numerous dreams which include becoming a successful design leader. My major dream is to be a designer and future leader with focus centering on the minority persons with different special needs. Usually, minority groups are neglected by most mass marketing designers due to profit reasons. Therefore, as a designer, I hope to create products that will entirely improve their daily lives through simplified applications. My hopes to improve the lives of minority groups will commence with building small design products such as reminder products that target persons living with the Alzheimer's disease. This will generally enable them to keep track of issues that enable them to stay with dignity. As part of ensuring success in my dreams, I look forward to spending most of the time pursuing professional design techniques that will entirely improve people's lives. I hope to realize the dreams through motivations and inspirations to the team members in the projects I will engage as a design leader. Accordingly, I hope to guide the project teams in completing the tasks assigned considering that design of quality products happens iteratively. Being a designer and future leader, I also hope to integrate strategic user experiences into the organizations in order to enable in differentiating people's experiences with the products and services I will build. Importantly I will inspire and create a culture for attracting the preeminent talents that will enable building the dream designer applications for the minority groups.
What experiences have best prepared you to engage with community partners through our Social Lab?
With my experience in performing tasks related to design and retail fields, I have transformed into a multidisciplinary individual. While working at the COS, a fashion retail brand, I used most of my time in assisting customers through their shopping experiences as part of my service. Conversely, the brick and mortar job entails providing great customer shopping experiences through physical means in person rather than the digital ways. Therefore, from these encounters, I get challenged to determine design strategies that probably improve customer experiences while easing my job. The Social Lab provides space for adopting design skills that improve people's lives in society. Typically, the program focused on creating non-profit impacts in society. However, my experience with the Social Lab concerning the nature of solving problems remains the same despite the non-profit aspect of the program. Significantly, the Social Lab program will enable me in interacting with people and observing their behavioral needs that lead to designing beneficial products.
What complex social challenge inspires you the most right now? Please include why the challenge is important and what drives you to find a solution.
Technology plays a significant role in enhancing social changes in society. Through social designs, interaction designers can use design processes to deliver social changes by ensuring marginalized user groups are given priority in life. I was highly challenged by the #MeToo movement, which is a social movement that campaigns against sexual assault and harassment. This movement was virally spread in October 2017 through a social media hashtag with the attempt of demonstrating widespread incidences of sexual harassment and assaults, mainly in workplaces. Precisely, the #MeToo social movement gives victims the courage to raise their concerns on cases of sexual harassment or assault and expose the suspects involved in the circumstances. The challenge is greatly important in raising awareness of the seriousness and reality involved in sexual abuse. Accordingly, the movement importantly raises concerns on how the matters of sexual harassment may occur in any place whatsoever. As a designer and leader, I was influenced by the #MeToo movement in finding solutions to matters affecting minority groups form social discriminations. With the rising cases of criminality and social exploitation, the movement drives me to design a suitable application for finding reliable solutions to these social matters. Thus, the interaction design program will guide me in understanding the critical elements required in driving a sustainable social movement to enhance developments in the society.
What are your expectations for the IxD program?
My expectations for the IxD program is to gain a deeper insight into both experience and product designs which will enable me to define my career path. Through the program, my vision is to understand the strategies used in building products and services that will enhance people's interactions by using intuitive visual and tactile interfaces. Thus, I anticipate learning the concepts used in illustrating user experiences and interactions. As a result, I hope the course will enable me to use innovative technologies in improving user experiences with different products. This will base on the ability to transform my imaginative design visions into the market opportunities. Besides, I expect the IxD program to enhance my familiarization with the processes involved in interface designs by understanding the concepts of user experience, usability as well as user-centered designs. Accordingly, my expectations on the program encompass acquisition of knowledge in design principles and the different prototyping activities in user interface designs. Importantly, I expect to possess the necessary skills after the course that will enable me in pursuing careers in different fields of technology designer jobs.
Cite this page
Personal Essay Example for Apply Graduate School. (2022, Nov 07). Retrieved from https://speedypaper.com/essays/personal-essay-for-apply-graduate-school
Request Removal
If you are the original author of this essay and no longer wish to have it published on the SpeedyPaper website, please click below to request its removal: