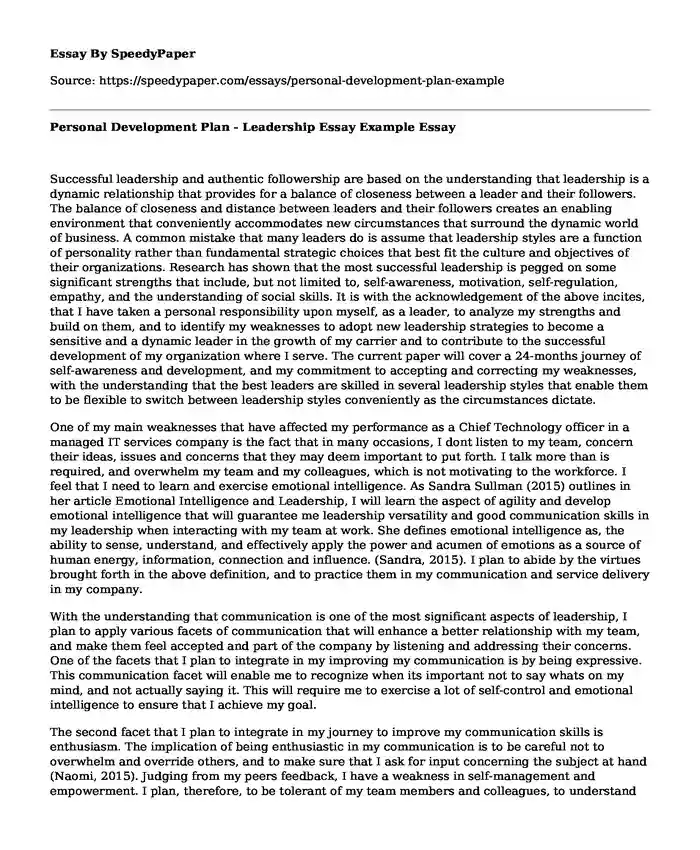 Successful leadership and authentic followership are based on the understanding that leadership is a dynamic relationship that provides for a balance of closeness between a leader and their followers. The balance of closeness and distance between leaders and their followers creates an enabling environment that conveniently accommodates new circumstances that surround the dynamic world of business. A common mistake that many leaders do is assume that leadership styles are a function of personality rather than fundamental strategic choices that best fit the culture and objectives of their organizations. Research has shown that the most successful leadership is pegged on some significant strengths that include, but not limited to, self-awareness, motivation, self-regulation, empathy, and the understanding of social skills. It is with the acknowledgement of the above incites, that I have taken a personal responsibility upon myself, as a leader, to analyze my strengths and build on them, and to identify my weaknesses to adopt new leadership strategies to become a sensitive and a dynamic leader in the growth of my carrier and to contribute to the successful development of my organization where I serve. The current paper will cover a 24-months journey of self-awareness and development, and my commitment to accepting and correcting my weaknesses, with the understanding that the best leaders are skilled in several leadership styles that enable them to be flexible to switch between leadership styles conveniently as the circumstances dictate.
One of my main weaknesses that have affected my performance as a Chief Technology officer in a managed IT services company is the fact that in many occasions, I dont listen to my team, concern their ideas, issues and concerns that they may deem important to put forth. I talk more than is required, and overwhelm my team and my colleagues, which is not motivating to the workforce. I feel that I need to learn and exercise emotional intelligence. As Sandra Sullman (2015) outlines in her article Emotional Intelligence and Leadership, I will learn the aspect of agility and develop emotional intelligence that will guarantee me leadership versatility and good communication skills in my leadership when interacting with my team at work. She defines emotional intelligence as, the ability to sense, understand, and effectively apply the power and acumen of emotions as a source of human energy, information, connection and influence. (Sandra, 2015). I plan to abide by the virtues brought forth in the above definition, and to practice them in my communication and service delivery in my company.
With the understanding that communication is one of the most significant aspects of leadership, I plan to apply various facets of communication that will enhance a better relationship with my team, and make them feel accepted and part of the company by listening and addressing their concerns. One of the facets that I plan to integrate in my improving my communication is by being expressive. This communication facet will enable me to recognize when its important not to say whats on my mind, and not actually saying it. This will require me to exercise a lot of self-control and emotional intelligence to ensure that I achieve my goal.
The second facet that I plan to integrate in my journey to improve my communication skills is enthusiasm. The implication of being enthusiastic in my communication is to be careful not to overwhelm and override others, and to make sure that I ask for input concerning the subject at hand (Naomi, 2015). Judging from my peers feedback, I have a weakness in self-management and empowerment. I plan, therefore, to be tolerant of my team members and colleagues, to understand and accommodate their conversations and their urge to join in the discussions that pertain to our work and the objectives of the IT department that I lead, as I exercise intuition when analyzing ideas and issues. Donald (2012) notes that when a leader empowers their workforce, they feel part and parcel of the organization, and feel appreciated as active members of the team. Consequently, they get motivated, and the result is higher productivity, and growth of the organization. With this understanding, I plan to integrate Faisals LVI leadership model that will help me make management a balancing act between opposing tensions and trade-offs. As the model guides, I plan to create and enabling business environment that is pegged round strategic and operational concerns that a leader should focus on (Faisal, 2014). I understand that my current leadership model is one where I exercise forceful leadership by assuming authority and giving direction. However, I am sensitive in giving realistic steps when problems arise in my department.
The other weakness that I plan to work on is the overuse of my strengths in handling projects in my department. I am also forceful, and I tend to push too hard on the employees sometimes, an element that I am willing to work and transform to positive and productive leadership. I am decisive, but I think I take a position and defend it too much without the proper evaluation and consultation from my team, and from my senior management authorities. With this understanding, I plan to make my leadership better by adopting the model of an enabling leadership, whereby I give people room to contribute to the management process, and to take upon myself to trust others to handle problems, so that everything is not centered with me. From self-evaluation of my decision-making techniques that I have been using in my leadership position, I plan to adopt a decision making style whereby I consult with my group, get as much contribution as possible, then settle down on the options on the table, and make rational and well-articulated decisions on my own (Faisal, 2014). This, I believe, will get me a step ahead in my decision-making effectiveness in my leadership position. On other incidences, I will undertake to share problems and challenges that face us, as a department, with all the team members, and discuss the possible solutions, and mutually decide the most prudent actions to take given the prevailing situation.
Additionally, within my 24-months period of leadership transformation, I will be a supportive leader, one who is participative, and to consider input of my team members, and to make my policies and ideas open to influence.
In order to have a motivated workforce, as a leader, I plan to treat my team and colleagues well, mainly by showing appreciation, and giving people a benefit of the doubt. However, this does not imply that I will lower my standards and expectations on delivery and output from the workers. Employees must deliver on their duties and contribute to the attainment of the organizations objectives. By setting high expectations and holding workers accountable while appreciating their effort and inputs to the company operations, I will have succeeded in merging forceful leadership with enabling leadership (Daniel, 2015). I believe this will interpret to a highly motivated workforce, one that is disciplined and focussed on the maximum output delivery. Incorporating these changes in my leadership will not only improve my interpersonal and leadership skills, but also create harmony and a favorable working culture in my department, guaranteeing higher productivity, growth and development of the organization.
Over my time as a departmental leader in my organization, I have employed pace-setting leadership style and coaching to my followers. I have based my leadership on setting high standards and remaining competent in achieving excellence. My aim was to challenge other employees in my team, and impact positively on their productivity. However, I have noticed that employees get to a point whereby they feel overwhelmed by my standards and demands, a factor that has prompted me to take up a new leadership style in position.
I have a strong conviction that adopting the authoritative leadership style will be a key aspect that will improve my leadership, and guarantee high motivation and productivity in my team. With this leadership style, I will be reinstating the overall goal of the organization, and the specific goal of our department in attaining organizational growth, giving my team the freedom to choose their own ways of achieving the goals (Daniel, 2015). This, I believe, will encourage employees to be more creative to come up with effective strategies that work best with them in being productive and attaining the objectives of the organization. Additionally, this leadership style will put me in a position to identify talented employees and to allocate duties to the employees that I deem most qualified and specialized.
Another reason for adopting an authoritative leadership style is the understanding that I am not sensitive to other peoples feelings, especially when they are slow or not competent. This leadership style is, therefore, very well placed to challenge me to be sensitive and receptive to other peoples feelings. Instead of being inconsiderate to slow employees, I will challenge myself to correct and guide employees who are not competitive enough, to improve on their skills and productivity. I believe this will be a bold move, one that will be motivating to employees. Now employees can be comfortable to take risky ventures, with the knowledge that I wont look down upon them, only to correct and encourage them (Mary, 2013). Additionally, I believe that this approach will be effective in better service delivery and increased productivity in the organization. Every leader will attest to the fact that workers prefer when managers trust in their ability without much supervision. I will be using this leadership facet to make employees feel wanted and appreciated in their contributions in their various capacities, both junior and senior employees.
In conclusion, I fully understand that achieving the objectives that I have put forth in the personal development plan that I have prepared above wont be a smooth ride. It will take a lot of understanding and perseverance to deal with the different reactions that may be exemplified by employees, especially if they dont like some of the leadership aspects that I plan to use. However, I am committed to take my leadership role to a higher level, whereby I am able to identify productive areas of uncertainty and confusion, and to lead my team of employees in viable areas where competitive advantage is attainable.
References
Daniel, G. (2015). Leadership That Gets Results. Harvard Business Review. Print.
Donald, H. (2012). The Top Management Team: Key to Strategic Success. California Research Management.
Faisal, K. (2014). Leadership Versatility Index. Kaiser Leadership Solutions. U.S. Patent No. 7, 121, 830. Print.
Mary, C., et.al. (2013). In Search of Virtue: The Role of Virtues, Values and Character Strengths in Ethical Decision Making. Springer Media.
Naomi, L., and Jean, M. (2015). Interpretive Report: Personality Assessment. CPP, Inc. Print.
Sandra, S. (2015). Emotional Intelligence and Leadership. HEC Report Group.
Cite this page
Personal Development Plan - Leadership Essay Example. (2019, May 14). Retrieved from https://speedypaper.com/essays/personal-development-plan-example
Request Removal
If you are the original author of this essay and no longer wish to have it published on the SpeedyPaper website, please click below to request its removal: