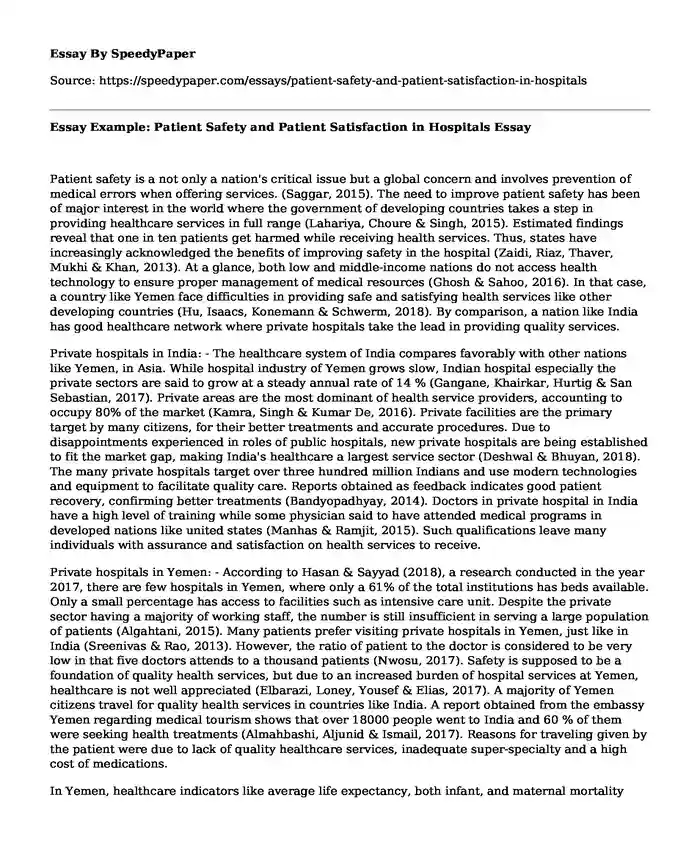 Patient safety is a not only a nation's critical issue but a global concern and involves prevention of medical errors when offering services. (Saggar, 2015). The need to improve patient safety has been of major interest in the world where the government of developing countries takes a step in providing healthcare services in full range (Lahariya, Choure & Singh, 2015). Estimated findings reveal that one in ten patients get harmed while receiving health services. Thus, states have increasingly acknowledged the benefits of improving safety in the hospital (Zaidi, Riaz, Thaver, Mukhi & Khan, 2013). At a glance, both low and middle-income nations do not access health technology to ensure proper management of medical resources (Ghosh & Sahoo, 2016). In that case, a country like Yemen face difficulties in providing safe and satisfying health services like other developing countries (Hu, Isaacs, Konemann & Schwerm, 2018). By comparison, a nation like India has good healthcare network where private hospitals take the lead in providing quality services.
Private hospitals in India: - The healthcare system of India compares favorably with other nations like Yemen, in Asia. While hospital industry of Yemen grows slow, Indian hospital especially the private sectors are said to grow at a steady annual rate of 14 % (Gangane, Khairkar, Hurtig & San Sebastian, 2017). Private areas are the most dominant of health service providers, accounting to occupy 80% of the market (Kamra, Singh & Kumar De, 2016). Private facilities are the primary target by many citizens, for their better treatments and accurate procedures. Due to disappointments experienced in roles of public hospitals, new private hospitals are being established to fit the market gap, making India's healthcare a largest service sector (Deshwal & Bhuyan, 2018). The many private hospitals target over three hundred million Indians and use modern technologies and equipment to facilitate quality care. Reports obtained as feedback indicates good patient recovery, confirming better treatments (Bandyopadhyay, 2014). Doctors in private hospital in India have a high level of training while some physician said to have attended medical programs in developed nations like united states (Manhas & Ramjit, 2015). Such qualifications leave many individuals with assurance and satisfaction on health services to receive.
Private hospitals in Yemen: - According to Hasan & Sayyad (2018), a research conducted in the year 2017, there are few hospitals in Yemen, where only a 61% of the total institutions has beds available. Only a small percentage has access to facilities such as intensive care unit. Despite the private sector having a majority of working staff, the number is still insufficient in serving a large population of patients (Algahtani, 2015). Many patients prefer visiting private hospitals in Yemen, just like in India (Sreenivas & Rao, 2013). However, the ratio of patient to the doctor is considered to be very low in that five doctors attends to a thousand patients (Nwosu, 2017). Safety is supposed to be a foundation of quality health services, but due to an increased burden of hospital services at Yemen, healthcare is not well appreciated (Elbarazi, Loney, Yousef & Elias, 2017). A majority of Yemen citizens travel for quality health services in countries like India. A report obtained from the embassy Yemen regarding medical tourism shows that over 18000 people went to India and 60 % of them were seeking health treatments (Almahbashi, Aljunid & Ismail, 2017). Reasons for traveling given by the patient were due to lack of quality healthcare services, inadequate super-specialty and a high cost of medications.
In Yemen, healthcare indicators like average life expectancy, both infant, and maternal mortality rate have been observed to improve in recent years (Naser, Ingrassia, Aladhrae & Abdulraheem, 2018). However, when compared to other developing states like India the conditions are still not satisfactory. A high number of Yemeni visit other countries seeking medical treatments, while as it should be a concern by the government (Sharma & Baghel, 2017). According to Wirtz et al (2017), Brown & Piatkowski (2017), it is essential that policymakers in Yemen hasten standards of healthcare considerably through the adoption of the Indian or western model.
References
Algahtani, F. D. (2015). The culture in safety culture: exploration of patient safety culture in Saudi Arabian operating theatres (Doctoral dissertation).
Almahbashi, T., Aljunid, S. M., & Ismail, A. (2017). Health labor market requirements of health professional education in Yemen. Eastern Mediterranean Health Journal, 23(6), 415.
Bandyopadhyay, D. (2014). A study of prescription auditing in a Tertiary Care Teaching Hospital of Eastern India. Journal of Drug Delivery and Therapeutics, 4(1), 140-149.
Brown, I. C., & Piatkowski, T. M. (2017). Patient Satisfaction as a Reflection of Quality Health Care and Outcomes.
Deshwal, P., & Bhuyan, P. (2018). Cancer patient service experience and satisfaction. International Journal of Healthcare Management, 11(2), 88-95. doi:10.1080/20479700.2016.1238601
Elbarazi, I., Loney, T., Yousef, S., & Elias, A. (2017). Prevalence of and factors associated with burnout among health care professionals in Arab countries: a systematic review. BMC Health Services Research, 171-10. doi:10.1186/s12913-017-2319-8
Gangane, N., Khairkar, P., Hurtig, A. K., & San Sebastian, M. (2017). Quality of Life Determinants in Breast Cancer Patients in Central Rural India. Asian Pacific journal of cancer prevention: APJCP, 18(12), 3325-3332.
Ghosh, T., & Sahoo, D. (2016). Exploring the Emerging Role of Healthscope in Determining Patient Satisfaction: An Empirical Study in the Indian Private Healthcare Industry. Amity Global Business Review, 11103-114.
Hasan, A. S. M., & Sayyad, M. G. (2018). Current Health Care Condition in Yemen (Aden). American Journal of Clinical and Experimental Medicine, 6(1), 18.
Hu, C., Isaacs, G. L., Konemann, M. G., & Schwerm, M. S. (2018). Computer Science and Information Technology.
Kamra, V., Singh, H., & Kumar De, K. (2016). Factors affecting patient satisfaction: an exploratory study for quality management in the health-care sector. Total Quality Management & Business Excellence, 27(9/10), 1013-1027. doi:10.1080/14783363.2015.1057488
Lahariya, C., Choure, A., & Singh, B. (2015). Patient safety in maternal healthcare at secondary and tertiary level facilities in Delhi, India. Journal of Family Medicine & Primary Care, 4(4), 529-534. doi:10.4103/2249-4863.174276
Manhas, P. S., & Ramjit. (2015). Marketing Analysis of Medical Tourism in India. Enlightening Tourism, 5(1), 1-39.
Naser, W. N., Ingrassia, P. L., Aladhrae, S., & Abdulraheem, W. A. (2018). A study of hospital disaster preparedness in South Yemen. Prehospital and disaster medicine, 1-6.
Nwosu, C. G. (2017). Prevalence of Hypoglycaemia Among Plasmodium Falciparum Infected Women Attending Antenatal Clinics in Nsukka Local Government Area of Enugu State, Nigeria (Doctoral dissertation).
Saggar, S. K. (2015). Critical Aspects in Patient Safety. ASCI Journal of Management, 44(2), 1-8.
Sharma, S., & Baghel, D. S. (2017). Ayurceuticals: A progressive opportunity in wellness and medical tourism. Journal of Pharmacy Research Vol, 11(7), 903-911.
Sreenivas, T., & Rao, U. S. (2013). An Empirical Study on User Satisfaction in Corporate Hospitals. Clear International Journal of Research in Commerce & Management, 4(2), 63-69.
Wirtz, V. J., Hogerzeil, H. V., Gray, A. L., Bigdeli, M., De Joncheere, C. P., Ewen, M. A., ... & Moller, H. (2017). Essential medicines for universal health coverage. The Lancet, 389(10067), 403-476.
Zaidi, S., Riaz, A., Thaver, A., Mukhi, A., & Khan, L. A. (2013). Role and contribution of private sector in moving towards universal health coverage in the eastern mediterranean region.
Cite this page
Essay Example: Patient Safety and Patient Satisfaction in Hospitals. (2022, May 20). Retrieved from https://speedypaper.com/essays/patient-safety-and-patient-satisfaction-in-hospitals
Request Removal
If you are the original author of this essay and no longer wish to have it published on the SpeedyPaper website, please click below to request its removal: