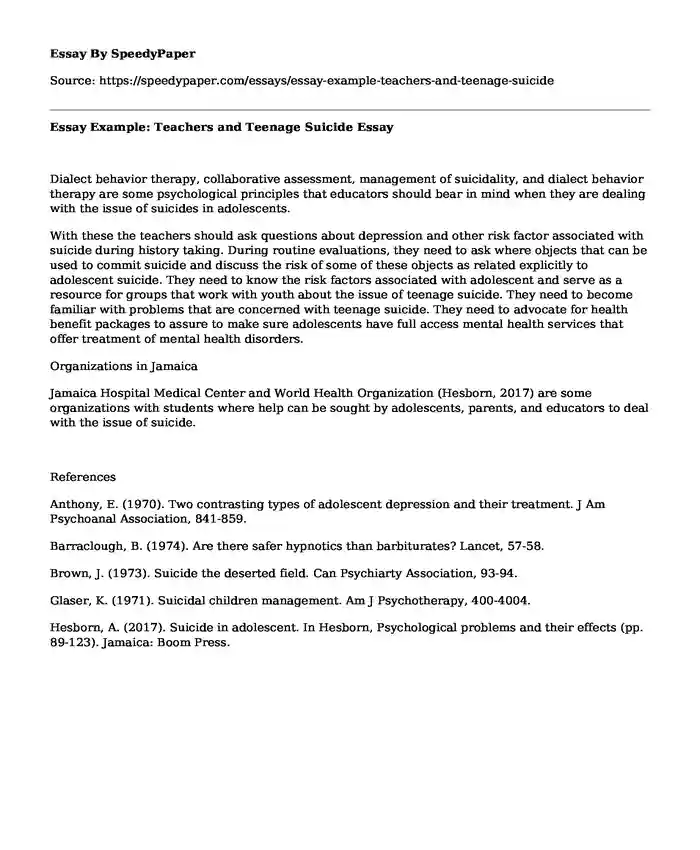 | | |
| --- | --- |
| Type of paper:  | Course work |
| Categories: | Psychology |
| Pages: | 1 |
| Wordcount: | 254 words |
Dialect behavior therapy, collaborative assessment, management of suicidality, and dialect behavior therapy are some psychological principles that educators should bear in mind when they are dealing with the issue of suicides in adolescents.
With these the teachers should ask questions about depression and other risk factor associated with suicide during history taking. During routine evaluations, they need to ask where objects that can be used to commit suicide and discuss the risk of some of these objects as related explicitly to adolescent suicide. They need to know the risk factors associated with adolescent and serve as a resource for groups that work with youth about the issue of teenage suicide. They need to become familiar with problems that are concerned with teenage suicide. They need to advocate for health benefit packages to assure to make sure adolescents have full access mental health services that offer treatment of mental health disorders.
Organizations in Jamaica
Jamaica Hospital Medical Center and World Health Organization (Hesborn, 2017) are some organizations with students where help can be sought by adolescents, parents, and educators to deal with the issue of suicide.
References
Anthony, E. (1970). Two contrasting types of adolescent depression and their treatment. J Am Psychoanal Association, 841-859.
Barraclough, B. (1974). Are there safer hypnotics than barbiturates? Lancet, 57-58.
Brown, J. (1973). Suicide the deserted field. Can Psychiarty Association, 93-94.
Glaser, K. (1971). Suicidal children management. Am J Psychotherapy, 400-4004.
Hesborn, A. (2017). Suicide in adolescent. In Hesborn, Psychological problems and their effects (pp. 89-123). Jamaica: Boom Press.
Cite this page
Essay Example: Teachers and Teenage Suicide. (2022, Mar 11). Retrieved from https://speedypaper.com/essays/essay-example-teachers-and-teenage-suicide
Request Removal
If you are the original author of this essay and no longer wish to have it published on the SpeedyPaper website, please click below to request its removal: