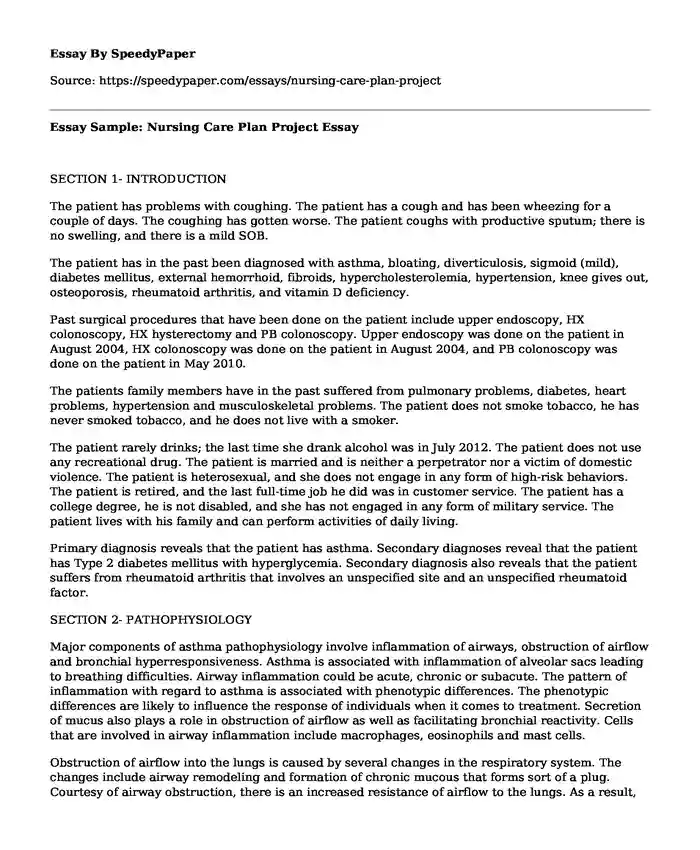 SECTION 1- INTRODUCTION
The patient has problems with coughing. The patient has a cough and has been wheezing for a couple of days. The coughing has gotten worse. The patient coughs with productive sputum; there is no swelling, and there is a mild SOB.
The patient has in the past been diagnosed with asthma, bloating, diverticulosis, sigmoid (mild), diabetes mellitus, external hemorrhoid, fibroids, hypercholesterolemia, hypertension, knee gives out, osteoporosis, rheumatoid arthritis, and vitamin D deficiency.
Past surgical procedures that have been done on the patient include upper endoscopy, HX colonoscopy, HX hysterectomy and PB colonoscopy. Upper endoscopy was done on the patient in August 2004, HX colonoscopy was done on the patient in August 2004, and PB colonoscopy was done on the patient in May 2010.
The patients family members have in the past suffered from pulmonary problems, diabetes, heart problems, hypertension and musculoskeletal problems. The patient does not smoke tobacco, he has never smoked tobacco, and he does not live with a smoker.
The patient rarely drinks; the last time she drank alcohol was in July 2012. The patient does not use any recreational drug. The patient is married and is neither a perpetrator nor a victim of domestic violence. The patient is heterosexual, and she does not engage in any form of high-risk behaviors. The patient is retired, and the last full-time job he did was in customer service. The patient has a college degree, he is not disabled, and she has not engaged in any form of military service. The patient lives with his family and can perform activities of daily living.
Primary diagnosis reveals that the patient has asthma. Secondary diagnoses reveal that the patient has Type 2 diabetes mellitus with hyperglycemia. Secondary diagnosis also reveals that the patient suffers from rheumatoid arthritis that involves an unspecified site and an unspecified rheumatoid factor.
SECTION 2- PATHOPHYSIOLOGY
Major components of asthma pathophysiology involve inflammation of airways, obstruction of airflow and bronchial hyperresponsiveness. Asthma is associated with inflammation of alveolar sacs leading to breathing difficulties. Airway inflammation could be acute, chronic or subacute. The pattern of inflammation with regard to asthma is associated with phenotypic differences. The phenotypic differences are likely to influence the response of individuals when it comes to treatment. Secretion of mucus also plays a role in obstruction of airflow as well as facilitating bronchial reactivity. Cells that are involved in airway inflammation include macrophages, eosinophils and mast cells.
Obstruction of airflow into the lungs is caused by several changes in the respiratory system. The changes include airway remodeling and formation of chronic mucous that forms sort of a plug. Courtesy of airway obstruction, there is an increased resistance of airflow to the lungs. As a result, the lung becomes incapable to expel air resulting to hyperinflation.
Asthma is also associated with bronchial hyperreponsiveness. Bronchial hyperreponsiveness refers to an elevated response to several stimuli that may be endogenous or exogenous. Bronchial hyperreponsiveness is directly linked with the severity of asthma. Allergic reactions and viral infections of the respiratory system have been established to play major roles in the development of asthma. In most patients, asthma development starts early in their lives. Persistence of asthma as a disease in individuals is determined by risk factors such as atopic disease, recurrence wheezing and parents with a history of asthma.
SECTION 3- MEDICATION REGIMEN
Scheduled medications
MEDICATION NAME
DRUG
CLASS
ACTION / PHARMACOKINETICS
DOSING
RANGES
COMMON
SIDE EFFECTS
NURSING PRECAUTIONS & MONITORING
Albuterol
Bronchodilator
Inhalation
2.5mg/3ml
Back pain, headache, dizziness, nausea
It should not be used in large or small amounts
Ipratropium
Anticholinergic
Inhalation
0.5 mg inhalation
Stomach upset, nausea, dizziness
A doctor should prescribe the medication
Prednisone
Glucocorticoids
Oral
60 mg
Sleep problems, increase in appetite, nausea,
The drug should be taken with food
Magnesium sulfate
Laxative
Intravenous
2g/50 ml
Allergic reactions, dizziness, muscle paralysis
Use the drug as directed by the doctor. The drug should be out of childrens reach.
PRN medications(administered within the last 48 hours):
MEDICATION NAME
DRUG
CLASS
ACTION / PHARMACOKINETICS
DOSING
RANGES
COMMON SIDE EFFECTS
NURSING PRECAUTIONS & MONITORING
Lansoprazole
Proton-pump inhibitor
Oral
30 mg
Nausea, stomach pain, headache, diarrhea.
If taking sucralfate, one should avoid taking Lansoprazole
Vitamin E capsule
Tocopherols
Oral
400 units
It might increase chances of developing a stroke.
If one has a heart disease or diabetes, he should not take doses of 400 IU/day or above.
Acetaminophen
Miscellaneous analgesics
Oral
500 mg
Nausea, dark urine, jaundice
One should miss a dose and neither should he overdose
Aspirin
Salicylates
Oral
81 mg
Upset stomach, mild headache, drowsiness
One should take the medicine if he or she smells a strong odor of vinegar in the bottle
SECTION 4- LAB & DIAGNOSTIC TEST DATA
Last Vitals
Blood pressure:109/56 (03/16/17 1438).
Pulse:108 (03/16/17 1602)
Temperature:99.1 F (37.3 C) (03/16/17 1140)
Respiration: 20 (03/16/17 1602)
Height: 160 cm (03/16/17 1140)
Weight: 72.1 kg (03/16/17 1438)
SpO2: 94% (03/16/17 1438)
SECTION 5- ASSESSMENT
Physical Exam
Constitutional: She is an oriented person with regard to place and time. She appears well- developed and well nourished. The patient exhibits non toxic appearances and she is not distressful.
HENT:
Head: Normocephalic and atraumatic
Eyes: Conjunctivae and EOM are normal. Pupils are equal, round and reactive to light.
Neck: Normal range of motion. Neck is supple. No JVD present.
Cardiovascular: Regular rhythm and normal heart sounds. Tachycardia is present.
Pulmonary/chest: Effort normal. No respiratory distress. She has wheezes. She has rhonchi.
Abdominal: Soft. Bowel sounds are normal. She exhibits no mass. There is no tenderness.
Musculoskeletal: Normal range of motion. She exhibits no edema or tenderness.
Neurological: She is alert and oriented to person, place and time. GCS eye subscore s 4. GCS verbal subscore is 5. GCS motor subscore is 6.
Skin: Skin is warm and dry. No rashes are noted on the skin.
Psychiatric: she has a normal mood and affect. Her behavior is normal.
My assessment of this case is that the patient suffering from asthma should be accorded appropriate healthcare management. Failure for the patient to be accorded appropriate healthcare management is likely to have a considerable burden on patients. Asthma management will play a major role in ensuring that even though the patient has asthma, she may be able to stay active and have a peaceful sleep. The patient should be educated on how she can live empowered despite having asthma. Studies have revealed that self- management among asthma patients is likely to improve outcomes in the patients. Self- management should include actions that ensure flare-ups associated with asthma are reduced. Patients with asthma are likely to benefit more from programs that improve patient outcomes.
Assessment of asthma control is very important because it enables making up of decisions on how to control asthma and ensure that the patient leads a life that frees from suffering and pain. Assessment of asthma will play a major role in ensuring that therapy is adjusted in such a manner to ensure that the patient responds to medication in a right manner.
The patient has to ensure that she sticks with his asthma action plan. The action plan will involve a patient knowing how to prevent symptoms of asthma as well knowing how to act in case of an asthma attack.
Making a correct diagnosis of asthma is the first step towards controlling the disease. Diagnosis of asthma is positive after it is established that there is obstruction of air flow in the lungs. A detailed medical history has to be ascertained from the patient before the diagnosis of asthma can take place. Physical examination has to be made with a focus on the upper respiratory tract. Results of spirometry should also be established. The severity of asthma should also be ascertained in a patient. Ascertaining severity of asthma will play a major role in making a decision on how to go about with asthma management.
SECTION 6 - NURSING PLAN OF CARE
NURSING PROBLEM /
NURSING DIAGNOSIS
(NANDA)
OUTCOME / GOAL
NURSING
INTERVENTIONS
RATIONALE(S)
EVALUATION
Asthma attack
-The patient experiences difficulties in breathing.
-The patients breathing is characterized by wheezing.
To ensure that the patient regains optimal breathing pattern.
-Assess the patients vital signs while she is in distress.
-Assess the patients respiratory rate, depth and rhythm.
-Assess of breathe sounds and adventitious sounds that include wheezes and stridor.
-Increase in respiratory rate during hypoxia and hypercapnia. Respiratory failure may result when the asthma becomes severe.
-Changes with regard to respiratory rate may be an indicator of imminent respiratory distress.
-Indistinct breathe sounds suggest imminent respiratory failure. Wheezing happens because of bronchoplasm.
-My goal was partially met. The patient improved her breathing.
-There was reduction in congestion with the patients breathe. The patients breathe sounds clear; her respirations are noiseless and oxygen exchange has been improved.
Cite this page
Essay Sample: Nursing Care Plan Project. (2017, Aug 11). Retrieved from https://speedypaper.com/essays/nursing-care-plan-project
Request Removal
If you are the original author of this essay and no longer wish to have it published on the SpeedyPaper website, please click below to request its removal: