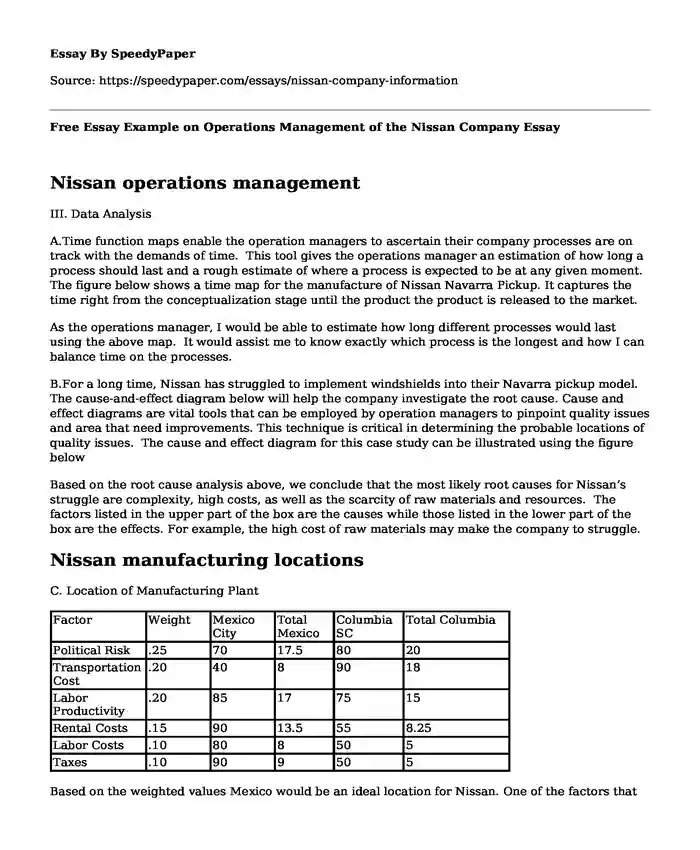 Nissan operations management
III. Data Analysis
A.Time function maps enable the operation managers to ascertain their company processes are on track with the demands of time. This tool gives the operations manager an estimation of how long a process should last and a rough estimate of where a process is expected to be at any given moment. The figure below shows a time map for the manufacture of Nissan Navarra Pickup. It captures the time right from the conceptualization stage until the product the product is released to the market.
As the operations manager, I would be able to estimate how long different processes would last using the above map. It would assist me to know exactly which process is the longest and how I can balance time on the processes.
B.For a long time, Nissan has struggled to implement windshields into their Navarra pickup model. The cause-and-effect diagram below will help the company investigate the root cause. Cause and effect diagrams are vital tools that can be employed by operation managers to pinpoint quality issues and area that need improvements. This technique is critical in determining the probable locations of quality issues. The cause and effect diagram for this case study can be illustrated using the figure below
Based on the root cause analysis above, we conclude that the most likely root causes for Nissan's struggle are complexity, high costs, as well as the scarcity of raw materials and resources. The factors listed in the upper part of the box are the causes while those listed in the lower part of the box are the effects. For example, the high cost of raw materials may make the company to struggle.
Nissan manufacturing locations
C. Location of Manufacturing Plant
| | | | | | |
| --- | --- | --- | --- | --- | --- |
| Factor | Weight | Mexico City | Total Mexico | Columbia SC | Total Columbia |
| Political Risk | .25 | 70 | 17.5 | 80 | 20 |
| Transportation Cost | .20 | 40 | 8 | 90 | 18 |
| Labor Productivity | .20 | 85 | 17 | 75 | 15 |
| Rental Costs | .15 | 90 | 13.5 | 55 | 8.25 |
| Labor Costs | .10 | 80 | 8 | 50 | 5 |
| Taxes | .10 | 90 | 9 | 50 | 5 |
Based on the weighted values Mexico would be an ideal location for Nissan. One of the factors that make Mexico the preferred destination is because it has minimal operational costs compared to Columbia. The country also has low political risks and low transport costs compared to Columbia. The disadvantage faced by Mexico is a higher cost of labor, rental cost and taxes.
Nissan operations management system model
D. ABC Classification System
From the above classification, the listed items have been classified into three broad categories i.e. category A, B and C. Each of these categories shows the different levels of importance with items in category A being highly critical material whereas those in category C the least necessary. It is thus important for the company to develop an ABC inventory matrix as this would form a basis on which the company would execute a better product flow. To enhance its inventory management, Nissan should consider adopting the ABC inventory that allows for planning scenarios, real-time analytics and provides data that is critical in making real-time planning decisions. Besides, the inventory policy on volume value should be implemented to ensure that service levels are increased.
Nissan Sustainability
A.The Triple-Bottom Line is rapidly emerging as an efficient manner in which companies could achieve operational sustainability (Milne & Gray, 2013). It focuses on three perspectives, people, planet, and profit. At the Nissan Motors Inc. the implementation operational procedures that consider the well-being of its workers and surrounding communities represent this people perspective. For instance, this could involve the provision of proper remuneration to its workers, creating more employment opportunities for surrounding communities and the provision of social support to needy persons, among others. This perspective is important because it improves the relationship of the company with the general public, including lawmakers hence, leading to a higher competitive advantage. Proper remuneration and other employee benefits could also improve their moral, thus, a higher level of productivity.
It is important to acknowledge that environmental stewardship has become a major issue among manufacturing organizations with governments introducing laws and regulations that require companies to adhere to engage in the sustainable practice. Nissan Motors Company could improve its operations by introducing sustainable operational practices so that it develops a proper rapport with legal authorities while preventing environmental damage. Nissan Company Limited could engage in the identification of the adverse impacts of its products and projects such as the manufacture of fossil-fuel supported cars with the intention of formulating resolutions. Nissan Motors Company Limited could also implement operational strategies geared towards improving its profit margin. These strategies could focus on the reduction of operational costs while maximizing benefits.
B.The ISO 14000 formulated by the International Standardization Organization offers a clear and efficient structure through which companies in the conventional society may utilize to enhance their conservation and environmental protection initiatives (Wiengarten, Pagell & Fynes, 2013). In its Global Strategy, Nissan Motors Company Limited has created an environmental management division responsible for the implementation of environmental conservation initiatives including green operational approaches. The company has introduced programs such as the Nissan Green Programs that is in charge of identifying and developing innovative ideas that would lead to the development of sustainable operational practices (Mahlia, Tohno & Tezuka, 2013). It is important to note that Nissan Motors does not use ISO suppliers, although it has implemented a flexible and decentralized supply chain process. The use of ISO suppliers entails engaging in a supply chain activity that follows the procedures of the International Standardization Organization.
C.The company could incorporate Corporate Social Responsibility (CSR) in its operations by including a mainstream CSR Plan into its short-term, mid-term and long-term plans. This would place CSR as a core component of its operations. Another option to create a department that will specialize in the implementation of CSR activities; however, the most effective approach would be integrating or mainstreaming the CSR in its short, mid and long-term plans. The latter mechanism has been supported by many stakeholders given the fact that it is cost-effective compared to the former.
Conclusion
Nissan has developed a well-functioning supply chain management that functions during the disaster times by decreasing the loss to the minimum compared to the supply chain managements in the other multinational companies. Especially, simulation training implement by all units in the different countries by localizing the training has provided an essential elasticity to the company. Consequently, the case of Nissan is a valuable one for the companies regarding developing a mitigation strategy for the risk of disasters, and this strategy might assist the companies to survive during the disaster times, and it might be an essential way of recovering the global economy from the adverse influences of the disasters. Nevertheless, there are some recommendations that Nissan should consider implementing as suggested in this paper. Some of the recommended approaches include the Toyota Processing System, Lean Manufacturing and Total Quality Management. These approaches have been to be critical for organizations that are keen to improve the quality of their product, to enhance production efficiencies as well as deliver value to customers. The adoption of these operations management approaches would better position Nissan in the market as well as increase its competitive advantage.
References
Bag, S. (2016). Flexible procurement systems is key to supply chain sustainability. Journal OfTransport And Supply Chain Management, 10(1), 1-9. http://dx.doi.org/10.4102/jtscm.v10i1.213
Boddu, S., Neba, N., Palaniswaamy, G., Massingill, B., Tseng, T., Morrow, A. & Rangaraj, D. (2013). SUET229: Adopting Toyota Production System Principles & Tools to Improve Radiation Therapy Processes. Medical Physics, 40(6), 257-257.
Cox, J. & Schleier, J. (2010). Theory of constraints handbook. New York: McGraw-Hill.
Fawcett, S. E., & Pearson, J. N. (2015). Requirements and benefits of implementing just-in-time manufacturing for small-firm manufacturers. Journal of Small Business Strategy, 1(2), 10-26.
Hajmohammad, S. & Vachon, S. (2015). Mitigation, Avoidance, or Acceptance? Managing Supplier Sustainability Risk. J Supply Chain Manag, 52(2), 48-65. http://dx.doi.org/10.1111/jscm.12099
Mahlia, T. M. I., Tohno, S., & Tezuka, T. (2013). International experience on incentive program in support of fuel economy standards and labelling for motor vehicle: A comprehensive review. Renewable and Sustainable Energy Reviews, 25, 18-33.
Cite this page
Free Essay Example on Operations Management of the Nissan Company. (2018, Jan 09). Retrieved from https://speedypaper.com/essays/nissan-company-information
Request Removal
If you are the original author of this essay and no longer wish to have it published on the SpeedyPaper website, please click below to request its removal: