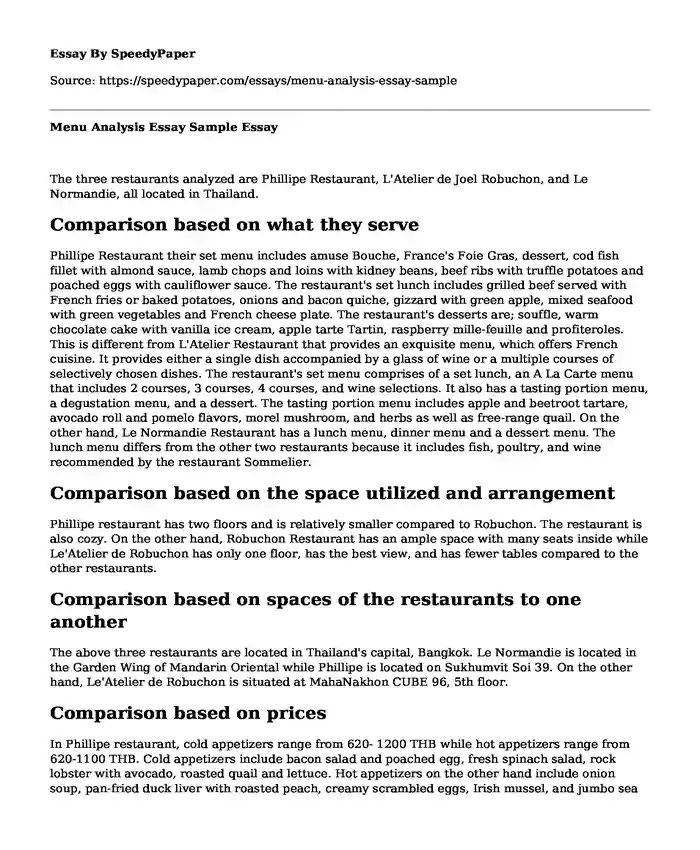 | | |
| --- | --- |
| Type of paper:  | Essay |
| Categories: | Food Hospitality |
| Pages: | 3 |
| Wordcount: | 637 words |
The three restaurants analyzed are Phillipe Restaurant, L'Atelier de Joel Robuchon, and Le Normandie, all located in Thailand.
Comparison based on what they serve
Phillipe Restaurant their set menu includes amuse Bouche, France's Foie Gras, dessert, cod fish fillet with almond sauce, lamb chops and loins with kidney beans, beef ribs with truffle potatoes and poached eggs with cauliflower sauce. The restaurant's set lunch includes grilled beef served with French fries or baked potatoes, onions and bacon quiche, gizzard with green apple, mixed seafood with green vegetables and French cheese plate. The restaurant's desserts are; souffle, warm chocolate cake with vanilla ice cream, apple tarte Tartin, raspberry mille-feuille and profiteroles. This is different from L'Atelier Restaurant that provides an exquisite menu, which offers French cuisine. It provides either a single dish accompanied by a glass of wine or a multiple courses of selectively chosen dishes. The restaurant's set menu comprises of a set lunch, an A La Carte menu that includes 2 courses, 3 courses, 4 courses, and wine selections. It also has a tasting portion menu, a degustation menu, and a dessert. The tasting portion menu includes apple and beetroot tartare, avocado roll and pomelo flavors, morel mushroom, and herbs as well as free-range quail. On the other hand, Le Normandie Restaurant has a lunch menu, dinner menu and a dessert menu. The lunch menu differs from the other two restaurants because it includes fish, poultry, and wine recommended by the restaurant Sommelier.
Comparison based on the space utilized and arrangement
Phillipe restaurant has two floors and is relatively smaller compared to Robuchon. The restaurant is also cozy. On the other hand, Robuchon Restaurant has an ample space with many seats inside while Le'Atelier de Robuchon has only one floor, has the best view, and has fewer tables compared to the other restaurants.
Comparison based on spaces of the restaurants to one another
The above three restaurants are located in Thailand's capital, Bangkok. Le Normandie is located in the Garden Wing of Mandarin Oriental while Phillipe is located on Sukhumvit Soi 39. On the other hand, Le'Atelier de Robuchon is situated at MahaNakhon CUBE 96, 5th floor.
Comparison based on prices
In Phillipe restaurant, cold appetizers range from 620- 1200 THB while hot appetizers range from 620-1100 THB. Cold appetizers include bacon salad and poached egg, fresh spinach salad, rock lobster with avocado, roasted quail and lettuce. Hot appetizers on the other hand include onion soup, pan-fried duck liver with roasted peach, creamy scrambled eggs, Irish mussel, and jumbo sea scallop. The restaurant's plats cuisine/stews range from 980-8400THB. These include Grillades, ox tails, beef shorts and lamb stews. The restaurant charges a standard corkage fee of 500Baht per bottle of wine, and prices are subject to 10% and 7% service charge and VA respectively. On the other hand, Le'Atelier de Robuchon charges 600 THB for desserts whereas la cartes go from approximately 900-3200THB. Examples of la carte include crisp lettuce, imperial calviar, lamb cutlets, and lobsters. The restaurant's set lunch consists of 2 courses, 3 courses, 4 courses, and wine selections. The price of 2 courses is 950THB that includes slow-cooked eggs, Japanese seabream, or seared Iberian pork pluma. 3 courses cost 1450THB, and these include one starter, one main course, and one cheese or dessert. The restaurant 4 courses cost 1950 THB and include two starters, one main course, and one dessert. Lastly, their wine selections cost as 680THB and 980 THB per two and three glasses respectively. In comparison, Le Normandie restaurant is more expensive than the two above. Their desserts cost 650 while froages cost 950 THB. The appetizers range from 1900-2200THB with fish ranging from 2350-3300 THB. The cost of meat and poultry rages from 2700-4600 THB. These include roasted pigeons, roasted wagyu strip loin from 'david blackmore' and roasted milk-fed lambs.
Cite this page
Menu Analysis Essay Sample. (2022, May 27). Retrieved from https://speedypaper.com/essays/menu-analysis-essay-sample
Request Removal
If you are the original author of this essay and no longer wish to have it published on the SpeedyPaper website, please click below to request its removal: