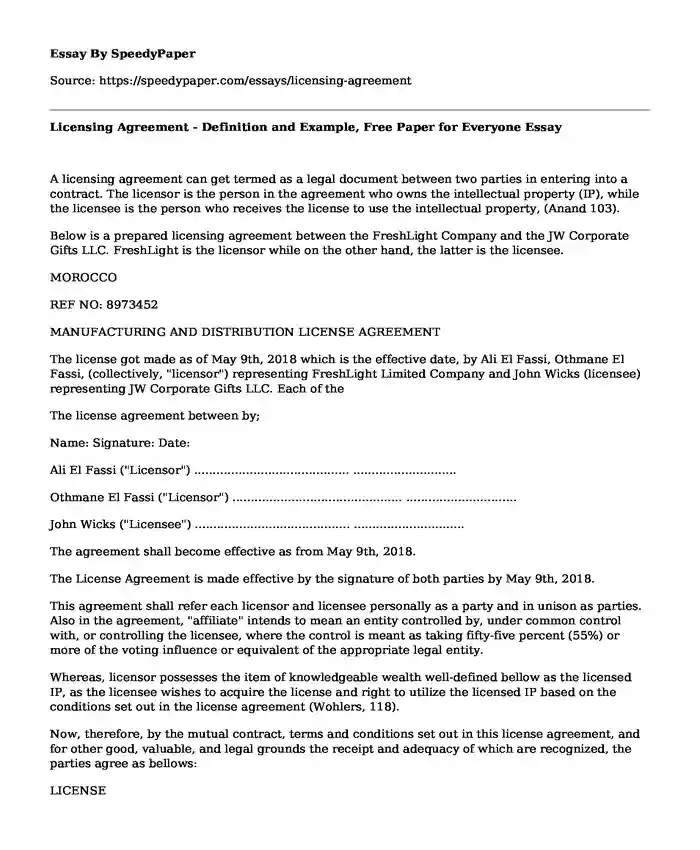 A licensing agreement can get termed as a legal document between two parties in entering into a contract. The licensor is the person in the agreement who owns the intellectual property (IP), while the licensee is the person who receives the license to use the intellectual property, (Anand 103).
Below is a prepared licensing agreement between the FreshLight Company and the JW Corporate Gifts LLC. FreshLight is the licensor while on the other hand, the latter is the licensee.
MOROCCO
REF NO: 8973452
MANUFACTURING AND DISTRIBUTION LICENSE AGREEMENT
The license got made as of May 9th, 2018 which is the effective date, by Ali El Fassi, Othmane El Fassi, (collectively, "licensor") representing FreshLight Limited Company and John Wicks (licensee) representing JW Corporate Gifts LLC. Each of the
The license agreement between by;
Name: Signature: Date:
Ali El Fassi ("Licensor") .......................................... ............................
Othmane El Fassi ("Licensor") .............................................. ..............................
John Wicks ("Licensee") .......................................... ..............................
The agreement shall become effective as from May 9th, 2018.
The License Agreement is made effective by the signature of both parties by May 9th, 2018.
This agreement shall refer each licensor and licensee personally as a party and in unison as parties. Also in the agreement, "affiliate" intends to mean an entity controlled by, under common control with, or controlling the licensee, where the control is meant as taking fifty-five percent (55%) or more of the voting influence or equivalent of the appropriate legal entity.
Whereas, licensor possesses the item of knowledgeable wealth well-defined bellow as the licensed IP, as the licensee wishes to acquire the license and right to utilize the licensed IP based on the conditions set out in the license agreement (Wohlers, 118).
Now, therefore, by the mutual contract, terms and conditions set out in this license agreement, and for other good, valuable, and legal grounds the receipt and adequacy of which are recognized, the parties agree as bellows:
LICENSE
Licensor at this moment grants to licensee an exclusive, transferable, assignable license to manufacture, distribute, publically execute, use the FreshLight trademark rights, publically demonstrate and then use the following items of knowledgeable possessions.
FreshLight candle manufactures
Exclusively for the limited purpose of manufacturing and distributing and distributing in the following countries "territory", - the UK
Nothing at this moment obliges licensee to implement the privileges in the license agreement.
EXCLUSION OF ALL OTHER RIGHTS
Excluding as specifically provided in the license agreement, the licensee does not contract extra privileges or authorization whatsoever in or to the licensed IP or whichever of licensor's further products, services or other knowledgeable, branded, or private rights. Licensor antitheses all rights and licenses not specifically contracted in this license agreement. In specific, a nonentity in this license agreement bears to the licensee the legal designation to any licensed IP (Wohlers, 119).
CONSIDERATION
As concern for the license contracted and defined in this license agreement, the licensee shall provide reimbursement to licensor the following fees for the license and royalties.
Type of payment Payment due date Payment amount
Fees May 16th 2018 $ 100,000
Royalties May 16th, 2019 20% of all net sales
This Payment shall be completed within thirty (30) days of the due date. In the event whatever payment is collected at attorney-at-law, or under whichever guidance from that place, or through a bank, licensee agrees to settle all costs of collection, plus, short of limitation, all court expenses, and sensible attorney's fees
RIGHT TO SUBLICENSE
This agreement does not grant any right whatsoever to the licensee to grant sublicensee to any other third party unless advice/ guidance from the licensor which shall be done through writing. Any granted sublicense is subordinate to and must comply with terms and conditions of this agreement
COPIES
The licensee shall not make any further copies of the licensed IP to any other party or parties other than expressly permitted by the licensor. On behalf of whichever approved copy completed by the licensed IP, the licensee is obliged to precisely duplicate the licensed IP with the appropriate notices as directed by licensor from period to period.
INTELLECTUAL PROPERTY
In no event may licensee remove any copyright or knowledgeable possessions notice and designs, proprietary legend, trademark or service mark from any material. Licensor might want a suitable legal notification or legend as required by law or recognized by the licensor, be placed on all goods, packing, and advertising resources.
QUALITY CONTROL
Licensee reached to an agreement that whichever use of trademarks contained within the licensed IP oblige to comply with entirely quality control ethics and usage procedures as may be rationally recognized by the licensor, and must largely confirm with decent trademark custom. The licensor can rationally appeal that licensee convey representative models of any goods or resources comprising the licensed IP to guarantee quality controls, ethics, and utilization procedures get preserved and adhered.
OWNERSHIP LICENSED IP
Licensee reached an agreement that, subject to the privileges and licenses contracted in this agreement, the licensor is and determined to remain as the only and possessor of all privileges, titles, and interests throughout the globe, to the entire licensed IP whichever copies whatsoever made by or on behalf of the licensee or licensor.
CONFIDENTIAL INFORMATION
This agreement states that, confidential information shall comprise of whichever confidential and exclusive information established or attained by licensor as well as , but not limited to, technical and non-technical data , procedures , shapes , foundations and object codes , accumulations , policies , approaches , practices , diagrams, statistics , business registers and plans, and whichever additional knowledgeable possessions related to the licensed IP and/or licensor.
Also, licensee reached to an agreement to sustain private information regarding the licensor acquired in the dealings considered in the agreement to sternest self-assurance, and not to authorize an unlawful right of entry to or unlawful use, revelation, publication or distribution of confidential information, except for conformance with this agreement. The Licensee resolves to comply with all rules and regulations that relate to the usage, transmission, storing, revelation or demolition of confidential information. The licensee shall confirm that its employees, agents, and contractors are instructed of the confidential information and are prohibited from taking whichever action forbids under this license agreement. Possession of the confidential information will remain exclusively with the licensor.
EXCEPTIONS TO CONFIDENTIAL INFORMATION
Confidential information will not comprise information that: (a) Is or turn out to be publically acknowledged and accessible through no responsibility of licensee; (b) Is or was legally acquired from a third party entitled to make such revelation (c) Is revealed with the licensor's earlier written permission and approval;(d) Is independently developed licensee without the usage and advantage of whichever of the confidential material, or (e) is required to be revealed by procedures of law.
SURVIVAL OF CONFIDENTIAL INFORMATION
The responsibility of confidentiality will spread for twenty (20) years after the termination of this license agreement.
LICENSEE'S DILIGENCE
Licensee resolves to cooperate to defend the licensed IP industriously. Licensee reached an agreement to promptly inform licensor in writing of whichever unlawful use, violation, misuse, enfeeblement or other destruction or infringement of licensed IP where the licensee becomes aware.
LEGAL ACTION
The licensor resolves to uphold full control and pleasure over trial and preservation with esteem to all privileges, comprising of knowledgeable property privileges to the licensed IP. Licensor will have the primary right to bring and manage any litigation, enforcement action, proceeding, or other legal action (collectively, the 'action') against any illegal use, breach, dilution, misuse, or other violation of the licensed IP. Licensee reached to a decision to cooperate with licensor in whichever action that licensor can embark on to safeguard the licensed IP, and upon licensors' appeal, the licensee will perform, file, and supply all documents and evidence essential for that resolve, including being a party to the action as requisites by law. The agreement resolves that Licensors be entitled to preserve totality of any honor ascending from whichever action. Licensee can take part and be represented in action by its counsel team at its own cost. The agreement resolves that Licensee will have not at all claim of whatsoever kind against licensor grounded on, or ascending out of licensors handing of, or decisions concerning, whichever action, payment or compromise.
MUTUAL REPRESENTATION AND WARRANTIES
The agreement resolves that every Party presents and warrants that (a) it has the authority and power to get into the license collaboration and the delivery, implementation, and performance of this agreement and the dealings and other documents considered are approved by the Parties; and 9b) this contract has been implemented and delivered by every party , and establishes a legal, lawful and binding responsibilities of the party , full execution contrary to the Party in harmony with its terms , , bankruptcy, subject to insolvency, fraudulent transmission , acknowledgement , suspension and comparable laws of general applicability connecting to or impacting creditors' privileges and equity ethics.
LICENSOR'S REPRESENTATION AND WARRANTIES
Licensor represents and warrants that (a) licensor possesses and controls the privileges established for this licensee in this license agreement and the licensor has the power to grant such privileges and to enter into this license agreement; (b) to the best of its knowledge the licensed IP ensures no infringement upon or violations (i) whichever copyright, obvious, trademark, or other exclusive privilege of a third party or (ii) whichever appropriate regulation, law, non-proprietary of a third party, and (c) licensor has no information of any assertion which, when sustained, would be conflicting to licensor's warranties representations, and responsibilities confined in the agreement.
NO WARRANTIES
Licensee acknowledges that; (a) licensors is providing licensed IP for licensing on an "AS IS" basis without warranty of any kind. (b) Licensor has not arranged or adjusted the licensed IP to meet whichever precise condition or description of the licenses; (c) licensor brands no representation or warranties as to worth, use, auction or exploitation of the licensed IP by the licensor or third party.
LAWS AND REGULATIONS
Licensee denotes and warrants that licensee will observe, and guarantee its affiliate comply, with all native, national, state, federal and international law, rules and regulations connecting to the growth, manufacture, usage, sale, import, and manipulation of licensed IP.
INDEMNIFICATION BY LICENSOR
Licensor will under no condition, be obligated to indemnify preserve, or hold licensee, its affiliates , or its particular senates, officers, managers, stakeholders, workers or representatives harmless from whichever legal responsibilit...
Cite this page
Licensing Agreement - Definition and Example, Free Paper for Everyone. (2022, Feb 23). Retrieved from https://speedypaper.com/essays/licensing-agreement
Request Removal
If you are the original author of this essay and no longer wish to have it published on the SpeedyPaper website, please click below to request its removal: