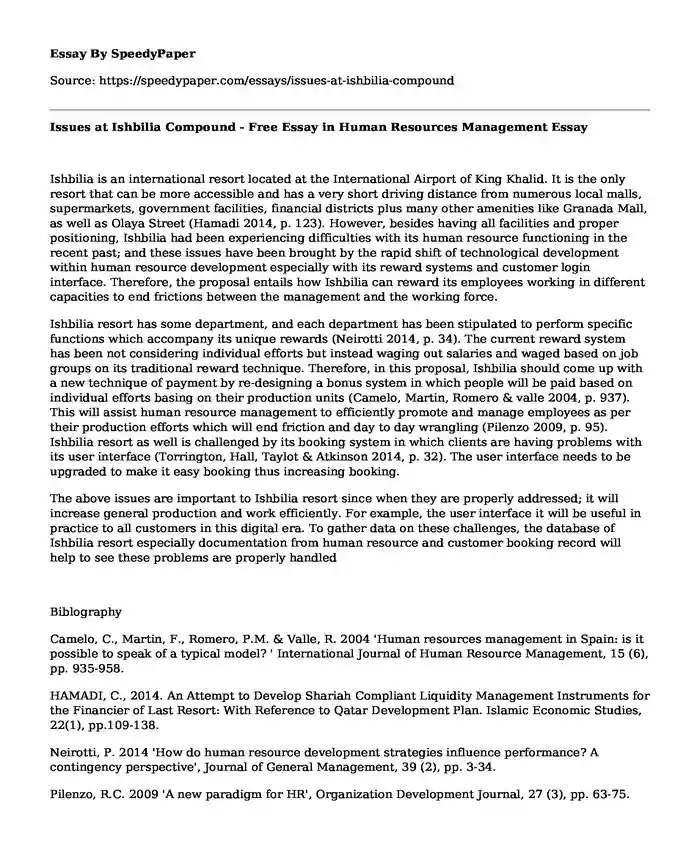 Ishbilia is an international resort located at the International Airport of King Khalid. It is the only resort that can be more accessible and has a very short driving distance from numerous local malls, supermarkets, government facilities, financial districts plus many other amenities like Granada Mall, as well as Olaya Street (Hamadi 2014, p. 123). However, besides having all facilities and proper positioning, Ishbilia had been experiencing difficulties with its human resource functioning in the recent past; and these issues have been brought by the rapid shift of technological development within human resource development especially with its reward systems and customer login interface. Therefore, the proposal entails how Ishbilia can reward its employees working in different capacities to end frictions between the management and the working force.
Ishbilia resort has some department, and each department has been stipulated to perform specific functions which accompany its unique rewards (Neirotti 2014, p. 34). The current reward system has been not considering individual efforts but instead waging out salaries and waged based on job groups on its traditional reward technique. Therefore, in this proposal, Ishbilia should come up with a new technique of payment by re-designing a bonus system in which people will be paid based on individual efforts basing on their production units (Camelo, Martin, Romero & valle 2004, p. 937). This will assist human resource management to efficiently promote and manage employees as per their production efforts which will end friction and day to day wrangling (Pilenzo 2009, p. 95). Ishbilia resort as well is challenged by its booking system in which clients are having problems with its user interface (Torrington, Hall, Taylot & Atkinson 2014, p. 32). The user interface needs to be upgraded to make it easy booking thus increasing booking.
The above issues are important to Ishbilia resort since when they are properly addressed; it will increase general production and work efficiently. For example, the user interface it will be useful in practice to all customers in this digital era. To gather data on these challenges, the database of Ishbilia resort especially documentation from human resource and customer booking record will help to see these problems are properly handled
Biblography
Camelo, C., Martin, F., Romero, P.M. & Valle, R. 2004 'Human resources management in Spain: is it possible to speak of a typical model? ' International Journal of Human Resource Management, 15 (6), pp. 935-958.
HAMADI, C., 2014. An Attempt to Develop Shariah Compliant Liquidity Management Instruments for the Financier of Last Resort: With Reference to Qatar Development Plan. Islamic Economic Studies, 22(1), pp.109-138.
Neirotti, P. 2014 'How do human resource development strategies influence performance? A contingency perspective', Journal of General Management, 39 (2), pp. 3-34.
Pilenzo, R.C. 2009 'A new paradigm for HR', Organization Development Journal, 27 (3), pp. 63-75.
Torrington, D., Hall, Taylot, S. & Atkinson, C. 2014 Human resource management. 9th
Europian ed. Harlow: Pearson Education Limited. Chapter 1: The nature of Human Resource, Management (pp. 4-23), Chapter 2: The Global Context of Human Resource Management (pp.24-42) and Chapter 3: Strategic Human Resource Management (pp. 43-64)
Cite this page
Issues at Ishbilia Compound - Free Essay in Human Resources Management. (2022, Apr 12). Retrieved from https://speedypaper.com/essays/issues-at-ishbilia-compound
Request Removal
If you are the original author of this essay and no longer wish to have it published on the SpeedyPaper website, please click below to request its removal: