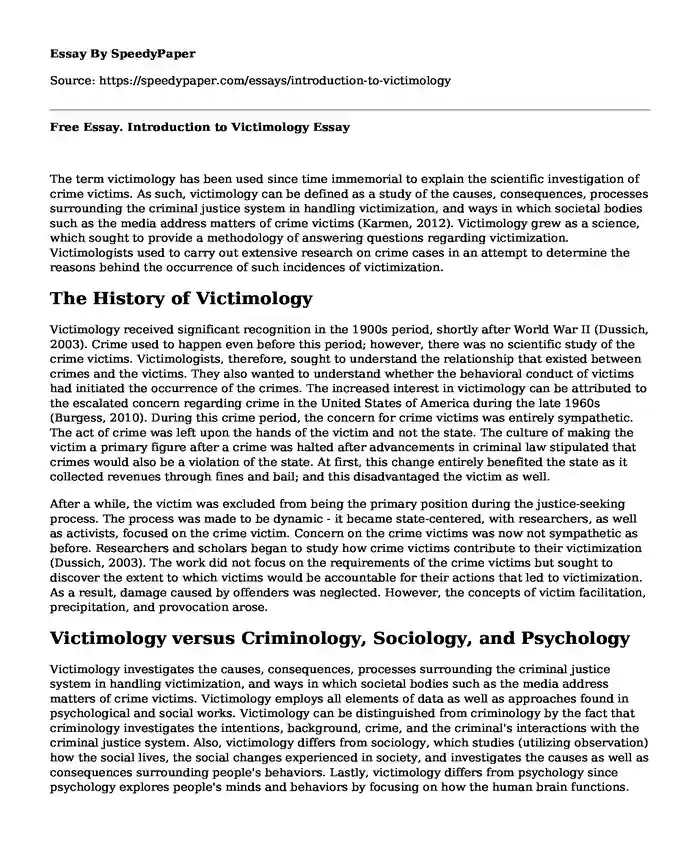 The term victimology has been used since time immemorial to explain the scientific investigation of crime victims. As such, victimology can be defined as a study of the causes, consequences, processes surrounding the criminal justice system in handling victimization, and ways in which societal bodies such as the media address matters of crime victims (Karmen, 2012). Victimology grew as a science, which sought to provide a methodology of answering questions regarding victimization. Victimologists used to carry out extensive research on crime cases in an attempt to determine the reasons behind the occurrence of such incidences of victimization.
The History of Victimology
Victimology received significant recognition in the 1900s period, shortly after World War II (Dussich, 2003). Crime used to happen even before this period; however, there was no scientific study of the crime victims. Victimologists, therefore, sought to understand the relationship that existed between crimes and the victims. They also wanted to understand whether the behavioral conduct of victims had initiated the occurrence of the crimes. The increased interest in victimology can be attributed to the escalated concern regarding crime in the United States of America during the late 1960s (Burgess, 2010). During this crime period, the concern for crime victims was entirely sympathetic. The act of crime was left upon the hands of the victim and not the state. The culture of making the victim a primary figure after a crime was halted after advancements in criminal law stipulated that crimes would also be a violation of the state. At first, this change entirely benefited the state as it collected revenues through fines and bail; and this disadvantaged the victim as well.
After a while, the victim was excluded from being the primary position during the justice-seeking process. The process was made to be dynamic - it became state-centered, with researchers, as well as activists, focused on the crime victim. Concern on the crime victims was now not sympathetic as before. Researchers and scholars began to study how crime victims contribute to their victimization (Dussich, 2003). The work did not focus on the requirements of the crime victims but sought to discover the extent to which victims would be accountable for their actions that led to victimization. As a result, damage caused by offenders was neglected. However, the concepts of victim facilitation, precipitation, and provocation arose.
Victimology versus Criminology, Sociology, and Psychology
Victimology investigates the causes, consequences, processes surrounding the criminal justice system in handling victimization, and ways in which societal bodies such as the media address matters of crime victims. Victimology employs all elements of data as well as approaches found in psychological and social works. Victimology can be distinguished from criminology by the fact that criminology investigates the intentions, background, crime, and the criminal's interactions with the criminal justice system. Also, victimology differs from sociology, which studies (utilizing observation) how the social lives, the social changes experienced in society, and investigates the causes as well as consequences surrounding people's behaviors. Lastly, victimology differs from psychology since psychology explores people's minds and behaviors by focusing on how the human brain functions. Psychology also studies how people deal with life and societal matters at large.
Early Safe Houses for Battered Women & Rape Crisis Centers
The history of battered women received profound attention during the 20th century when women rose to fight against such barbaric victimization. Previously, women were afraid to stand up for their rights, and so they used to persevere torment in their households; a few of them fled to convents to seek shelter. The safe houses were established as rescue centers for women and children; they acted as safe environments while providing food and clothes to the victims; counseling was undertaken as therapy.
Erin Pizzey established the first safe house for battered women in Cheswick, United Kingdom, in 1970 (HBW, 2015). Later, in 1973, the Women's Advocates from the United States opened up their safe house in St. Paul, Minnesota (HBW, 2015). With an increase in reported cases of battered women, the federal government had to intervene; as a result, laws to protect battered women were enacted and constitutionalized.
Early rape crisis centers in the world were established in major cities as well as politically dominant towns such as Berkeley, San Francisco, Philadelphia, Chicago, and Washington DC in the 1970s (Kilpatrick, 2000). However, the initial rape crisis center was the Washington DC rape crisis center, which opened in 1972 (Bevacqua, 2000). Rape crisis centers assisted victims that have been sexually assaulted by giving them mental therapy. These centers were also open to the general public as they provided an active helpline alongside counseling and education programs to benefit the rape casualties (Kilpatrick, 2000).
Contributions of the Civil Rights Movement to Anti-Discrimination and Establishment of Hate Crime Policy
Hate is brought by preconceptions, which include gender, religious beliefs, ethnic group, and sexual orientation, among others (Kercher et al., 2008). The Civil Rights grouping has taken part in an essential role in the enactment of hate offense policies and also anti-discrimination efforts. Several groups have united in urging Senate to amend the laws that were discriminatory and also approve rules regarding hate offenses. Examples of unjust circumstances that occurred were the attack of Mattew Shephard, and David Ritcheson (Kercher et al., 2008). The assaults of these individuals caused a great uproar among civilian rights reformists and propelled for the passing of policies regarding hate offenses. The Hate Crime Prevention Act, which was approved, gives power to both the citizens and the nation to probe, intervene, and charge culprits of hate offenses. (Kercher et al., 2008).
Critical Roles Played By Children's Right Groups In Highlighting The Problems That Child Victims Encounter In The Criminal Justice System
Child abuse was widely discussed by the public in the 1960s. During this time, several complaints and identifications of child mistreatment were raised because of the emotional and physical exploitation employed against children. Homes were made for the assaulted children so they could seek refuge and escape harm (Doerner, 2014). Several children are denied their privileges and rights due to their age, particularly in terms of the criminal integrity organization. Children's Rights movements have urged various communication agencies to disclose and enlighten the community about the troubles that the victims encounter in the justice institutions.
Furthermore, the Children's Rights movement effected the amendment of the laws, making sure that culprits are held responsible for mistreating children (Doerner, 2014). Children's Rights groups have set up platforms that provide prevention from further exploitation of these children. These platforms enlighten children of violence on acceptable behavior and not to take part in criminal activities when they grow to adults.
The Children Exposed to Violence Initiative was inaugurated in 1998. The scheme was started to involve individuals, agencies, and groups to aid in initiating platforms for child mistreatment (Connelly, 1999). Initiatives for child mishandling offer support to children encountering different forms of abuse. The Children's Rights groups working together with the National Council of Juveniles had a significant influence in approving the Family Court Judges. These judges educate family and teenage courts on child neglect and mishandling. In addition to all the contributions, Children's Rights organizations have made use of adept specialists from different disciplines to monitor the criminal justice system on how it practices the legal laws when handling the affected children (Connelly, 1999).
Various Organizations That Provide Specific Advocacy for Victims of Sexual Assault, Domestic Violence, Homicide, and Child Abuse
Several organizations offer advocacy for these types of mistreatments. To mention a few, The National Center for Victims of Crime supports victims of the above mistreatments by helping the victims conquer their victimization. Women who undergo domestic abuse are supported by the Transitional Housing Assistance Program. The support entails counseling the women, help them get new homes, and supporting their children by giving them employment (Victims of crime, n.d.). There is also Safe Horizon, which assists the affected of the named mistreatments by counseling them, ensuring the victims seek justice and also preventing further violence. The Center for Victims and Crime is another essential organization. It helps the victims find justice and also assist the survivors in healing from such abuses (Victims of crime, n.d.). Another important organization is the Crime Victim Compensation organization. The organization supports the victims of these assaults financially. There is also the International Society for Prevention of Child Abuse and Neglect, a versatile organization that ensures the prevention of child neglect and abuse.
References
Karmen, A. (2012). Crime victims: An introduction to victimology. Cengage Learning. Retrieved from https://books.google.com/books?hl=en&lr=&id=Pft9DXbCupQ

Dussich, J. P. (2003). History, overview, and analysis of American victimology and victim services education. American Society of Victimology, 4. Retrieved from http://american-society-victimology.org/documents/SymposiumOnVictimologyJan2003.pdf#page=6

History of battered women. (2015). Retrieved from http://www.opalshouse.org/history-of-Battered-women/
Bevacqua, M. (2000). Rape on the public agenda: Feminism and the politics of sexual assault. UPNE. Retrieved from https://books.google.com/books?hl=en&lr=&id=PX6z7RB24OMC&oi=fnd&

Kercher, G. A., Nolasco, C., & Wu, L. (2008). Hate crimes (pp. 16-21). Crime Victims' Institute, Criminal Justice Center, Sam Houston State University. Retrieved from http://dev.cjcenter.org/_files/cvi/Hate%20Crimes%20

Final.pdfKilpatrick, D. G. (2000). Rape and sexual assault. National Violence against Women Prevention Research Center, Medical University of South Carolina. Retrieved from https://www.hoplofobia.info/wp-content/uploads/2014/05/underreported-crime.pdf

Doerner, W. G. Lab, SP (2014). Victimology.
Connelly, H. N. (1999). Children exposed to violence: Criminal justice resources. US Department of Justice, Office of Justice Programs, Office for Victims of Crime. Retrieved from https://www.ovc.gov/publications/factshts/pdftxt/cevcjr.pdf

Victims of crime. (n.d.). Retrieved from http://www.justice.gov/archive/fbci/progmenu_voc.html
Cite this page
Free Essay. Introduction to Victimology. (2023, Jul 12). Retrieved from https://speedypaper.com/essays/introduction-to-victimology
Request Removal
If you are the original author of this essay and no longer wish to have it published on the SpeedyPaper website, please click below to request its removal: