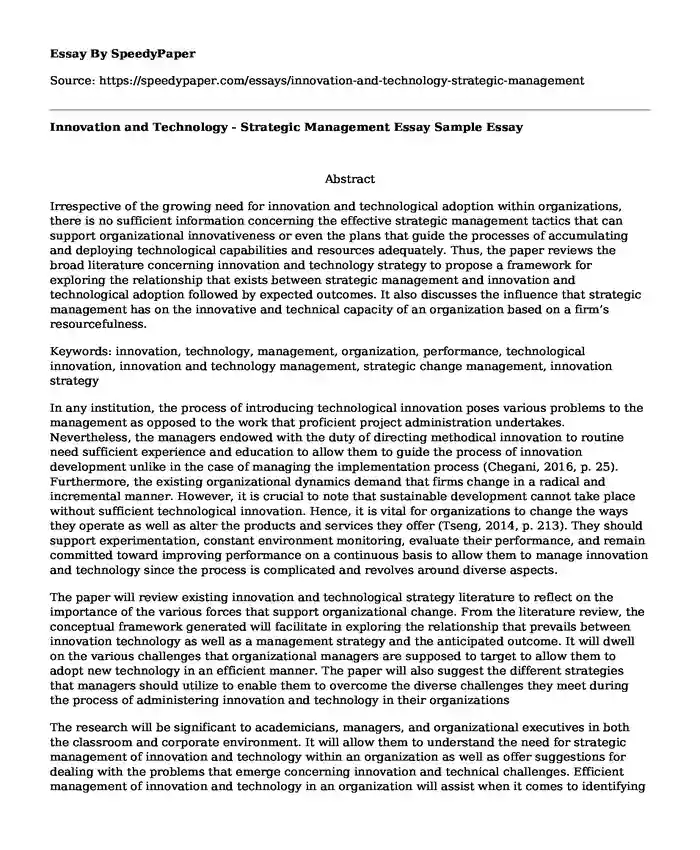 Abstract
Irrespective of the growing need for innovation and technological adoption within organizations, there is no sufficient information concerning the effective strategic management tactics that can support organizational innovativeness or even the plans that guide the processes of accumulating and deploying technological capabilities and resources adequately. Thus, the paper reviews the broad literature concerning innovation and technology strategy to propose a framework for exploring the relationship that exists between strategic management and innovation and technological adoption followed by expected outcomes. It also discusses the influence that strategic management has on the innovative and technical capacity of an organization based on a firm's resourcefulness.
Keywords: innovation, technology, management, organization, performance, technological innovation, innovation and technology management, strategic change management, innovation strategy
In any institution, the process of introducing technological innovation poses various problems to the management as opposed to the work that proficient project administration undertakes. Nevertheless, the managers endowed with the duty of directing methodical innovation to routine need sufficient experience and education to allow them to guide the process of innovation development unlike in the case of managing the implementation process (Chegani, 2016, p. 25). Furthermore, the existing organizational dynamics demand that firms change in a radical and incremental manner. However, it is crucial to note that sustainable development cannot take place without sufficient technological innovation. Hence, it is vital for organizations to change the ways they operate as well as alter the products and services they offer (Tseng, 2014, p. 213). They should support experimentation, constant environment monitoring, evaluate their performance, and remain committed toward improving performance on a continuous basis to allow them to manage innovation and technology since the process is complicated and revolves around diverse aspects.
The paper will review existing innovation and technological strategy literature to reflect on the importance of the various forces that support organizational change. From the literature review, the conceptual framework generated will facilitate in exploring the relationship that prevails between innovation technology as well as a management strategy and the anticipated outcome. It will dwell on the various challenges that organizational managers are supposed to target to allow them to adopt new technology in an efficient manner. The paper will also suggest the different strategies that managers should utilize to enable them to overcome the diverse challenges they meet during the process of administering innovation and technology in their organizations
The research will be significant to academicians, managers, and organizational executives in both the classroom and corporate environment. It will allow them to understand the need for strategic management of innovation and technology within an organization as well as offer suggestions for dealing with the problems that emerge concerning innovation and technical challenges. Efficient management of innovation and technology in an organization will assist when it comes to identifying the opportunities worth innovation and technological change, thus facilitate in boosting the competitiveness and relevance of agencies in the marketplace. In this sense, prepares itself adequately to cope with any emerging issues in its area of operation, thus allow it to attain a sustainable operational future.
The following questions will assist in directing the study toward understanding the practical ways of managing innovation and technology strategically within organizations.
1. What influence do management strategies within an organization have toward innovation and technology initiatives within a company?
2. How can an organization effectively identify its technological needs to allow it cope with the different changes taking place in the marketplace?
3. What processes should an organization follow to recognize its technology usage potential with the goal of addressing individual problems or while in need of fulfilling particular requirements in the market?
4. What forms of technological management initiatives should managers undertake to help in realizing the innovation goals and objectives of an organization?
Le Bas, et al., (2015, p. 112) stipulates that significant research exists when it comes to affiliating innovation and technology with an organization's knowledge base. They highlight the need for laying emphasis on the diverse forces that support the effective acquisition, management, and application of knowledge and skills that support innovation within an organization. Tseng (2014, p. 214) adds that it would be possible to manage change knowledge within an organization indirectly by focusing on various forces that contribute to a firm's structure, culture, leadership, and technology. In this perspective, it would be possible to promote innovation through laying emphasis on explicit and tacit knowledge entrenched into these forces (Chegani, 2016, p. 15).
Mat and Razak (2013, p. 982) reveals that out of the forces that influence innovation management within an organization, laying emphasis on technological changes serves as one of the vital contributors towards coping with the turbulence prevailing in the marketplace. Technology acts as a form of intangible knowledge, which plays a crucial role in supporting the management of innovation within a company. Additionally, Tseng (2014, p. 215) suggests that policies directed towards technology assist in reflecting an organization's innovative attitude and the commitment it leads toward innovation. Here, even though technology plays a significant role in boosting the innovation process, extreme technology can hinder innovation through standardizing the current processes and workflows. As such, Nieto and Santamaría (2011, p. 46) argues that the competitive position within an organization depends on the ways through which an organization manages its technological resources. Also, Mat and Razak (2013, p. 928) supports the idea that firms differ since their competencies differ depending on the technologies they adopt. In the event of knowledge endowment asymmetries, technological heterogeneity emerges. By contrast, Ma (2012, p. 17) contends that difference in organizations might also prevail based on the ways through which they deploy or exploit the technology available to them.
Today, Le Bas, et al. (2015, p. 115) reveal that strategic management within organizations serves as a dominant issue in the literature. It is possible for a company to utilize existing technology to allow is realize competitive advantage through the establishment of barriers that hinder rivals from entering the market, such as through the introduction of new technological processes or novel products for attracting clients, or altering the industry competition rules. Chegani (2016, p. 17) adds that technology creation and application might serve as a primary driver for the success of a firm. While technology's focus in the case of low technology firms is to use and boost innovation, technology in the event of high-tech companies focuses on vital forces that determine a company's future success.
In the perspective of Ma (2012, p. 19), the growth that a business realizes might not take place via breakthrough improvements. Rather, it targets adopting innovative ways that assist in developing or integrating the current technologies to offer high value toward an organization. Mat and Razak (2013, p. 930) disclose that the innovative solutions companies introduce in the overall value chain demand internal and external integration across different business environments.
Furthermore, in the standpoint of Tseng (2014, P. 216), the technological choices companies make revolve around their technological strategies, such as plans that guide them in accumulating and deploying technical capabilities and resources. According to Nieto and Santamaría (2011, p. 47), different organizations do not think of strategy in a similar manner. Therefore, despite the growing importance associated with innovation as well as the role that technological capacities play within an organization's trajectory growth, no sufficient information exists concerning the forces that make companies execute their innovation strategies differently. Hence, additional research is vital regarding determining how the different management styles that firms exercise promote innovation and technology incorporation.
To ensure consistency with the research topic, which is "strategic management of innovation and technology", the method that the study will use will entail undertaking a search on research papers and articles through searching electronic databases. They will comprise of ABI Inform, EBSCO, ProQuest, and Emerald Full Text while utilizing search terms such as technological innovation, innovation, and technology management, strategic change management, and innovation strategy. The search will emphasize on the past five years ranging between 2011 and 2016. The study will assess innovation and technology strategic management from six journal articles and research papers to assist in understanding how companies can manage innovation and technology strategically.
Since the study focuses on addressing the issue of strategic management on innovation and technology, the anticipated effects influence the research from a managerial and academic viewpoint. One of the key areas is that they will understand that the innovative activities that firms undertake reflect the technological management strategy of a company, which facilitates the further development of creative capacities. They will also realize that efficient management of technological innovation is possible to identify by targeting four major areas, which comprise of problem identification, technology adoption, solution establishment, and practical implementation (Nieto & Santamaría, 2011, p. 50).
The other area that academicians and managers will gain sufficient information on is one that requires companies to recognize their technology usage potential with the goal of addressing individual problems or while in need of fulfilling particular requirements in the market (Le Bas, et al., 2015, p. 125). They will realize that this recognition rhymes with a business's strategy, which then assists in determining the extent of technology usage to serve as a competitive advantage source. Moreover, during the process of selecting a precise form of technology, organizational stakeholders and academicians will realize that it is essential to evaluate various technologies effectively to ensure they are capable of assisting a company in achieving its innovation goals and objectives (Ma, 2012, p. 20). With this knowledge, it will be possible to identify the extent to which an organization needs technology as a tool for fostering competition, the resources worth investing in technology, costs involved, and the technology portfolio that a company can handle. In this perspective, it will be possible to invest in R&D activities, which will support organizational innovation and technology needs.
References
Chegani, MN 2016, The Effects of Organizational Intelligence and Creativity on Technological Innovation: A Case Study of the Manufacuring Firms in Iran, Arabian Journal of Business and Management Review, vol. 5, no. 7, pp. 14-34.
Le Bas, C, Mothe, C and Nguyen-Thi, TU 2015, The differentiated impacts of organizational innovation practices on technological innovation persistence, European Journal of Innovation Management, vol. 18, no. 1, pp. 110-127.
Mat, A and Razak, RC 2013, Technological innovation implementation: A proposed model on organizational learning capability with moderating effect of knowledge complexity. African Journal of Business Management, vol. 7, no. 12, pp. 926-935.
Ma, Y 2012, Research on Scientific and Technological Statistics & Technological Innovation Management, Contemporary Logistics, vol. 8, no. 1, pp. 15-21.
Nieto, MJ and Santamaría, L 2011. Technological Collaboration: Bridging the Innovation Gap between Small and Large Firms, Journal of Small Business Management, vol. 48, no. 1, pp. 44-69.
Tseng, C 2014, Technological innovation capability, knowledge sourcing and collaborative innovation in Gulf Cooperation Council countries. Innovation : Management, Policy & Practice, vol. 16, no. 2, pp. 212-223.
Cite this page
Innovation and Technology - Strategic Management Essay Sample. (2017, Sep 22). Retrieved from https://speedypaper.com/essays/innovation-and-technology-strategic-management
Request Removal
If you are the original author of this essay and no longer wish to have it published on the SpeedyPaper website, please click below to request its removal: