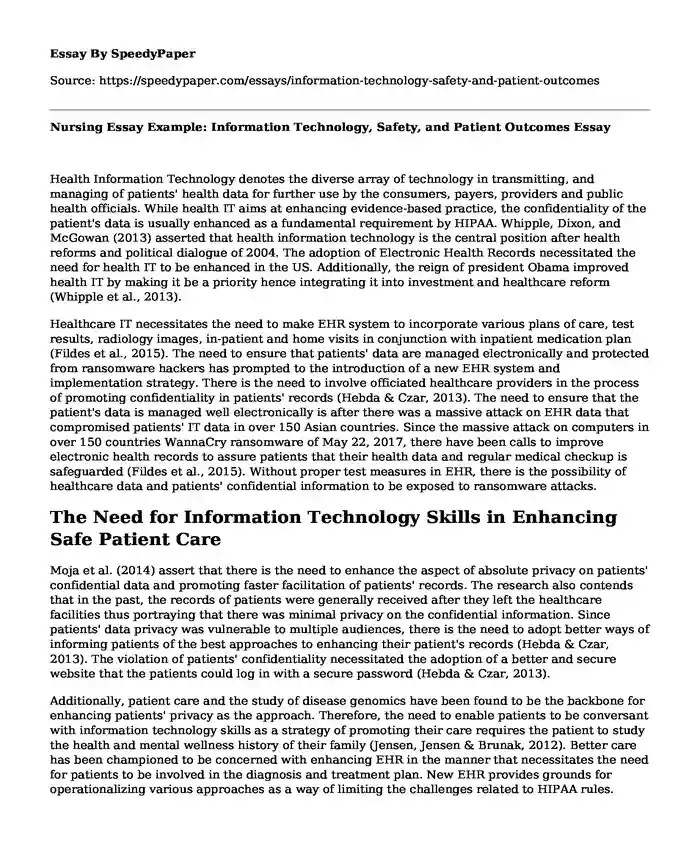 Health Information Technology denotes the diverse array of technology in transmitting, and managing of patients' health data for further use by the consumers, payers, providers and public health officials. While health IT aims at enhancing evidence-based practice, the confidentiality of the patient's data is usually enhanced as a fundamental requirement by HIPAA. Whipple, Dixon, and McGowan (2013) asserted that health information technology is the central position after health reforms and political dialogue of 2004. The adoption of Electronic Health Records necessitated the need for health IT to be enhanced in the US. Additionally, the reign of president Obama improved health IT by making it be a priority hence integrating it into investment and healthcare reform (Whipple et al., 2013).
Healthcare IT necessitates the need to make EHR system to incorporate various plans of care, test results, radiology images, in-patient and home visits in conjunction with inpatient medication plan (Fildes et al., 2015). The need to ensure that patients' data are managed electronically and protected from ransomware hackers has prompted to the introduction of a new EHR system and implementation strategy. There is the need to involve officiated healthcare providers in the process of promoting confidentiality in patients' records (Hebda & Czar, 2013). The need to ensure that the patient's data is managed well electronically is after there was a massive attack on EHR data that compromised patients' IT data in over 150 Asian countries. Since the massive attack on computers in over 150 countries WannaCry ransomware of May 22, 2017, there have been calls to improve electronic health records to assure patients that their health data and regular medical checkup is safeguarded (Fildes et al., 2015). Without proper test measures in EHR, there is the possibility of healthcare data and patients' confidential information to be exposed to ransomware attacks.
The Need for Information Technology Skills in Enhancing Safe Patient Care
Moja et al. (2014) assert that there is the need to enhance the aspect of absolute privacy on patients' confidential data and promoting faster facilitation of patients' records. The research also contends that in the past, the records of patients were generally received after they left the healthcare facilities thus portraying that there was minimal privacy on the confidential information. Since patients' data privacy was vulnerable to multiple audiences, there is the need to adopt better ways of informing patients of the best approaches to enhancing their patient's records (Hebda & Czar, 2013). The violation of patients' confidentiality necessitated the adoption of a better and secure website that the patients could log in with a secure password (Hebda & Czar, 2013).
Additionally, patient care and the study of disease genomics have been found to be the backbone for enhancing patients' privacy as the approach. Therefore, the need to enable patients to be conversant with information technology skills as a strategy of promoting their care requires the patient to study the health and mental wellness history of their family (Jensen, Jensen & Brunak, 2012). Better care has been championed to be concerned with enhancing EHR in the manner that necessitates the need for patients to be involved in the diagnosis and treatment plan. New EHR provides grounds for operationalizing various approaches as a way of limiting the challenges related to HIPAA rules.
The Baccalaureate Nurse's Role
O, B. D., Knowlton and Whichello (2018) asserted that baccalaureate nurse's role is to champion the importance of patient ethics, professional advocacy, communication, management of conflict, enhancing patient-centered care, establishing grounds for accountability and enhancing leadership. On the other hand, Dever et al. (2015) added that baccalaureate nurse's role is central in establishing a basic day-to-day understanding of nursing skills in conjunction with emerging sense of understanding the nurses' responsibility beyond being at the bedside of an in-patient.
Examples of How Nurses Use Technology to Make Healthcare-Related Decisions.
According to Cebul et al. (2011) the need to come up with shortcuts by customizing templates, improving the search for diagnostic criteria and automatic favorite list offers a platform for enhancing healthcare-related decisions. Nurses enable patients to be engaged in their treatment and receiving their diagnosis results faster (Fildes et al., 2015). The EHR offers a chance for nurse practitioners to analyze evidence-based practice in offering care to patients with the same condition as the previous patient on the EHR system. Also, patients outdoor booking and treatment is enhanced through proper analysis of HER.
The Relationship Between the Quality and Integrity of Patients Data
Quality care is enhanced by necessitating the fundamental requirement of the EHR system to involve various plans of test results, care plans, radiology and in-patient and home visits (Hebda & Czar, 2013). On the other hand, the integrity of patients' data is enhanced by ensuring that HIPAA compliance requirements are underway (Hebda & Czar, 2013). Nurse practitioners prevent any unscrupulous and compromising situations from altering the absolute requirement of patients' healthcare and treatment records' privacy.
References
Cebul, R. D., Love, T. E., Jain, A. K., & Hebert, C. J. (2011). Electronic health records and quality of diabetes care. New England Journal of Medicine, 365(9), 825-833.
Dever, K. H. . [email protected] ed., Roman, T. C., Smith, C. M., Bowllan, N. M., Dollinger, M. L. ., & Blaine, B. E. (2015). Comparing Professional Values and Authentic Leadership Dimensions in Baccalaureate Nursing Students: A Longitudinal Study. Journal of Nursing Education, 54(6), 339-342. https://doi.org/10.3928/01484834-20150515-05
Fildes, A., Charlton, J., Rudisill, C., Littlejohns, P., Prevost, A. T., & Gulliford, M. C. (2015). Probability of an obese person attaining normal body weight: cohort study using electronic health records. American Journal of Public Health, 105(9), e54-e59.
Hebda, T., & Czar, P. (2013). Handbook of informatics for nurses & healthcare professionals. Boston, MA : Pearson, 2013. Retrieved from https://www.thecampuscommon.com/library/ezproxy/ticketdemocs.asp?sch=suo&turl=http://search.ebscohost.com.southuniversity.libproxy.edmc.edu/login.aspx?direct=true&db=cat06146a&AN=sou.487862&site=eds-live
Moja, L., Kwag, K. H., Lytras, T., Bertizzolo, L., Brandt, L., Pecoraro, V., ... & Iorio, A. (2014). Effectiveness of computerized decision support systems linked to electronic health records: a systematic review and meta-analysis. American journal of public health, 104(12), e12-e22.
O, B. D., Knowlton, M., & Whichello, R. (2018). Attention Health Care Leaders: Literature Review Deems Baccalaureate Nurses Improve Patient Outcomes. Nursing Education Perspectives (Wolters Kluwer Health), 39(4), E2-E6. https://doi.org/10.1097/01.NEP.0000000000000303
Whipple, E. C., E. Dixon, B., & J. McGowan, J. (2013). Linking health information technology to patient safety and quality outcomes: a bibliometric analysis and review. Informatics for Health & Social Care, 38(1), 1-14. https://doi.org/10.3109/17538157.2012.678451
Cite this page
Nursing Essay Example: Information Technology, Safety, and Patient Outcomes. (2022, Sep 15). Retrieved from https://speedypaper.com/essays/information-technology-safety-and-patient-outcomes
Request Removal
If you are the original author of this essay and no longer wish to have it published on the SpeedyPaper website, please click below to request its removal: