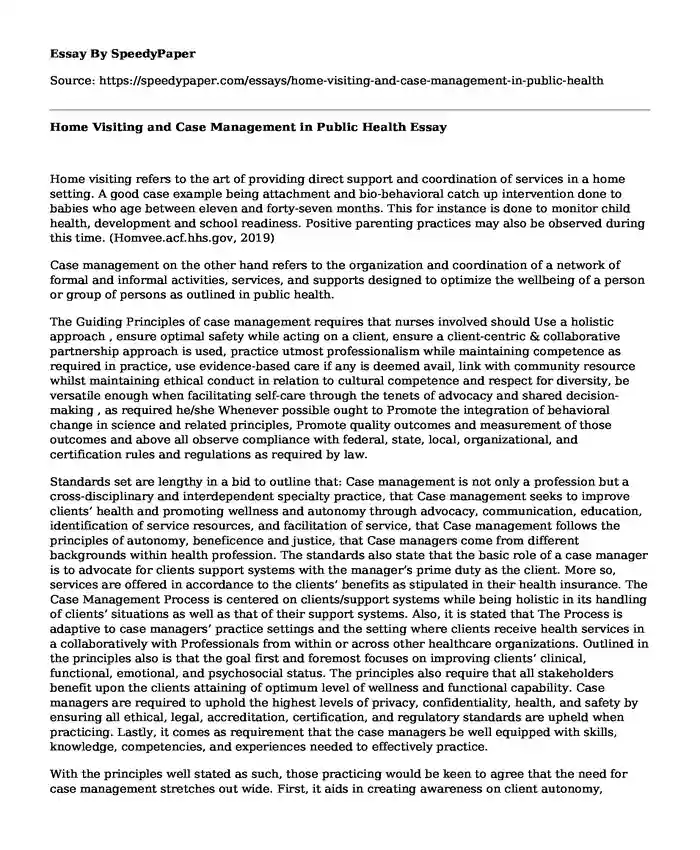 Home visiting refers to the art of providing direct support and coordination of services in a home setting. A good case example being attachment and bio-behavioral catch up intervention done to babies who age between eleven and forty-seven months. This for instance is done to monitor child health, development and school readiness. Positive parenting practices may also be observed during this time. (Homvee.acf.hhs.gov, 2019)
Case management on the other hand refers to the organization and coordination of a network of formal and informal activities, services, and supports designed to optimize the wellbeing of a person or group of persons as outlined in public health.
The Guiding Principles of case management requires that nurses involved should Use a holistic approach , ensure optimal safety while acting on a client, ensure a client-centric & collaborative partnership approach is used, practice utmost professionalism while maintaining competence as required in practice, use evidence-based care if any is deemed avail, link with community resource whilst maintaining ethical conduct in relation to cultural competence and respect for diversity, be versatile enough when facilitating self-care through the tenets of advocacy and shared decision-making , as required he/she Whenever possible ought to Promote the integration of behavioral change in science and related principles, Promote quality outcomes and measurement of those outcomes and above all observe compliance with federal, state, local, organizational, and certification rules and regulations as required by law.
Standards set are lengthy in a bid to outline that: Case management is not only a profession but a cross-disciplinary and interdependent specialty practice, that Case management seeks to improve clients' health and promoting wellness and autonomy through advocacy, communication, education, identification of service resources, and facilitation of service, that Case management follows the principles of autonomy, beneficence and justice, that Case managers come from different backgrounds within health profession. The standards also state that the basic role of a case manager is to advocate for clients support systems with the manager's prime duty as the client. More so, services are offered in accordance to the clients' benefits as stipulated in their health insurance. The Case Management Process is centered on clients/support systems while being holistic in its handling of clients' situations as well as that of their support systems. Also, it is stated that The Process is adaptive to case managers' practice settings and the setting where clients receive health services in a collaboratively with Professionals from within or across other healthcare organizations. Outlined in the principles also is that the goal first and foremost focuses on improving clients' clinical, functional, emotional, and psychosocial status. The principles also require that all stakeholders benefit upon the clients attaining of optimum level of wellness and functional capability. Case managers are required to uphold the highest levels of privacy, confidentiality, health, and safety by ensuring all ethical, legal, accreditation, certification, and regulatory standards are upheld when practicing. Lastly, it comes as requirement that the case managers be well equipped with skills, knowledge, competencies, and experiences needed to effectively practice.
With the principles well stated as such, those practicing would be keen to agree that the need for case management stretches out wide. First, it aids in creating awareness on client autonomy, disease processes along to the prognosis and treatment options. Second, Knowledge attained would come handy in ensuring optimum functionality of clients and medics alike. Improved decision making by clients in time of need is also ensured, whilst allowing medics to use resources appropriately during service delivery. As such quality of care is improved while meeting required levels as set by the principles. (Case Management Study Guide, 2019)
However, as nurses' practice, they are faced with various factors that influence case management situations. First is the level of experience in relation to how well equipped a nurse is. Of importance is that they are required to be calm when practicing and be trustworthy in administering solutions as case managers. Second is the ease of access to medical kits with respect to what the community they are based has to offer. This is to say that social resources may not always be avail but they should be well able to adapt when administering solutions in times of case management. Another factor that is of essence is the relationship between care managers in local hospitals and providers in clinics. This is required to be healthy to ensure appropriate networking on amenities and knowledge to be shared in handling the various case management scenarios whenever they may arise. Last but not least is the Implementation of a care plan for patients who needed it the most. This factor is among the utmost key for any nurse or care manager practicing. It requires that urgency be observed in as much as all clients are deemed important, so that the utmost goal of ensuring health and wellbeing is upheld in revitalizing of clients during case management.
For one to be considered a good case manager he oughts' to displays the following set of skills. First is that he be clinical in times of management. He should also be in apposition to communicate effectively to clients and his equals alike. Third, he should be well organized in managing various cases upon occurrence. He is also required to be well effective in time management along to showing good decision making in times of problem solving. As a good care manager, one should be well skilled o conflict resolution as it sure will come in handy in the field. Above all his knowledge on autonomy ought to be upper echelon to avoid errors when handling cases whenever they arise which would otherwise prove to fatal.
With all these in play, a good case manager should be able to apply his skills during individual case management i.e. this is where a manager is responsible for all client planning, team review along with evaluation during consultation. Population case management on the other hand entails a team of multiple nursing staff participate in planning process, the review and evaluation as they reach a wider target audience. Consultation may entail home visits, pharmaceutical consultation at the hospital and such a view. For the home visits, various benefits are attached as outlined. First is the general family participation in administering health measures. Second is better Support with diet and nutrition that comes with this. Most clients will also tend to enjoy the peace of mind that comes with being attended to straight from home along with the access to skilled nursing care from home. However, there are demerits that may be associated with this. First, there exists Potential for sub-quality care since key machines are not avail at home. Secondly, the Care managers are never around for the entire time for monitoring. Third is the limited Choices to care managers employed by an agency or by one's health insurance coverage. Also, placing a loved one in a residential care facility can be expensive as the cost of home care can add up over time.
When practicing public health, of importance is a logic model which should outline why a concept is being enacted in public health, how the concept will be enacted in a bid to achieve results as desired, progress made as due to enactment of the concept in question and finally how to better the desired outcome in the model being implemented. Use of model as such will prove to be beneficial since it builds program clarity from the process, it will Keep staff, managers, and partners focused on outcomes, it helps planners prioritize most effective activities when
Channeling resources, it may as well be used as an indicator of quality service, it will also reveal data needs and framework when analyzing data. A model will also integrate planning, implementation, performance measurement and evaluation. Last but not least, any model helps prevent mismatch between activities and effects due when enacting a concept.
Conclusion
After coming up with a model and enacting it, medics will have to follow the following Steps in the process of evaluating health related community-based programs. First, they will have to engage stakeholders through Formative evaluation which occurs during program development and implementation. It provides information on achieving program goals or improving your program. Second will have to be the Process evaluation that assesses the type, quantity, and quality of program activities being partaken. Next is the Outcome evaluation which focusses on short- and long-term program objectives. This aids in demonstrating changes in health conditions, quality of life, and behaviors. Last to be done is the impact evaluation which assesses a program's effect on participants.
References
Case Management Study Guide. (2019). Goals and objectives of case management practice. [online] Available at: https://casemanagementstudyguide.com/ccm-knowledge-domains/case-management-concepts/goals-and-objectives-of-case-management-practice/ [Accessed 20 Mar. 2019].
Goyal, N.K., F. (n.d.). Effects of home visiting and maternal mental health on use of the emergency department among late preterm infants. JOGNN.
Homvee.acf.hhs.gov. (2019). Model Profiles - Home Visiting Evidence of Effectiveness. [online] Available at: https://homvee.acf.hhs.gov/models.aspx [Accessed 20 Mar. 2019].
Vitale, P. A., C. (2019). Population-based nursing: Competencies and concepts for advanced practice. 2nd ed. New York: Springer Publishing.
Cite this page
Home Visiting and Case Management in Public Health. (2022, Dec 15). Retrieved from https://speedypaper.com/essays/home-visiting-and-case-management-in-public-health
Request Removal
If you are the original author of this essay and no longer wish to have it published on the SpeedyPaper website, please click below to request its removal: