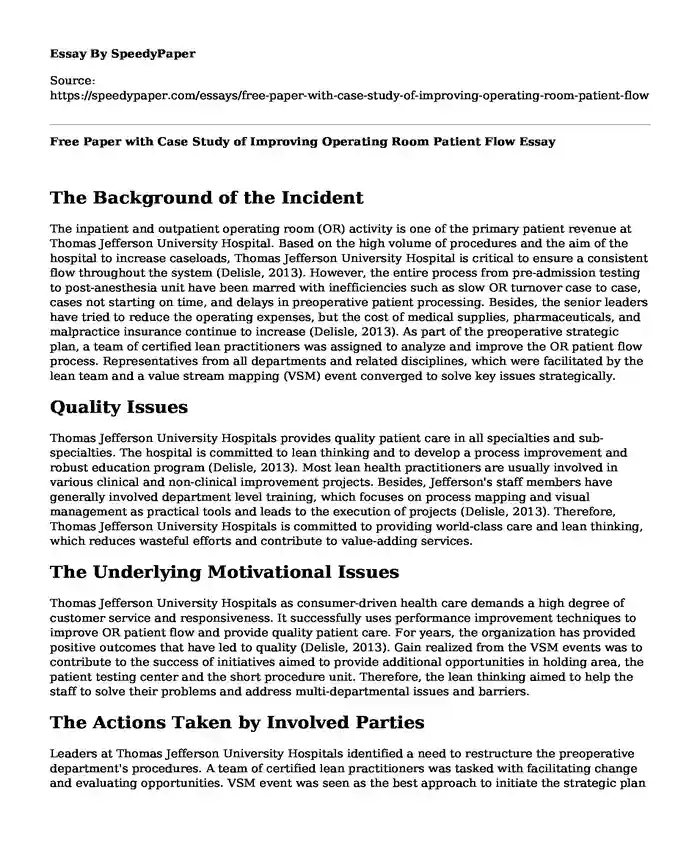 The Background of the Incident
The inpatient and outpatient operating room (OR) activity is one of the primary patient revenue at Thomas Jefferson University Hospital. Based on the high volume of procedures and the aim of the hospital to increase caseloads, Thomas Jefferson University Hospital is critical to ensure a consistent flow throughout the system (Delisle, 2013). However, the entire process from pre-admission testing to post-anesthesia unit have been marred with inefficiencies such as slow OR turnover case to case, cases not starting on time, and delays in preoperative patient processing. Besides, the senior leaders have tried to reduce the operating expenses, but the cost of medical supplies, pharmaceuticals, and malpractice insurance continue to increase (Delisle, 2013). As part of the preoperative strategic plan, a team of certified lean practitioners was assigned to analyze and improve the OR patient flow process. Representatives from all departments and related disciplines, which were facilitated by the lean team and a value stream mapping (VSM) event converged to solve key issues strategically.
Quality Issues
Thomas Jefferson University Hospitals provides quality patient care in all specialties and sub-specialties. The hospital is committed to lean thinking and to develop a process improvement and robust education program (Delisle, 2013). Most lean health practitioners are usually involved in various clinical and non-clinical improvement projects. Besides, Jefferson's staff members have generally involved department level training, which focuses on process mapping and visual management as practical tools and leads to the execution of projects (Delisle, 2013). Therefore, Thomas Jefferson University Hospitals is committed to providing world-class care and lean thinking, which reduces wasteful efforts and contribute to value-adding services.
The Underlying Motivational Issues
Thomas Jefferson University Hospitals as consumer-driven health care demands a high degree of customer service and responsiveness. It successfully uses performance improvement techniques to improve OR patient flow and provide quality patient care. For years, the organization has provided positive outcomes that have led to quality (Delisle, 2013). Gain realized from the VSM events was to contribute to the success of initiatives aimed to provide additional opportunities in holding area, the patient testing center and the short procedure unit. Therefore, the lean thinking aimed to help the staff to solve their problems and address multi-departmental issues and barriers.
The Actions Taken by Involved Parties
Leaders at Thomas Jefferson University Hospitals identified a need to restructure the preoperative department's procedures. A team of certified lean practitioners was tasked with facilitating change and evaluating opportunities. VSM event was seen as the best approach to initiate the strategic plan (Delisle, 2013). The program involved a lean team working with a group of process experts during the OR patient flow process. The lean team first developed a Gemba walk that involves observing the process and workflow and talks with the employees to understand their challenges (Delisle, 2013). Through Gemba walks, the team was able to document process steps accurately. The team also used an OR information system database to provide key performance indicators such as OR turnover times, cycle times across, and first-case starts across the patient flow process (Delisle, 2013).
The lean thinking was also carried out through Kaizen events to emphasize incremental improvement over time. Kaizen event was rapidly developed and implemented. It involved a project structure of defining, measuring, analyzing, improving and controlling (DMAIC) (Delisle, 2013). A comprehensive agenda was also developed, and it included brainstorming and prioritizing issues and barriers, current state validation, future state design and developing incremental progress over time improvement plan. These factors were instrumental in shaping the current state, and the improvement of various stakeholders was essential for successful improvement efforts. Thus, the VSM event was able to provide an objective way of facilitating increment improvement and approaching complex issues over time.
The Opinions on Actions that were Taken
The systematic approach of improving the OR patient flow is important in producing positive outcomes and steady gains over time. The various kaizens used led to significant and sustainable gains and improvements such as improving patient flow from arrival to holding area, improving patient flow in the patient testing center, improving patient flow in the patient testing center, improving on-time, first-case starts, or patient flow from SPU to holding area and improving patient flow in the patient testing center (Feeney, 2013). The gains that resulted from the VSM also contributed to the success of the program. The lean teams should continue to address and find new solutions and improvement opportunities especially in the holding area and the patient testing center. The eight-week education program was essential in enabling staff to solve their issues and problems. The lean team's OR engagement success should also be introduced in other areas of the hospital to help with lean thinking and facilitate the best way of approaching issues.
Personal Recommendations
Change: Embracing change and improvement in a healthcare setting with an open mind is always essential. Thomas Jefferson University Hospitals can embrace this through continuous quality improvement such as being creative and innovative when determining possible solutions (Feeney, 2013).
Teamwork: Working with complementary and genuinely collaborative teams can help solve staff issues and challenges. The hospital should realize that through teamwork, solutions can be found, which may not have been considered or thought of by the management or individual members of the team (Feeney, 2013). Thus, team working develops respect and increases awareness of the responsibilities and work of staff.
Kaizens: Thomas Jefferson University Hospitals need to stat focus on its kaizens' aim and objectives to drive change and improvement in a short period. The organization needs to be patient during the problem-solving process and let the Kaizens process do its work.
References
Delisle, D. (2013). Systematically Improving Operating Room Patient Flow Through Value Stream Mapping and Kaizen Events. Pp. 1-7. Retrieved from: http://asq.org/2013/10/lean/operating-room-patient-flow.html
Feeney, L. (2013) Using LEAN for Healthcare improvement - Practical approaches. Retrieved from: https://isqua.org/docs/default-source/education-/isqua-webinar_february-2016_ luke-feeney0bf2e6159bdc6318af52ff0000eae9f5.pdf?sfvrsn=0
Cite this page
Free Paper with Case Study of Improving Operating Room Patient Flow. (2022, Jul 08). Retrieved from https://speedypaper.com/essays/free-paper-with-case-study-of-improving-operating-room-patient-flow
Request Removal
If you are the original author of this essay and no longer wish to have it published on the SpeedyPaper website, please click below to request its removal: