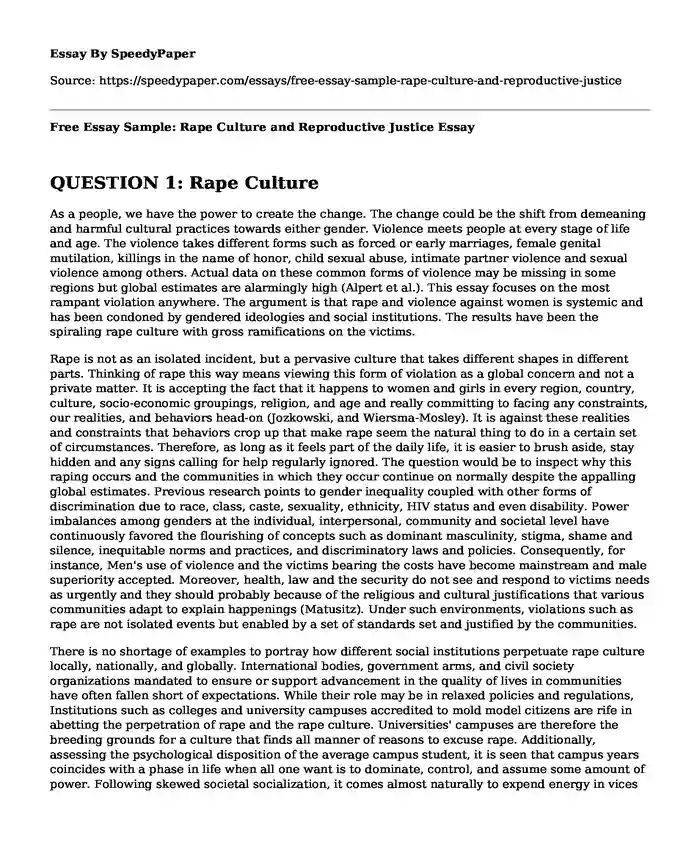 QUESTION 1: Rape Culture
As a people, we have the power to create the change. The change could be the shift from demeaning and harmful cultural practices towards either gender. Violence meets people at every stage of life and age. The violence takes different forms such as forced or early marriages, female genital mutilation, killings in the name of honor, child sexual abuse, intimate partner violence and sexual violence among others. Actual data on these common forms of violence may be missing in some regions but global estimates are alarmingly high (Alpert et al.). This essay focuses on the most rampant violation anywhere. The argument is that rape and violence against women is systemic and has been condoned by gendered ideologies and social institutions. The results have been the spiraling rape culture with gross ramifications on the victims.
Rape is not as an isolated incident, but a pervasive culture that takes different shapes in different parts. Thinking of rape this way means viewing this form of violation as a global concern and not a private matter. It is accepting the fact that it happens to women and girls in every region, country, culture, socio-economic groupings, religion, and age and really committing to facing any constraints, our realities, and behaviors head-on (Jozkowski, and Wiersma-Mosley). It is against these realities and constraints that behaviors crop up that make rape seem the natural thing to do in a certain set of circumstances. Therefore, as long as it feels part of the daily life, it is easier to brush aside, stay hidden and any signs calling for help regularly ignored. The question would be to inspect why this raping occurs and the communities in which they occur continue on normally despite the appalling global estimates. Previous research points to gender inequality coupled with other forms of discrimination due to race, class, caste, sexuality, ethnicity, HIV status and even disability. Power imbalances among genders at the individual, interpersonal, community and societal level have continuously favored the flourishing of concepts such as dominant masculinity, stigma, shame and silence, inequitable norms and practices, and discriminatory laws and policies. Consequently, for instance, Men's use of violence and the victims bearing the costs have become mainstream and male superiority accepted. Moreover, health, law and the security do not see and respond to victims needs as urgently and they should probably because of the religious and cultural justifications that various communities adapt to explain happenings (Matusitz). Under such environments, violations such as rape are not isolated events but enabled by a set of standards set and justified by the communities.
There is no shortage of examples to portray how different social institutions perpetuate rape culture locally, nationally, and globally. International bodies, government arms, and civil society organizations mandated to ensure or support advancement in the quality of lives in communities have often fallen short of expectations. While their role may be in relaxed policies and regulations, Institutions such as colleges and university campuses accredited to mold model citizens are rife in abetting the perpetration of rape and the rape culture. Universities' campuses are therefore the breeding grounds for a culture that finds all manner of reasons to excuse rape. Additionally, assessing the psychological disposition of the average campus student, it is seen that campus years coincides with a phase in life when all one want is to dominate, control, and assume some amount of power. Following skewed societal socialization, it comes almost naturally to expend energy in vices that underscore the rape culture (Matusitz).
Rape culture does not only churn out victims, it also leaves a trail of the social consequences that impact the society, business, and families negatively. Among members of equal social status such as students, this form of violation is the most profound symbol of inequality. The impunity that surrounds the experience paints one gender as superior, forcing the victims to accept violation as the way of life. Inequality adds up to denying people their human rights. Consequently, this hinders social-economic development as victims resign to their assumed inferior position in communities resigned from activities assumed to be associated with the superior gender. Additionally, a rape culture, as with any other form of gender-based violence prevents victims from the equal participation at every personal, social, and political level. The stigma that comes with being a victim resigns one to themselves and make no effort to commune in the ideal daily life. Furthermore, a rape culture reinforces other forms of discrimination since it does not occur in isolation. It starts by excusing the other violations and that blow into culturally accepted habits. Therefore, a rape culture existence continually hurts people based solely on their gender and sexual orientations. All these consequences contribute to the ailing an economy since a rape culture is extremely costly to families, communities, and even countries. Productive hours are lost recovering and pursuing justice. Additionally, resources are set aside for courses without real production outputs (Matusitz).
CONCLUSION
Gender violence and specifically sexual violence is systemic. It is never okay, and only inflicts pain and fear in the communities and regions where we live. A rape culture is cultivated by norms that give one gender more power over the other. Colleges and university campuses from the perfect breeding ground for the vice that generates a myriad of consequences not only for the victims but also to the society at large.
Works Cited
Alpert, Elaine J. et al. "Family Violence And Public Health Education". Violence Against Women, vol 8, no. 6, 2002, pp. 746-778. SAGE Publications, doi:10.1177/10778010222183260.
Jozkowski, Kristen N., and Jacquelyn D. Wiersma-Mosley. "The Greek System: How Gender Inequality And Class Privilege Perpetuate Rape Culture". Family Relations, vol 66, no. 1, 2017, pp. 89-103. Wiley, doi:10.1111/fare.12229.
Matusitz, Jonathan. "Gender Communal Terrorism Or War Rape: Ten Symbolic Reasons". Sexuality & Culture, vol 21, no. 3, 2017, pp. 830-844. Springer Nature, doi:10.1007/s12119-017-9424-z.
Question 3: Reproductive Justice
Biology classes are not enough to form a solid understanding of the reproductive health. While the productive system may be detailed in the course delivery, the dynamics of reproductive health are not as detailed. However, biology lessons around reproductive system give the basic idea of the key aspects of reproduction. Reproductive health is one of the areas of human life that perhaps was of concern to communities the earliest. At one point, the concern was that large populations were needed to add to the growing labor needs and for security purposes. As soon as the population had surged and cities developed, there were needs again to control populations to suit them to existing resources. Additionally, advancements in the medical field and consequently the higher quality of life further enhance the birthrate in a way that it was no longer necessary to sire many children to guarantee survival against the various diseases of the day. Nonetheless, key reproductive decisions remained in the hands of the male gender by virtue of the profession. Despite the breakthroughs achieved, reproductive health always remained a burden to women and girls. This essay defines reproductive justice and provides some examples of the ways that its pursuit affects women's lives. Further, it explores the institutionalized power dynamics often limiting women's access to reproductive choice. Lastly, the paper tries to relate women's limited reproductive freedom to their perceived low status and power in the society. This work is thus a reflection of the journey that culminates in the concept of reproductive justice and the dynamics that continued to downplay the realization of a hundred percent reproductive freedom for all women and girls.
REPRODUCTIVE JUSTICE
The study of the human body and the eventual narrowing down to the reproductive system forms the starting point of trying to make sense of the human reproductive health. Activism, however, pushes these breakthroughs a notch higher in the pursuit of a more equitable world. The result is the concept of reproductive justice, which is simply a comprehensive assembly of the physical, mental, spiritual, socio-political, and economic well-being of women and girls the world over (Chrisler). Additionally, it is based on the active implementation of women's human rights fully. Metrics to measure this concepts impact lays in the impact the place of the concept in the women's life. For instance, through the strong advocacy presented by the reproductive justice frameworks around the world, young girls are now in touch with and in the know about their reproductive system's functioning, health, and rights much earlier than any other time in history (Zucker). They grow up empowered and aware of what they should expect and prepared to stand in any gaps that may arise for other younger girls and to address the needs at that time.
Family planning
Through the advocacy framework, family planning has transformed into an issue that concerns both men and women equally disregarding yoking women only. As such, women are in the twenty-first century, more able to plan their life around education and careers (Chrisler). This ability in turns gives them an advantage against other genders, creating somewhat a level playing field, and thus a relatively equal world. Therefore, women no longer have to give up their dreams because of societal expectations and cultural practices. Moreover, when mature women are finally ready to set up families and raise young ones, they are guaranteed of quality healthcare courtesy of reproductive justice. Women no longer need to die in childbirth. The survival of both mother and child is at the forefront of the desired outcomes in the women's reproductive health campaign around the world. Constitutions and the Health act around the world continue to adopt progressive approaches that guarantee safe, effective and acceptable family planning for all adults (Zucker).
INSTITUTIONALIZED POWER DYNAMICS
With male gender dominating the medical profession, a development I reproductive health generally took one dimension and a male perspective. Men also developed much of the childbirth procedure while the traditional mid-wives procedure remained crude and largely regarded outdated (Chrisler). In terms of policy development, women have been outside the political scenes for as long as the civilization has existed and thus, for a long time, women have not been stakeholders to issues and policies that have long defined their reproductive health experiences. Thus, a male dominate medical profession and an equally dominated legislature form the institutionalized power dynamics that continue to affect and limit women's access to reproductive choices.
REPRODUCTIVE FREEDOM VERSUS LOWER STATUS AND POWER
Women have not always have had a say in a myriad of matters. Regarding their reproductive health, aggressive activism is providing the much-needed voice in the clamor for reproductive freedom. For instance, women and girls cannot outrightly choose birth control and abortion even the though is their bodies and for a cause they deem fit. Therefore, limited access to reproductive freedom equally limits their participation in the economic and social life. This inability to spur their interests in their favor reflects women's lower status and power (Petchesky).
CONCLUSION
The clamoring for inclusive reproductive freedoms has borne a reproductive justice concept. It is upon this framework, I believe,...
Cite this page
Free Essay Sample: Rape Culture and Reproductive Justice. (2022, May 13). Retrieved from https://speedypaper.com/essays/free-essay-sample-rape-culture-and-reproductive-justice
Request Removal
If you are the original author of this essay and no longer wish to have it published on the SpeedyPaper website, please click below to request its removal: