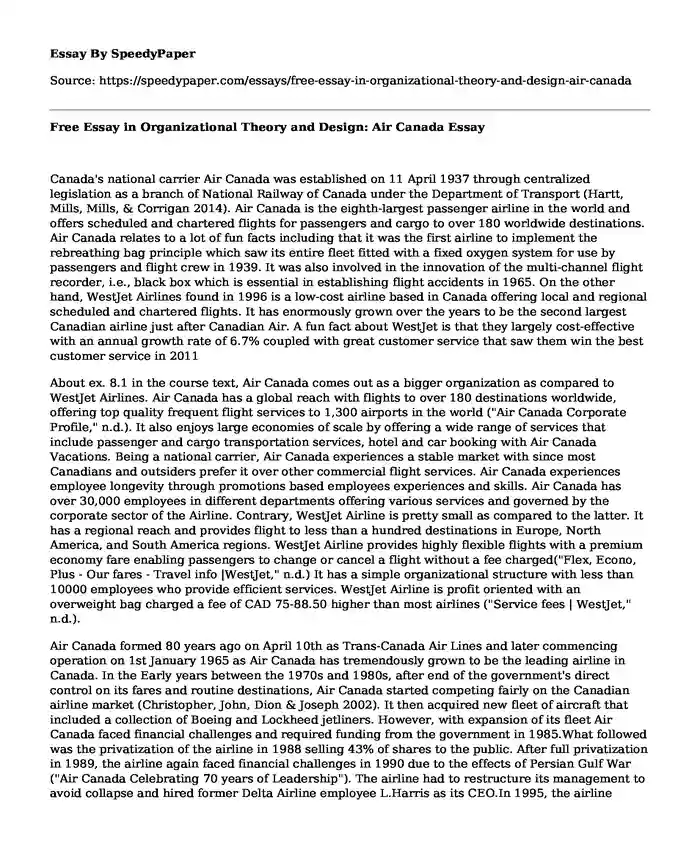 | | |
| --- | --- |
| Type of paper:  | Case study |
| Categories: | Airline industry |
| Pages: | 6 |
| Wordcount: | 1467 words |
Canada's national carrier Air Canada was established on 11 April 1937 through centralized legislation as a branch of National Railway of Canada under the Department of Transport (Hartt, Mills, Mills, & Corrigan 2014). Air Canada is the eighth-largest passenger airline in the world and offers scheduled and chartered flights for passengers and cargo to over 180 worldwide destinations. Air Canada relates to a lot of fun facts including that it was the first airline to implement the rebreathing bag principle which saw its entire fleet fitted with a fixed oxygen system for use by passengers and flight crew in 1939. It was also involved in the innovation of the multi-channel flight recorder, i.e., black box which is essential in establishing flight accidents in 1965. On the other hand, WestJet Airlines found in 1996 is a low-cost airline based in Canada offering local and regional scheduled and chartered flights. It has enormously grown over the years to be the second largest Canadian airline just after Canadian Air. A fun fact about WestJet is that they largely cost-effective with an annual growth rate of 6.7% coupled with great customer service that saw them win the best customer service in 2011
About ex. 8.1 in the course text, Air Canada comes out as a bigger organization as compared to WestJet Airlines. Air Canada has a global reach with flights to over 180 destinations worldwide, offering top quality frequent flight services to 1,300 airports in the world ("Air Canada Corporate Profile," n.d.). It also enjoys large economies of scale by offering a wide range of services that include passenger and cargo transportation services, hotel and car booking with Air Canada Vacations. Being a national carrier, Air Canada experiences a stable market with since most Canadians and outsiders prefer it over other commercial flight services. Air Canada experiences employee longevity through promotions based employees experiences and skills. Air Canada has over 30,000 employees in different departments offering various services and governed by the corporate sector of the Airline. Contrary, WestJet Airline is pretty small as compared to the latter. It has a regional reach and provides flight to less than a hundred destinations in Europe, North America, and South America regions. WestJet Airline provides highly flexible flights with a premium economy fare enabling passengers to change or cancel a flight without a fee charged("Flex, Econo, Plus - Our fares - Travel info |WestJet," n.d.) It has a simple organizational structure with less than 10000 employees who provide efficient services. WestJet Airline is profit oriented with an overweight bag charged a fee of CAD 75-88.50 higher than most airlines ("Service fees | WestJet," n.d.).
Air Canada formed 80 years ago on April 10th as Trans-Canada Air Lines and later commencing operation on 1st January 1965 as Air Canada has tremendously grown to be the leading airline in Canada. In the Early years between the 1970s and 1980s, after end of the government's direct control on its fares and routine destinations, Air Canada started competing fairly on the Canadian airline market (Christopher, John, Dion & Joseph 2002). It then acquired new fleet of aircraft that included a collection of Boeing and Lockheed jetliners. However, with expansion of its fleet Air Canada faced financial challenges and required funding from the government in 1985.What followed was the privatization of the airline in 1988 selling 43% of shares to the public. After full privatization in 1989, the airline again faced financial challenges in 1990 due to the effects of Persian Gulf War ("Air Canada Celebrating 70 years of Leadership"). The airline had to restructure its management to avoid collapse and hired former Delta Airline employee L.Harris as its CEO.In 1995, the airline added 30 new trans-border destinations acting on the open skies agreement between the US and Canada. Air Canada merged its operation with Canadian Airlines in on January 2001 making it the twelfth largest in the world at that time ("Air Canada suing WestJet"). On 19th October 2004, Air Canada announced that it launch a programme to modernize its fleet replacing the Boeing 747-400 with the Airbus A340 with a new color scheme and uniforms for crew members. The airline reintroduced premium economy class for its North America destination passengers.
WestJet Airline was established by 5 entrepreneurs in the 1990s as a low-cost airline. In 1996 the airline disagreed with Canadian Transport Authority due to safeguarding the planes through maintenance and was perched for some days. In July 1999 the airline started selling shares to the public at $10 per share ("WestJet IPO makes a strong debut"). In the early 2000s, WestJet increased its domestic flights mainly to Eastern Canada. In 2003 August, WestJet formed a two-year agreement with Air Transat that saw the plane operate primarily in South America. In the mid-2000s WestJet added more international destinations to its flight routines thereby expanding internationally. 2006 October saw WestJet publicize that it had realized record revenue of C$52.8 million. In 2009 WestJet unrelentingly increased the number of international flights, and in 2010 it leased an aircraft called Boeing 757 to develop flight services between the US and Canada. In January 2014, WestJet began trips to Europe in Dublin and later London. On January 11th, 2018, WestJet realized its strategic goal to become a universal passenger and goods carrier.
Based on the above analysis, Air Canada is at elaborate stage of an organization life cycle. This is precisely shown in its very bureaucratic form of leadership where the employees are not involved in the crucial decision-making processes. Air Canada also offers a variety of services which include freight transport; tour operating services, chartered services targeting sports and other services. It is also a reputable organization and regarded as Canada's national carrier. Contrary to Air Canada, WestJet Airline seems to be at the formalization stage of organizational life cycle. It is evident that WestJet airline enjoys delegation with control by its employees. They also do not take part in decision making at the top level management is responsible for making and implementing nearly all decision. The airline also offers only one line of service that is primarily flights to different destinations. WestJet Airlines also experiences internal stability since there hasn't been a significant employees strike over the years. It also exhibits market expansion which is a characteristic of formalization stage of an organizational life cycle as indicated in the above analysis.
It is normal for organizations to experience a decline in performance if not properly managed. For Air Canada, this is no different as it may experience a decline in performance mainly due economic downturn from the analysis conducted above. Air Canada has been faced with numerous difficult financial situations notably due to the Persian Gulf War in the early 1990s and a global recession in the late 2000s creating bankruptcy claims37.Following the decline in performance, Air Canada initiated an appropriate response include seeking financial support from the Canadian Government, restructuring of the entire organization and utilization of scorched earth policy to prevent bankruptcy claims.
From the analysis above, it is evident that WestJet Airline has expanded rapidly and even has launched a strategic plan to become a global airliner. If this is not appropriately managed the company may be dissolved due to diseconomies of scale. When an organization expands rapidly beyond an optimum limit, it experiences diseconomies of level leading to an increase in the operational cost thereby a reduction in profit or an increase in loss ("Diseconomies of Scale | Factors of diseconomies limiting size of firms," 2016). Financial difficulties may soon come into play leading to bankruptcy and later dissolution of the organization. WestJet should, therefore, expand at a manageable rate to avoid dissolution
Reference
Air Canada: Celebrating 70 Years of Leadership". Aviation Week & Space Technology. Archived from the original on 15 January 2010. Retrieved 11 January 2010.
Christopher, John; Dion, Joseph P. (14 November 2002). "Issue Definition." The Canadian Airline Industry. Government of Canada / Depository Services Program. Retrieved 4 April 2009
"Air Canada suing WestJet." The Globe and Mail. Toronto. 2004-04-06. Archived from the original on April 29, 2009. Retrieved 2009-02-23.
Air Canada Corporate Profile. (n.d.). Retrieved from https://www.aircanada.com/ca/en/aco/home/about/corporate-profile.html
Diseconomies of Scale | Factors of diseconomies limiting size of firms. (2016, April 11). Retrieved from https://accountlearning.com/diseconomies-of-scale-factors-of-diseconomies-limiting-size-of-firms/
Flex, Econo, Plus - Our fares - Travel info | WestJet. (n.d.). Retrieved from https://www.westjet.com/en-ca/travel-info/fares/our-fares/options
Hartt, C. M., Mills, A. J., Mills, J. H., & Corrigan, L. T. (2014). Sense-making and actor networks: the non-corporeal actant and the making of an Air Canada history. Management & Organizational History, 9(3), 288-304. doi:10.1080/17449359.2014.920260
Service fees | WestJet. (n.d.). Retrieved from https://www.westjet.com/en-ca/travel-info/fares/service-feesWestJet, Air France, and KLM launch reciprocal frequent flyer redemption. (0800). Retrieved from https://www.newswire.ca/news-releases/westjet-air-france-and-klm-launch-reciprocal-frequent-flyer-redemption-657692323.html
"WestJet IPO makes a strong debut." CBC News. July 13, 1999. Archived from the original on November 7, 2012. Retrieved February 23, 2009.
Cite this page
Free Essay in Organizational Theory and Design: Air Canada. (2022, Apr 01). Retrieved from https://speedypaper.com/essays/free-essay-in-organizational-theory-and-design-air-canada
Request Removal
If you are the original author of this essay and no longer wish to have it published on the SpeedyPaper website, please click below to request its removal: