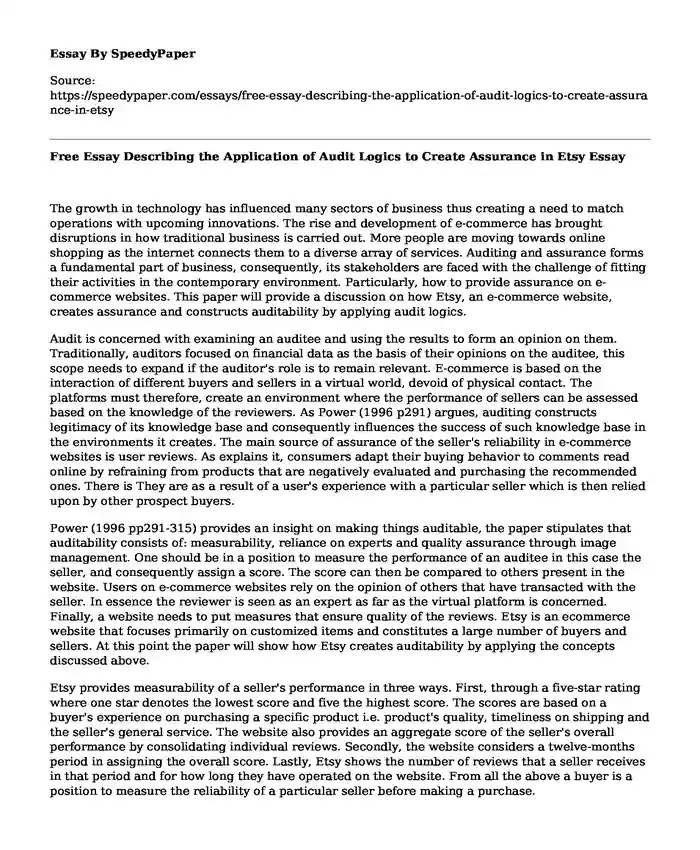 The growth in technology has influenced many sectors of business thus creating a need to match operations with upcoming innovations. The rise and development of e-commerce has brought disruptions in how traditional business is carried out. More people are moving towards online shopping as the internet connects them to a diverse array of services. Auditing and assurance forms a fundamental part of business, consequently, its stakeholders are faced with the challenge of fitting their activities in the contemporary environment. Particularly, how to provide assurance on e-commerce websites. This paper will provide a discussion on how Etsy, an e-commerce website, creates assurance and constructs auditability by applying audit logics.
Audit is concerned with examining an auditee and using the results to form an opinion on them. Traditionally, auditors focused on financial data as the basis of their opinions on the auditee, this scope needs to expand if the auditor's role is to remain relevant. E-commerce is based on the interaction of different buyers and sellers in a virtual world, devoid of physical contact. The platforms must therefore, create an environment where the performance of sellers can be assessed based on the knowledge of the reviewers. As Power (1996 p291) argues, auditing constructs legitimacy of its knowledge base and consequently influences the success of such knowledge base in the environments it creates. The main source of assurance of the seller's reliability in e-commerce websites is user reviews. As explains it, consumers adapt their buying behavior to comments read online by refraining from products that are negatively evaluated and purchasing the recommended ones. There is They are as a result of a user's experience with a particular seller which is then relied upon by other prospect buyers.
Power (1996 pp291-315) provides an insight on making things auditable, the paper stipulates that auditability consists of: measurability, reliance on experts and quality assurance through image management. One should be in a position to measure the performance of an auditee in this case the seller, and consequently assign a score. The score can then be compared to others present in the website. Users on e-commerce websites rely on the opinion of others that have transacted with the seller. In essence the reviewer is seen as an expert as far as the virtual platform is concerned. Finally, a website needs to put measures that ensure quality of the reviews. Etsy is an ecommerce website that focuses primarily on customized items and constitutes a large number of buyers and sellers. At this point the paper will show how Etsy creates auditability by applying the concepts discussed above.
Etsy provides measurability of a seller's performance in three ways. First, through a five-star rating where one star denotes the lowest score and five the highest score. The scores are based on a buyer's experience on purchasing a specific product i.e. product's quality, timeliness on shipping and the seller's general service. The website also provides an aggregate score of the seller's overall performance by consolidating individual reviews. Secondly, the website considers a twelve-months period in assigning the overall score. Lastly, Etsy shows the number of reviews that a seller receives in that period and for how long they have operated on the website. From all the above a buyer is a position to measure the reliability of a particular seller before making a purchase.
Reviews are fundamental in assessing the product's and seller's quality. As stated in Flanagin, et al. (2014 p6) where individuals' opinions are routinely collected, tabulated, and readily available, risk can be functionally reduced through the ratings' role in helping to evaluate product quality. To create quality assurance on reviews Etsy undertakes various measures. First reviews can only be left by users who purchase items from the website, the items must also be part of the existing listings. In addition to the requirement of a legitimate purchase, the website displays the buyer's profile on the seller's reviews. Providing purchasers information further proves that they are certified users as opposed to outsiders giving unreliable information. Etsy has set regulations that must be adhered to in giving feedback to sellers. One such rule is that users should not use extortion to manipulate sellers e.g. giving bad reviews so as to force sellers to give more items than those agreed upon. Secondly, the website prohibits 'shilling', which refers to fraudulent inflation of a seller's reputation using an alternate account. Finally, the reviews should follow the community's policy on language, advertising, privacy of information and the review systems integrity.
In addition to the measures above, buyers on Etsy are expected to leave a comment to support the star rating they accord a seller. By doing this the reviewer gives more information on their perceived opinion about the seller. Besides the review a purchaser can also present their own photo of the product as more proof to quality. However, photos only accompany five star reviews. As Sparks and Browning (2011 pp1310-1323) puts it negative reviews have a strong impact on usefulness and they reduce other users' assessment of a Supplier's trustworthiness. It is important that sellers be in a position to defend their services. On the website can protect themselves from unfair evaluation by responding to negative or neutral reviews. Once a seller replies to a review the buyer cannot change their previous feedback. Such control measures enhance quality since other users can evaluate both parties and form their own judgement.
According to Jeacle, (2017 p28) the medium of user reviews has brought about a new form of expertise that relies on lay opinion. The lack of physical interaction between an online shop and the buyers, prompts the buyer to find an alternative source of recommendation on the seller's reliability. As such the online reviewer becomes an expert who can be relied upon by other buyer's as they make their purchases. For Etsy the reviewer's perceived expertise is derived from the fact that they are firsthand users of the product. Basically, they understand how the product works and whether it matches the seller's claims. The website demands that a buyer gives details in their feedback and ratings this important as it gives more information to future purchasers. Etsy requires that users provide emails that link them to a buyer/seller account such that it asserts their credibility. Anyone intending to engage with a particular seller can rely on the available reviewer's expertise given their authenticity. According to Resnick and Zeckhauser (2002) the aggregated score given by past consumers predicts future trustworthy behavior by sellers. Therefore, by giving feedback buyers provide an expert opinion on the future behavior of a particular seller.
Online retailing has presented the auditing field with new domains to consider. The discussion above has shown how Etsy attempts to make things auditable as suggested by Power (1996). Audit logics is concerned with; the need to have quality checked, independence of the auditor from auditee, gathering of evidence and the expression of an opinion. Etsy comprises of diverse members who engage in business across the globe. Buyers can only assess the product's quality on receiving the item, this creates a need to have quality certified prior to the purchase. The website solves this problem by providing a platform and a support system for online reviews.
Etsy has put in measures that ensure that the reviews are given under no undue influence from the seller. A buyer has the liberty to edit their reviews on a particular seller within the set time (100 days after delivery) all changes are made at the discretion of the buyer. The cannot remove any feedback and must consult the websites management if there's need to report any particular feedback. The website also maintains that a seller cannot demand reviews from buyers and any attempts to do so would lead to their account being suspended. The online community at Etsy has a set rules and regulations against manipulations of reviews.
As mentioned above audit involves collecting evidence in addition to other procedures. Online platforms achieve this by employing systems that aggregate all user reviews and ratings. The combined databases of users provide an important source of evidence on various transactions. The data collected is then used to form the seller's overall rating. Etsy applies this technique to provide an evaluation of seller's reliability.
The basis of every audit is to provide an opinion on the auditee. As Jeacle 2017 argues, within the context of the internet the online reviewer represents the auditor, conducts audit and forms opinions. Online reviewers are the ultimate judges of the supplier's integrity. Despite the fact that a seller's rating reflects the average of all feedbacks, the primary opinion is formed by individual reviews. Users are more likely to accord trust to specific reviews as opposed to the general ones.
Etsy like many other ecommerce website has applied audit logics to create auditability. The discussion has shown how the website provides measurability of performance by users by using stars. The website also enhances quality assurance by allowing reviews only from bonafide purchasers and also by setting a review policy that must followed. Finally, Etsy provides all user reviews on a particular seller so that other users can incorporate them in their decision making. In addition to all of the above Etsy applies the audit facets on; demand for quality check, independence, evidence gathering and forming an opinion.
References
Flanagin, A.J., Metzger, M.J., Pure, R., Markov, A. and Hartsell, E., 2014. Mitigating risk in ecommerce transactions: perceptions of information credibility and the role of user-generated ratings in product quality and purchase intention. Electronic Commerce Research, 14(1), pp.1-23.
Hennig-Thurau, T., Walsh, G. and Walsh, G., 2003. Electronic word-of-mouth: Motives for and consequences of reading customer articulations on the Internet. International journal of electronic commerce, 8(2), pp.51-74.
Jeacle, I., 2017. Constructing audit society in the virtual world: the case of the online reviewer. Accounting, Auditing & Accountability Journal, 30(1), pp.18-37.
Power, M., 1996. Making things auditable. Accounting, organizations and society, 21(2-3), pp.289-315.
Resnick, P. and Zeckhauser, R., 2002. Trust among strangers in Internet transactions: Empirical analysis of eBay's reputation system. In The Economics of the Internet and E-commerce (pp. 127-157). Emerald Group Publishing Limited.
Sparks, B.A. and Browning, V., 2011. The impact of online reviews on hotel booking intentions and perception of trust. Tourism management, 32(6), pp.1310-1323.
Cite this page
Free Essay Describing the Application of Audit Logics to Create Assurance in Etsy. (2022, May 13). Retrieved from https://speedypaper.com/essays/free-essay-describing-the-application-of-audit-logics-to-create-assurance-in-etsy
Request Removal
If you are the original author of this essay and no longer wish to have it published on the SpeedyPaper website, please click below to request its removal: