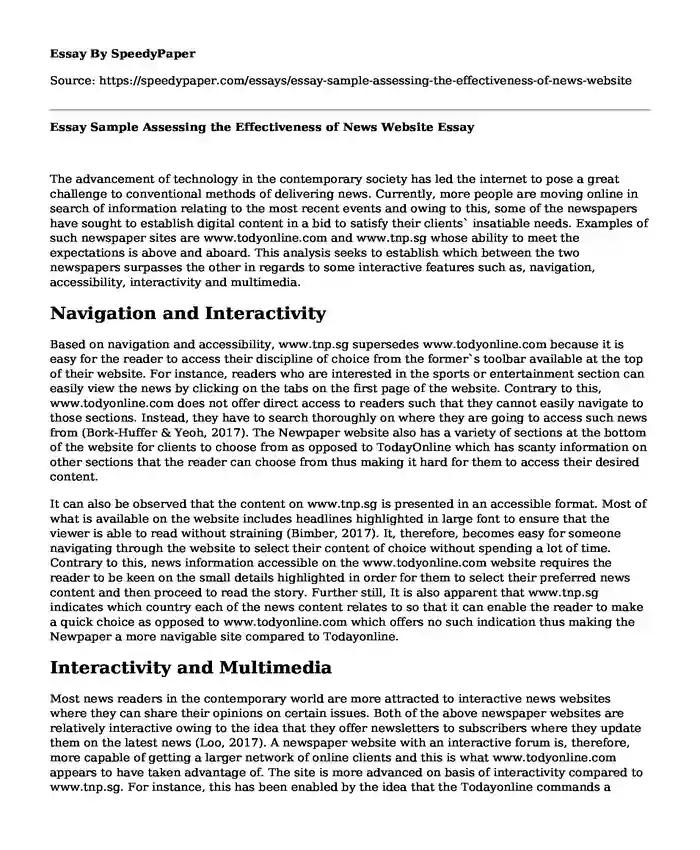 The advancement of technology in the contemporary society has led the internet to pose a great challenge to conventional methods of delivering news. Currently, more people are moving online in search of information relating to the most recent events and owing to this, some of the newspapers have sought to establish digital content in a bid to satisfy their clients` insatiable needs. Examples of such newspaper sites are www.todyonline.com and www.tnp.sg whose ability to meet the expectations is above and aboard. This analysis seeks to establish which between the two newspapers surpasses the other in regards to some interactive features such as, navigation, accessibility, interactivity and multimedia.
Navigation and Interactivity
Based on navigation and accessibility, www.tnp.sg supersedes www.todyonline.com because it is easy for the reader to access their discipline of choice from the former`s toolbar available at the top of their website. For instance, readers who are interested in the sports or entertainment section can easily view the news by clicking on the tabs on the first page of the website. Contrary to this, www.todyonline.com does not offer direct access to readers such that they cannot easily navigate to those sections. Instead, they have to search thoroughly on where they are going to access such news from (Bork-Huffer & Yeoh, 2017). The Newpaper website also has a variety of sections at the bottom of the website for clients to choose from as opposed to TodayOnline which has scanty information on other sections that the reader can choose from thus making it hard for them to access their desired content.
It can also be observed that the content on www.tnp.sg is presented in an accessible format. Most of what is available on the website includes headlines highlighted in large font to ensure that the viewer is able to read without straining (Bimber, 2017). It, therefore, becomes easy for someone navigating through the website to select their content of choice without spending a lot of time. Contrary to this, news information accessible on the www.todyonline.com website requires the reader to be keen on the small details highlighted in order for them to select their preferred news content and then proceed to read the story. Further still, It is also apparent that www.tnp.sg indicates which country each of the news content relates to so that it can enable the reader to make a quick choice as opposed to www.todyonline.com which offers no such indication thus making the Newpaper a more navigable site compared to Todayonline.
Interactivity and Multimedia
Most news readers in the contemporary world are more attracted to interactive news websites where they can share their opinions on certain issues. Both of the above newspaper websites are relatively interactive owing to the idea that they offer newsletters to subscribers where they update them on the latest news (Loo, 2017). A newspaper website with an interactive forum is, therefore, more capable of getting a larger network of online clients and this is what www.todyonline.com appears to have taken advantage of. The site is more advanced on basis of interactivity compared to www.tnp.sg. For instance, this has been enabled by the idea that the Todayonline commands a larger following compared to The Newpaper. It has, thus become imperative for the business to come up with ways of ensuring that readers interact with one another and also the newspaper as well.
Singapore has the second highest rate of social media penetration in the world which stands at 59%, as a result, it is essential for the digital newspapers too to have an online presence for them to interact with clients (Chakravorti, Tunnard & Chaturvedi, 2015). It is undeniable that Todayonline has a better interactivity compared to the Newpaper. For instance, the former site is focused on acquiring more readers by capitalizing on the Facebook and Twitter handles observable on its online digital platform. This implies that the client can click on the icons at the top in order for them to share whatever they are reading on the online news site with their friends. There is also an email and WhatsApp icon which the client can use to send their comments to the business.
Multimedia also presents one of the distinctive elements that most media stations use to attract readers to their sites. TODAYonline appears to have a greater bearing on multimedia compared to the Newpaper. This implies that the online newspaper uses a variety of communicative media to communicate with their clients. For instance, the top section of the online page of this newspaper shows that it has an interactive forum on social media platforms such as WhatsApp and Telegram. For example, if a reader would like to interact with the Company, all they need to do is join the WhatsApp platform by sending JOIN to 93276484. Alternatively, they can send the JOIN to 94806129 if they wish to interact with the newspaper on Telegram (Newman et al., 2017). Alternatively, the same readers can subscribe to the Company`s newsletters to receive daily updates on current news. The Newpaper www.tnp.sg, on the other hand, only displays details pertaining to subscription of newsletters for its readers which proves that the business has not yet been in a position to capitalize fully on offering multimedia content.
To sum it all up, it is apparent that both www.todyonline.com and www.tnp.sg command a great online presence. The first website is reputed for interactivity and multimedia content whereas the latter is revered for its navigation and accessibility. It is easy for readers to navigate and access information through HYPERLINK "http://www.tnp.sg" www.tnp.sg because of it easily readable format as opposed to www.todyonline.com. Also, Todayonline has a better social media presence which contributes to its interactivity with readers in addition to the multimedia content offered by the site. It can, nevertheless, be concluded that despite the disparities both websites offer highly potent digital content which is expected to continue advancing with each passing year.
Word Count: 974
References
Bimber, B. (2017). Three prompts for collective action in the context of digital media. Political Communication, 34(1), 6-20.
Bork-Huffer, T., & Yeoh, B. S. (2017). The geographies of difference in conflating digital and offline spaces of encounter: Migrant professionals' thrown togetherness in Singapore. Geoforum, 86, 93-102.
Chakravorti, B., Tunnard, C., & Chaturvedi, R. S. (2015). Where the digital economy is moving the fastest. Harvard Business Review, 19.
Loo, H. (2017). The Singapore Legal Industry: a Brief Overview and Comparison.
Newman, N., Fletcher, R., Kalogeropoulos, A., Levy, D. A., & Nielsen, R. K. (2017). Reuters Institute digital news report 2017.
Cite this page
Essay Sample Assessing the Effectiveness of News Website. (2022, Jul 18). Retrieved from https://speedypaper.com/essays/essay-sample-assessing-the-effectiveness-of-news-website
Request Removal
If you are the original author of this essay and no longer wish to have it published on the SpeedyPaper website, please click below to request its removal: