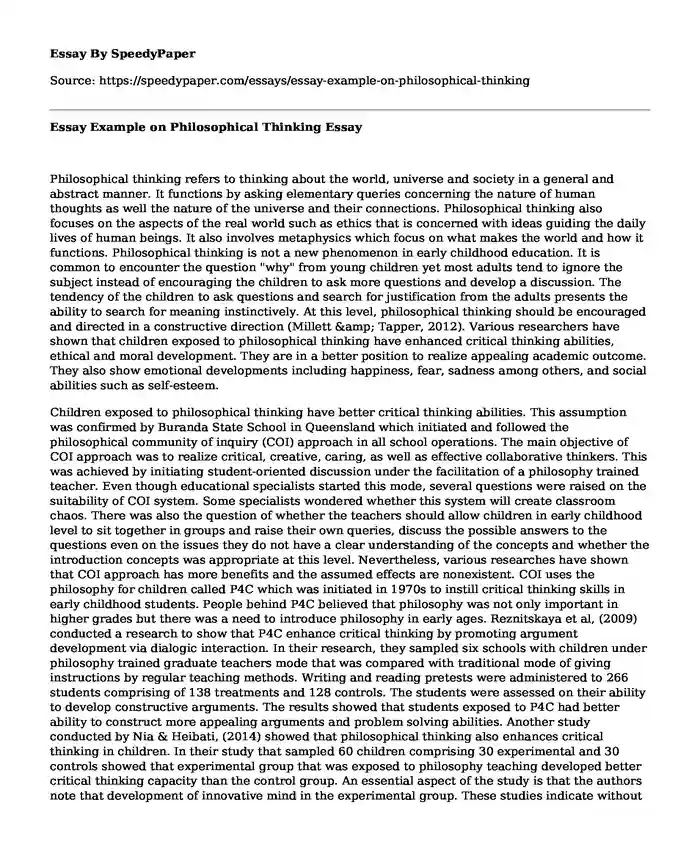 Philosophical thinking refers to thinking about the world, universe and society in a general and abstract manner. It functions by asking elementary queries concerning the nature of human thoughts as well the nature of the universe and their connections. Philosophical thinking also focuses on the aspects of the real world such as ethics that is concerned with ideas guiding the daily lives of human beings. It also involves metaphysics which focus on what makes the world and how it functions. Philosophical thinking is not a new phenomenon in early childhood education. It is common to encounter the question "why" from young children yet most adults tend to ignore the subject instead of encouraging the children to ask more questions and develop a discussion. The tendency of the children to ask questions and search for justification from the adults presents the ability to search for meaning instinctively. At this level, philosophical thinking should be encouraged and directed in a constructive direction (Millett & Tapper, 2012). Various researchers have shown that children exposed to philosophical thinking have enhanced critical thinking abilities, ethical and moral development. They are in a better position to realize appealing academic outcome. They also show emotional developments including happiness, fear, sadness among others, and social abilities such as self-esteem.
Children exposed to philosophical thinking have better critical thinking abilities. This assumption was confirmed by Buranda State School in Queensland which initiated and followed the philosophical community of inquiry (COI) approach in all school operations. The main objective of COI approach was to realize critical, creative, caring, as well as effective collaborative thinkers. This was achieved by initiating student-oriented discussion under the facilitation of a philosophy trained teacher. Even though educational specialists started this mode, several questions were raised on the suitability of COI system. Some specialists wondered whether this system will create classroom chaos. There was also the question of whether the teachers should allow children in early childhood level to sit together in groups and raise their own queries, discuss the possible answers to the questions even on the issues they do not have a clear understanding of the concepts and whether the introduction concepts was appropriate at this level. Nevertheless, various researches have shown that COI approach has more benefits and the assumed effects are nonexistent. COI uses the philosophy for children called P4C which was initiated in 1970s to instill critical thinking skills in early childhood students. People behind P4C believed that philosophy was not only important in higher grades but there was a need to introduce philosophy in early ages. Reznitskaya et al, (2009) conducted a research to show that P4C enhance critical thinking by promoting argument development via dialogic interaction. In their research, they sampled six schools with children under philosophy trained graduate teachers mode that was compared with traditional mode of giving instructions by regular teaching methods. Writing and reading pretests were administered to 266 students comprising of 138 treatments and 128 controls. The students were assessed on their ability to develop constructive arguments. The results showed that students exposed to P4C had better ability to construct more appealing arguments and problem solving abilities. Another study conducted by Nia & Heibati, (2014) showed that philosophical thinking also enhances critical thinking in children. In their study that sampled 60 children comprising 30 experimental and 30 controls showed that experimental group that was exposed to philosophy teaching developed better critical thinking capacity than the control group. An essential aspect of the study is that the authors note that development of innovative mind in the experimental group. These studies indicate without doubt that philosophical teaching is vital to developing critical thinking in early childhood development.
In addition to critical thinking, developments of caring attitude alongside creative thinking are equally important in children. They enhance peaceful coexistence with other children at school as well as with other people in the larger society. Research has shown that children who are taught the importance of ethical aspects grow to become responsible adults (Bissoli, 2014). When critical thinking is combined with the ethical attitude, the child who is now thinking critically will not only know the right thing to do, but they will also know how to figure out the most convenient way to achieve their desired results. Philosophical thinking can be used to enhance the ethical reasoning of children in the classroom using various means. Narratives form one of the most common avenues exploited by the teachers to instill philosophical thinking in early childhood development. Children like stories narrated by the teacher and subsequently generate philosophy questions on aspects such as royalty, morality, friends and truth. Research conducted by Balakrishnan and Thambu (2017) showed that children responded to moral narrative stories by drawing various illustrations that showed the impact of moral stories to develop ethical aspects. The results indicated that children linked the characters they liked to good morals. They were interested in asking why some characters behaved in a specific way and are more inclined to appealing characters while disliking the evil characters indicating that moral aspects can be instilled in children through philosophical thinking. Similarly, a research conducted by Burroughs and Tuncdemir (2017) ascertains that products of philosophical thinking such as critical thinking, collaborative dialogue, perspective thinking as well as cooperation have a role in the development of moral aspects such as understanding and peaceful living with others in the society. Most importantly, philosophical thinking in children helps in deciding on moral direction such as intentions and relevance of facts before acting in a particular way. To understand and adopt philosophical thinking skills in early childhood development, teachers require better and evidence-based platform of the benefits of moral development in early childhood classrooms.
Development of emotional abilities and social aspects are equally important and appear interlinked in human beings. Emotional knowledge is a crucial element of social competence. Teaching philosophy has been found to have an impact in ideal development of social and emotional capabilities. Gimenez-Dasi et al (2013) conducted a research on the importance of COI and P4C systems that have based their programs on philosophy. They assessed the development of children aged between 4 and 5 years and showed that philosophy enhanced development of emotional conception such as happiness, sadness, pride anger, fear and jealous. Subsequently, the researchers found that after involvement with philosophical dialogue connected to emotions, the children developed social proficiency. The authors demonstrated that philosophical critical thinking teaching in children for at least one continuous year will significantly improve their emotional and social skills. Emotional and social competencies are usually realized through a lot of interactions and experiences that can be found in philosophy teaching. Although it is true that children are normally able to use general social skills, there are still a lot of requirements in their lives to enhance social and emotional regulation that can be initiated and advanced through philosophical teaching. A teacher may set some simple guidelines for the children to follow. Such guidelines include simple instructions such informing the children to address the topic and not the person or do not interrupt other people. The teacher will then initiate a discussion which is open and democratic but student-led. The discussion will allow equal contributions as well as tolerance of other opinions. In the end, this avenue will create respect between children and teachers as they continue to discuss the prevailing ideas together with equal opportunity to contribute in the discussion. This system also encourages individual students to be free thinkers and at the same time acquire self confidence.
In synopsis, it is evident that integration of philosophical thinking is crucial in the early childhood development. Firstly, philosophical thinking enhances the development of critical thinking at an early stage allowing problem-solving among other important aspects of life. Secondly, philosophy is connected to moral and ethical development in early childhood development. The developed morals and ethical issues are important in daily lives of the children. Lastly, philosophical thinking enhances the development of emotional and social skills including the ability to live harmoniously with others as well as developing free-thinking skills and self-confidence. In that light, philosophical thinking should be initiated in all early childhood development classes to realize the benefits. It is upon the policymakers to embark on developing policies that will introduce philosophy in early childhood development.
References
Balakrishnan, V &Thambu, N. (2017). Using Moral and Ethical Stories to Inculcate Values Among Preschoolers. International Journal for Studies on Children, Women, Elderly And Disabled, 2, 8-15.
Bissoli, M. (2014). Development of Children's Personality: The Role of Early Childhood Education. Psicol. Estud, 19(4), 587-597.
Burroughs, M.D & Tuncdemir, T.B. (2017). Philosophical ethics in early childhood: A pilot study. Journal of Philosophy in Schools 4(1), 74-101.
Gimenez-Dasi, M., Quintanilla, L & Daniel, M.F. (2013) Improving emotion comprehension and social skills in early childhood through Philosophy for Children. Childhood & Philosophy - Rio de Janeiro, 9(17), 63-89.
Millett, S & Tapper, A. (2012). Benefits of Collaborative Philosophical Inquiry in Schools. Education Philosophy and Theology, 44(5), 546-567.
Nia, A.T & Heibati, S. (2014). The Community of Inquiry, an Approach for Enhancing Creativity. Journal of Educational and Management Studies, 4(3), 534-544.
Reznitskaya, A., Kuo, L., Clark, A., Miller, B., Jadallah, M., Anderson, R & NguyenJahiel, K. (2009). Collaborative reasoning: a dialogic approach to group discussions. Cambridge Journal of Education, 39(1), 29-48.
Cite this page
Essay Example on Philosophical Thinking. (2022, Jun 08). Retrieved from https://speedypaper.com/essays/essay-example-on-philosophical-thinking
Request Removal
If you are the original author of this essay and no longer wish to have it published on the SpeedyPaper website, please click below to request its removal: