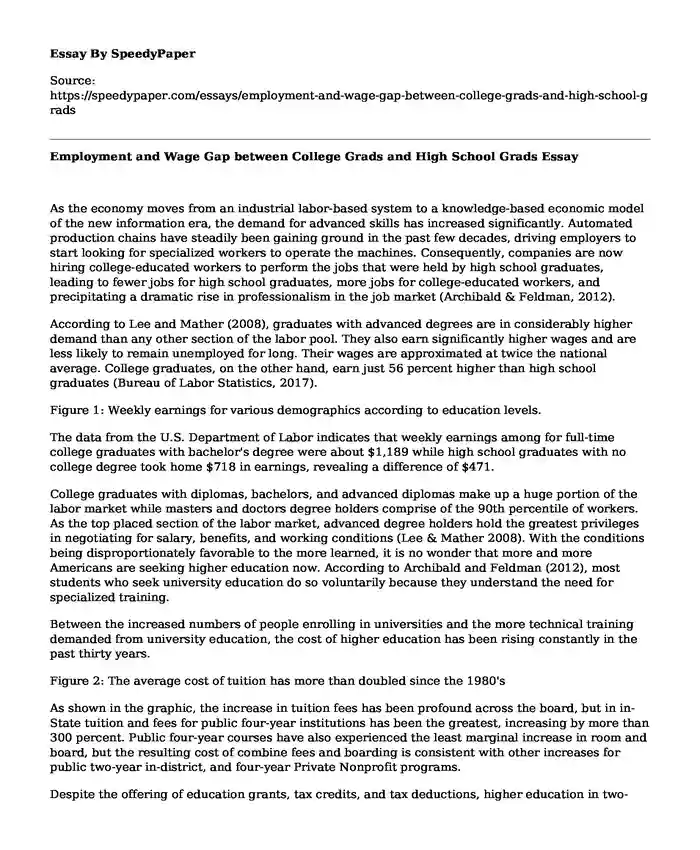 As the economy moves from an industrial labor-based system to a knowledge-based economic model of the new information era, the demand for advanced skills has increased significantly. Automated production chains have steadily been gaining ground in the past few decades, driving employers to start looking for specialized workers to operate the machines. Consequently, companies are now hiring college-educated workers to perform the jobs that were held by high school graduates, leading to fewer jobs for high school graduates, more jobs for college-educated workers, and precipitating a dramatic rise in professionalism in the job market (Archibald & Feldman, 2012).
According to Lee and Mather (2008), graduates with advanced degrees are in considerably higher demand than any other section of the labor pool. They also earn significantly higher wages and are less likely to remain unemployed for long. Their wages are approximated at twice the national average. College graduates, on the other hand, earn just 56 percent higher than high school graduates (Bureau of Labor Statistics, 2017).
Figure 1: Weekly earnings for various demographics according to education levels.
The data from the U.S. Department of Labor indicates that weekly earnings among for full-time college graduates with bachelor's degree were about $1,189 while high school graduates with no college degree took home $718 in earnings, revealing a difference of $471.
College graduates with diplomas, bachelors, and advanced diplomas make up a huge portion of the labor market while masters and doctors degree holders comprise of the 90th percentile of workers. As the top placed section of the labor market, advanced degree holders hold the greatest privileges in negotiating for salary, benefits, and working conditions (Lee & Mather 2008). With the conditions being disproportionately favorable to the more learned, it is no wonder that more and more Americans are seeking higher education now. According to Archibald and Feldman (2012), most students who seek university education do so voluntarily because they understand the need for specialized training.
Between the increased numbers of people enrolling in universities and the more technical training demanded from university education, the cost of higher education has been rising constantly in the past thirty years.
Figure 2: The average cost of tuition has more than doubled since the 1980's
As shown in the graphic, the increase in tuition fees has been profound across the board, but in in-State tuition and fees for public four-year institutions has been the greatest, increasing by more than 300 percent. Public four-year courses have also experienced the least marginal increase in room and board, but the resulting cost of combine fees and boarding is consistent with other increases for public two-year in-district, and four-year Private Nonprofit programs.
Despite the offering of education grants, tax credits, and tax deductions, higher education in two-year private, four-year non-profit, and two-year and four-year public institutions, the out-of-pocket spending in college education has increased (College Board, 2017). Inflation accounts for a marginal share of this increase, along with subpar increases in grant and tax deduction incentives for collegiate students.
With ever-increasing costs of higher education, graduates are more and more particularly in their expectations for entry-level wages. After accruing such high education debts during their two or four years of study, graduates often use up a sizeable chunk of their salaries in the first five to ten years after finding employment settling these loans (College Board, 2017). The higher cost of university education has resulted in a sharp rise in industry wages for graduates. According to Lee and Mather (2015), tertiary education has been growing more technical as labor mobility rises, precipitated by global industrial restructuring.
The increase in the privatization of education and competition between universities to produce the best graduates in the market has led to massive appreciation in the fees students have to pay for education. Research programs have also substantially expanded the budgets of higher learning institutions. On the positive side, the increase in college tuition fees has been effective in equipping graduates with the tools necessary to revolutionize their respective industries. It is for this empowerment that the global economy has undergone a restructuring from manufacturing and towards information services (Lee & Mather, 2015). New industries such as cab hailing have resulted from the higher insistence on information technologies, while old industries have undergone a massive shift, such as self-driving cars, renewable sources of energy, and many others. Perhaps the biggest indicator of how advanced the economy has become is the data on the massive loss of entry-level jobs in the past decade.
According to the U.S. Department of Labor, 4.8 million jobs suitable for high school level education were phased out by an economy that is increasingly skill-specific (Bureau of Labor Statistics, 2017). The reduction in high school level jobs was matched by an increase of 5.3 million jobs for post-secondary skills jobs, representing a 0.8 million discrepancy in the growth of skilled jobs versus unskilled vacancies. More telling is the fact that occupations requiring bachelor or master's degrees accounted for over 4 million of the 5.3 million jobs injected into the market between 2007 and 2016.
The fact that the level of unemployment has remained considerably steady at 4.4 percent over the past decade indicates that the acquisition of skills has been growing in tandem with the demands of the labor market. According to Rios-Avila (2015), the job market is highly responsive to the acquisition of skills among candidates in the same way that prospective employees closely monitor the job market. This interdependence ensures that employers are always getting the right people to get certain skills from and that employees always have a market for their skills.
However, yet again the relationship is warped towards the more learned in the job market. The U.S. Department of Labor 2017 report on the labor market showed that people with B.A or higher degrees had a remarkably lower rate of unemployment at 2.4 percent against 5.1 percent in the high school graduate category (Bureau of Labor Statistics, 2017). The difference between these two demographics is a staggering 3.3 percent.
Figure 3: The rates of unemployment among various demographics according to the education levels.
The increasing number of college graduates seeking employment has resulted in intense competition for jobs in the mid-level section of the labor market where they make their entry into the workforce. As a result, it is more difficult to get a job today with a college degree, such as a diploma, than it was ten or twenty years ago. Even with rising tuition fees in Us colleges and Universities, more people are pushing through with education in the year 2017 than they did in 1987 when the fees were less than half of their current amount. The larger number of people acquiring a college education, and the slightly disproportionate growth in the mid-level skills jobs they usually take, has meant that college graduates are increasingly taking on the jobs that high school graduates used to take.
These discrepancies have led to a large wage gap between college graduates with bachelor's degree and high school diploma -about 40 percent and accelerating. As the economy creates jobs that are more specialized and automation takes up even more entry-level positions, employment opportunities are going to be available to more college-educated workers and even less high school level jobs are going to be available. It is increasingly important that incentives be given to high school graduates to allow them to advance their education to the collegiate level.
References
Lee, M. A., & Mather, M. (2008). U.S. labor force trends. Populations Bulletin, 63(2), 1-17. College Board. (2017). Trends in college pricing 2015. New York: The College Board
Archibald, R. B., & Feldman, D. H. (2012). The anatomy of college tuition. Washington, DC: American Council on Education. DOI: 10.13140/2.1.4160.7045
Riso-Avila, F. (2015). Losing ground: Demographic trends in US labor force participation. New York: Levy Economics Institute of Bard College
Brundage, V. (2014). Trends in unemployment and other labor market difficulties. The Journal of the US Bureau of Labor Statistics, 3(25), 1-8.
Bureau of Labor Statistics. (2017). Unemployment rate 2.4 percent for college grads, 5.1 percent for high school grads in August 2017. U.S. Department of Labor, online https://www.bls.gov/opub/ted/2017/unemployment-rate-2-4-percent-for-college-grads-5-1-percent-for-high-school-grads-in-august-2017.htm accessed 8 May 2018.
Bureau of Labor Statistics. (2017). Occupations typically requiring a high school for entry lost 1.3 million jobs, May 2007-16. U.S. Department of Labor, online https://www.bls.gov/opub/ted/2017/occupations-typically-requiring-high-school-for-entry-lost-1-3-million-jobs-may-2007-16.htm accessed 8 May 2018.
Cite this page
Employment and Wage Gap between College Grads and High School Grads. (2022, Jun 01). Retrieved from https://speedypaper.com/essays/employment-and-wage-gap-between-college-grads-and-high-school-grads
Request Removal
If you are the original author of this essay and no longer wish to have it published on the SpeedyPaper website, please click below to request its removal: