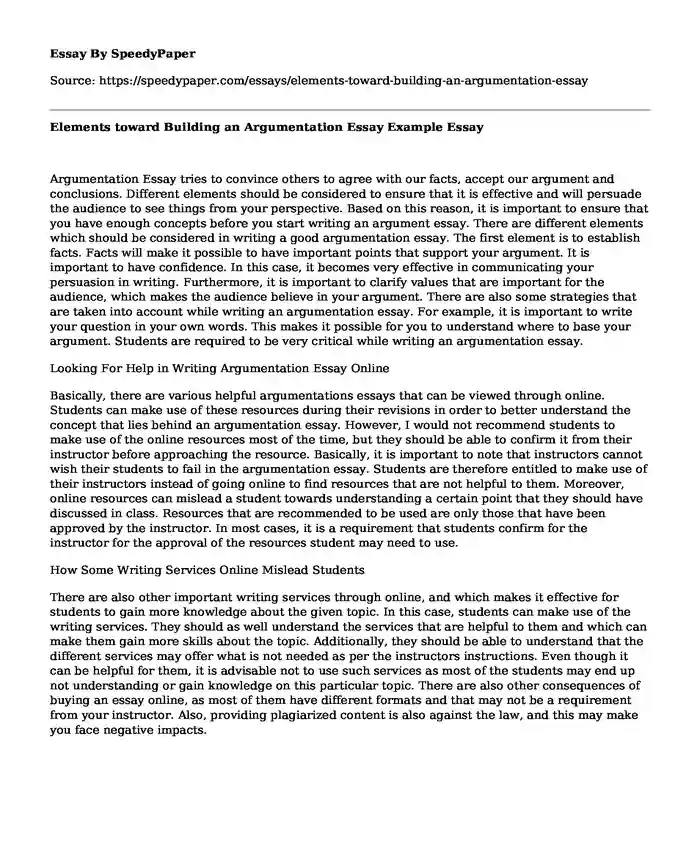 | | |
| --- | --- |
| Categories: | Writing |
| Pages: | 2 |
| Wordcount: | 527 words |
Argumentation Essay tries to convince others to agree with our facts, accept our argument and conclusions. Different elements should be considered to ensure that it is effective and will persuade the audience to see things from your perspective. Based on this reason, it is important to ensure that you have enough concepts before you start writing an argument essay. There are different elements which should be considered in writing a good argumentation essay. The first element is to establish facts. Facts will make it possible to have important points that support your argument. It is important to have confidence. In this case, it becomes very effective in communicating your persuasion in writing. Furthermore, it is important to clarify values that are important for the audience, which makes the audience believe in your argument. There are also some strategies that are taken into account while writing an argumentation essay. For example, it is important to write your question in your own words. This makes it possible for you to understand where to base your argument. Students are required to be very critical while writing an argumentation essay.
Looking For Help in Writing Argumentation Essay Online
Basically, there are various helpful argumentations essays that can be viewed through online. Students can make use of these resources during their revisions in order to better understand the concept that lies behind an argumentation essay. However, I would not recommend students to make use of the online resources most of the time, but they should be able to confirm it from their instructor before approaching the resource. Basically, it is important to note that instructors cannot wish their students to fail in the argumentation essay. Students are therefore entitled to make use of their instructors instead of going online to find resources that are not helpful to them. Moreover, online resources can mislead a student towards understanding a certain point that they should have discussed in class. Resources that are recommended to be used are only those that have been approved by the instructor. In most cases, it is a requirement that students confirm for the instructor for the approval of the resources student may need to use.
How Some Writing Services Online Mislead Students
There are also other important writing services through online, and which makes it effective for students to gain more knowledge about the given topic. In this case, students can make use of the writing services. They should as well understand the services that are helpful to them and which can make them gain more skills about the topic. Additionally, they should be able to understand that the different services may offer what is not needed as per the instructors instructions. Even though it can be helpful for them, it is advisable not to use such services as most of the students may end up not understanding or gain knowledge on this particular topic. There are also other consequences of buying an essay online, as most of them have different formats and that may not be a requirement from your instructor. Also, providing plagiarized content is also against the law, and this may make you face negative impacts.
Cite this page
Elements toward Building an Argumentation Essay Example. (2019, Dec 06). Retrieved from https://speedypaper.com/essays/elements-toward-building-an-argumentation-essay
Request Removal
If you are the original author of this essay and no longer wish to have it published on the SpeedyPaper website, please click below to request its removal: