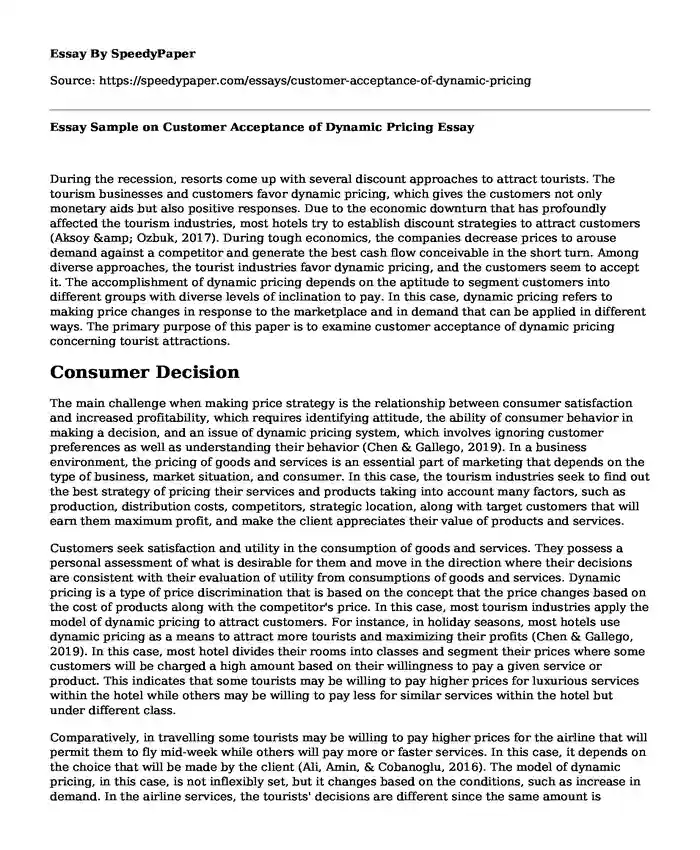 During the recession, resorts come up with several discount approaches to attract tourists. The tourism businesses and customers favor dynamic pricing, which gives the customers not only monetary aids but also positive responses. Due to the economic downturn that has profoundly affected the tourism industries, most hotels try to establish discount strategies to attract customers (Aksoy & Ozbuk, 2017). During tough economics, the companies decrease prices to arouse demand against a competitor and generate the best cash flow conceivable in the short turn. Among diverse approaches, the tourist industries favor dynamic pricing, and the customers seem to accept it. The accomplishment of dynamic pricing depends on the aptitude to segment customers into different groups with diverse levels of inclination to pay. In this case, dynamic pricing refers to making price changes in response to the marketplace and in demand that can be applied in different ways. The primary purpose of this paper is to examine customer acceptance of dynamic pricing concerning tourist attractions.
Consumer Decision
The main challenge when making price strategy is the relationship between consumer satisfaction and increased profitability, which requires identifying attitude, the ability of consumer behavior in making a decision, and an issue of dynamic pricing system, which involves ignoring customer preferences as well as understanding their behavior (Chen & Gallego, 2019). In a business environment, the pricing of goods and services is an essential part of marketing that depends on the type of business, market situation, and consumer. In this case, the tourism industries seek to find out the best strategy of pricing their services and products taking into account many factors, such as production, distribution costs, competitors, strategic location, along with target customers that will earn them maximum profit, and make the client appreciates their value of products and services.
Customers seek satisfaction and utility in the consumption of goods and services. They possess a personal assessment of what is desirable for them and move in the direction where their decisions are consistent with their evaluation of utility from consumptions of goods and services. Dynamic pricing is a type of price discrimination that is based on the concept that the price changes based on the cost of products along with the competitor's price. In this case, most tourism industries apply the model of dynamic pricing to attract customers. For instance, in holiday seasons, most hotels use dynamic pricing as a means to attract more tourists and maximizing their profits (Chen & Gallego, 2019). In this case, most hotel divides their rooms into classes and segment their prices where some customers will be charged a high amount based on their willingness to pay a given service or product. This indicates that some tourists may be willing to pay higher prices for luxurious services within the hotel while others may be willing to pay less for similar services within the hotel but under different class.
Comparatively, in travelling some tourists may be willing to pay higher prices for the airline that will permit them to fly mid-week while others will pay more or faster services. In this case, it depends on the choice that will be made by the client (Ali, Amin, & Cobanoglu, 2016). The model of dynamic pricing, in this case, is not inflexibly set, but it changes based on the conditions, such as increase in demand. In the airline services, the tourists' decisions are different since the same amount is charged in various facilities, However, it is not firmly set. Instead, it is charged basing on different services (Elzinga, Reike, Negro, & Boon, 2020). Importantly, a similar amount may be charged in rush hour. In this case, the dynamic pricing is applied as peak user pricing whereby the higher amount is charged at a rush hour, for instance, from 6 pm to 9 am. Therefore, most tourists can decide to travel to a different part of the world at this time, and consequently, they make their decision on which type of service to use despite the amount charged in transport. The company offering transportation may make offers on the mean and time in which the tourists may decide to travel. The offers may act as a way of attracting them. For instance, they may choose to charge higher prices in travelling to six countries and offer a free flight to two additional states.
During holiday seasons, most tourist sites may charge a higher amount due to the higher level of demand (Ali, Amin, & Cobanoglu, 2016). Nevertheless, each cite may come up with unique services that will attract more tourists. Due to a higher level of competition, the functions may differ in price whereby the facilities that attract customers more may be charged relatively low cost which most tourists will afford and as a result, dynamic pricing is used as a means of attraction due to higher demand. This signifies that the tourists who are customers may choice to use the services at the set price or can make another decision about using other services that will make them enjoy the holiday. in this case, the acceptance of service at a specific amount will depend on the decision made by customers. To achieve consumer decisions, the marketers who will be offering tourism services will follow different steps that will help them to identify and track their choices. In this case, consumer decision making involves five stages, which include the following:
Need for Recognition
This occurs when tourists are identifying their needs. In this case, they may feel that they are missing something that should be addressed to fill the gap (Aksoy & Ozbuk, 2017). When the tourism industries are in a position of identifying the start of their target market, they will avail their ideal opportunity and advertise their services to accommodate the tourists. For instance, Gstaad, Switzerland, is one of the best SKI resorts in the world. The resort will conduct extensive research on tourists who will be visiting the area and identify their need. In this case, different tourists will choose to pay for an unusual attraction and activity. Those seeking, mountains, lake, rail and city excursions will show their need for a trip.
Information Search
The customers will continuously look for updated information of available resorts, for example, by Gstaad Switzerland (Rubright, Kline, Viren, Naar, & Oliver, 2016). The unique characteristics of the area such as the city, mountains, and rail excursions will attract more tourists who will be willing to pay the flexible price set by Gstaad Switzerland. At this level, the tourists will reflect risk management and formulate a list of features available in Gstaad, Switzerland.
Evaluation of Alternative
The step involves appraising different replacements that are accessible in the SKI area. Once the customers have identified the best resorts for them, they will seek out the best option available (Blythe & Johnson, 2018). The choice will be based on different factors like attractions and activities which will help them to compare the set prices of different resorts. For instance, between Aspen Mountain, Gstaad Switzerland, Vail, Telluride, and Jackson Hole, the tourists will choose the best SKI area with many attraction activities at affordable prices.
Purchase decision
When all the above stages have been approved, the tourist finally decides to pay for services in the SKI area of their choice (Wang, & Yu, 2017). During this stage, the tourists have already evaluated all the facts of a particular ski area and arrived at a logical conclusion based upon the effect of advertising campaigns, expressive connection, or personal experience.
Post Purchase Behavior
The purchase of services is convoyed by post-purchase evaluation where the resorts analyze whether the services were beneficial to tourists (Chen & Gallego, 2019). If the resort matches the expectation of the customer, the SKI area will serve as a brand ambassador to impact other potential customers and as a result, increasing the customer base of particular services.
Acceptance Theory
The concept of evaluating acceptance of any technology in SKI areas can be considered as an innovative model because, it will bring aspects that had never been previously addressed and focus on individual acceptance of technology (Rubright, Kline, Viren, Naar, & Oliver, 2016). The theory of acceptance states that, manager's authority over his or her subordinate depends on the willingness of the subordinates to accept his or her right to give orders and comply with them. In this case, the managers of SKI areas should give out the authority of implementing technology within the resorts. The technology should be accepted by other subordinates willingly. Implementation of technology does not depend on the number of good reviews of higher profit but on the factors that will help tourists understand the level of acceptance that is expected from any technology (Elzinga, Reike, Negro, & Boon, 2020). Therefore, acceptance theory has led to development of an effective model that can be used to calculate the level of explaining, predicting and under sting individual acceptance for any implemented technology. The theory acknowledges informal relationship within the ski areas and as a result, providing much more practical understanding of how the authority should work within the resorts. Through this, customers are influenced to accept the strategy of dynamic model. By giving authority of implementing technology which can easily be used by tourist to buy online, consumers will be influenced to buy more in multiple places. For instance, the services used to pay in Vail PAF may be increased to make sure that the customers do not wait for long in ques waiting to pay for services (Kalantari, Tahir, Joni, & Aminuldin, 2018). The more means of online payment will be used by customers willingly at a set price.
Cite this page
Essay Sample on Customer Acceptance of Dynamic Pricing. (2023, Apr 05). Retrieved from https://speedypaper.com/essays/customer-acceptance-of-dynamic-pricing
Request Removal
If you are the original author of this essay and no longer wish to have it published on the SpeedyPaper website, please click below to request its removal: