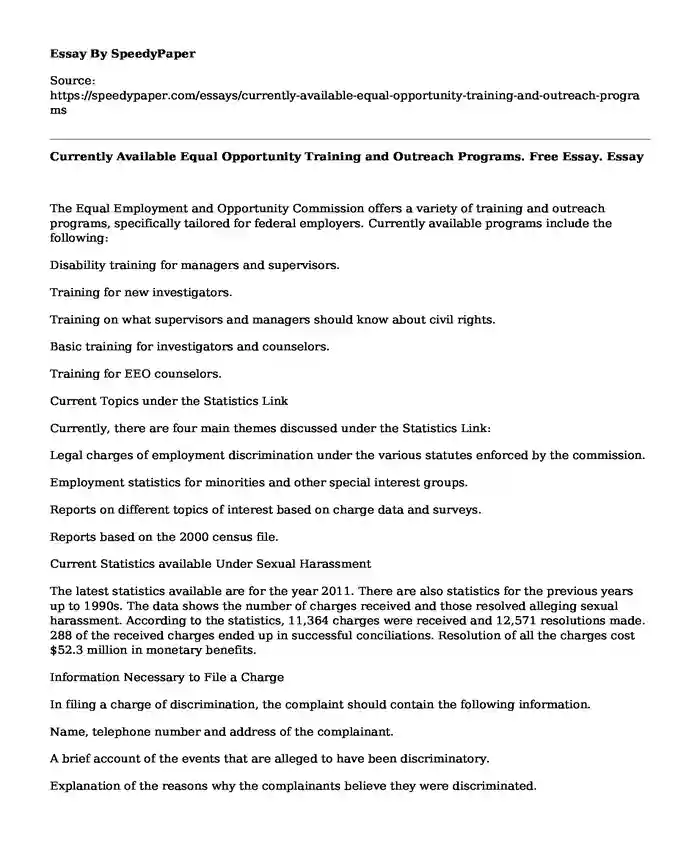 The Equal Employment and Opportunity Commission offers a variety of training and outreach programs, specifically tailored for federal employers. Currently available programs include the following:
Disability training for managers and supervisors.
Training for new investigators.
Training on what supervisors and managers should know about civil rights.
Basic training for investigators and counselors.
Training for EEO counselors.
Current Topics under the Statistics Link
Currently, there are four main themes discussed under the Statistics Link:
Legal charges of employment discrimination under the various statutes enforced by the commission.
Employment statistics for minorities and other special interest groups.
Reports on different topics of interest based on charge data and surveys.
Reports based on the 2000 census file.
Current Statistics available Under Sexual Harassment
The latest statistics available are for the year 2011. There are also statistics for the previous years up to 1990s. The data shows the number of charges received and those resolved alleging sexual harassment. According to the statistics, 11,364 charges were received and 12,571 resolutions made. 288 of the received charges ended up in successful conciliations. Resolution of all the charges cost $52.3 million in monetary benefits.
Information Necessary to File a Charge
In filing a charge of discrimination, the complaint should contain the following information.
Name, telephone number and address of the complainant.
A brief account of the events that are alleged to have been discriminatory.
Explanation of the reasons why the complainants believe they were discriminated.
A brief description of any injury or damages suffered.
Complainants signature or that of the attorney.
Chapter 11: Internet Questions
I found one restraint that had vacant positions for a receptionist (front-of-the-house), and an accounts assistant (back-of-the-house). I then created the following ads for the two posts.
Job Advert
Restaurant Receptionist Accounts Assistant
Job Description and Responsibilities
Responsibilities include welcoming visitors, answering inquiries, maintaining directories, observing security procedures and issuing visitor badges.
The holder of this position will also be responsible for ensuring cleanliness and safety of the reception area by complying with applicable procedures, rules, and regulations.
Contributes to organizational team efforts by executing related tasks as required.
Job Description and Responsibilities
The position holder will assist the chief accountant in preparing account entries by analyzing and compiling relevant financial information.
Documenting all financial transactions.
Recommending financial actions and decisions to the finance department.
Auditing documents and substantiating financial transactions.
Maintaining appropriate internal controls and recommending procedures and policies.
Reconciling discrepancies in accounts by analyzing historical information.
Requirements
A higher diploma in front office management.
Excellent communication skills
Microsoft office skills.
Customer focus, excellent listening skills.
Excellent telephone skills.
Ability to work in a team environment and under pressure. Requirements
Honors degree in finance, accounting, economics or business management.
Professional qualification in accounts, preferably CPA 3.
Excellent interpersonal and communication skills.
Excellent problem-solving and analytical skills.
Proactive, disciplined and cooperative.
Three years of familiarity in a similar position.
Application Procedure
Interested candidates who meet the qualifications should send their applications to [email protected] not later than 1 October 2016. Include contacts of three professional referees.
Cite this page
Currently Available Equal Opportunity Training and Outreach Programs. Free Essay.. (2019, Nov 11). Retrieved from https://speedypaper.com/essays/currently-available-equal-opportunity-training-and-outreach-programs
Request Removal
If you are the original author of this essay and no longer wish to have it published on the SpeedyPaper website, please click below to request its removal: