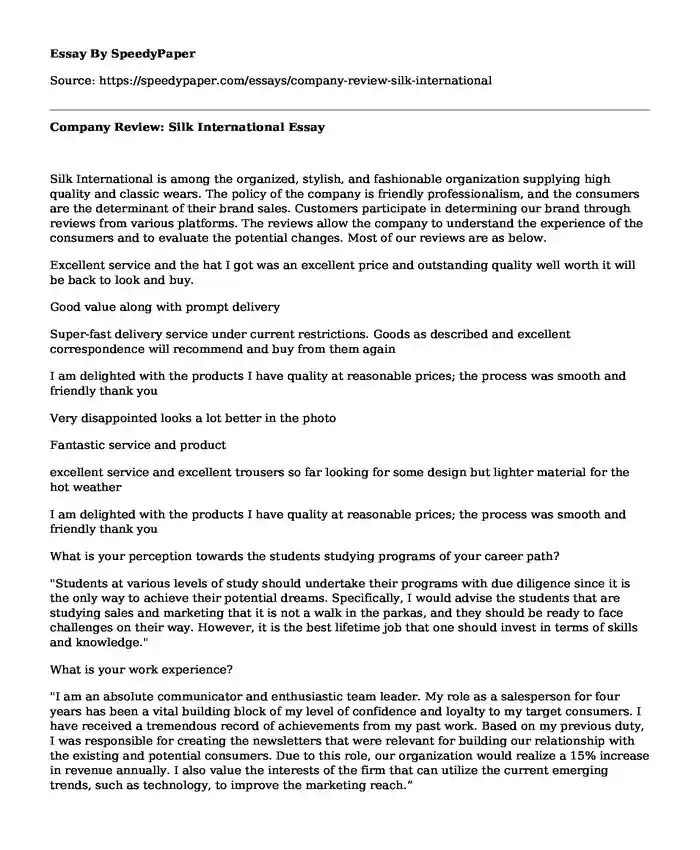 Silk International is among the organized, stylish, and fashionable organization supplying high quality and classic wears. The policy of the company is friendly professionalism, and the consumers are the determinant of their brand sales. Customers participate in determining our brand through reviews from various platforms. The reviews allow the company to understand the experience of the consumers and to evaluate the potential changes. Most of our reviews are as below.
Excellent service and the hat I got was an excellent price and outstanding quality well worth it will be back to look and buy.
Good value along with prompt delivery
Super-fast delivery service under current restrictions. Goods as described and excellent correspondence will recommend and buy from them again
I am delighted with the products I have quality at reasonable prices; the process was smooth and friendly thank you
Very disappointed looks a lot better in the photo
Fantastic service and product
excellent service and excellent trousers so far looking for some design but lighter material for the hot weather
I am delighted with the products I have quality at reasonable prices; the process was smooth and friendly thank you
What is your perception towards the students studying programs of your career path?
"Students at various levels of study should undertake their programs with due diligence since it is the only way to achieve their potential dreams. Specifically, I would advise the students that are studying sales and marketing that it is not a walk in the parkas, and they should be ready to face challenges on their way. However, it is the best lifetime job that one should invest in terms of skills and knowledge."
What is your work experience?
"I am an absolute communicator and enthusiastic team leader. My role as a salesperson for four years has been a vital building block of my level of confidence and loyalty to my target consumers. I have received a tremendous record of achievements from my past work. Based on my previous duty, I was responsible for creating the newsletters that were relevant for building our relationship with the existing and potential consumers. Due to this role, our organization would realize a 15% increase in revenue annually. I also value the interests of the firm that can utilize the current emerging trends, such as technology, to improve the marketing reach."
Where do you see yourself in five years?
"In the coming five years, I would love to become affluent with the overall context of the clothing industry. Besides, it is my great passion to work with people in society. Finally, I would love to be at the top of this organization in terms of management to allow me to share my substantial knowledge and skills with the people and my juniors and general functions of the organization."
What prompts you to work in this industry?
"I have always shown a commitment to sales and marketing. However, the idea of venturing in retail marketing started manifesting. I was working at one of the boutiques in my neighborhood. Our products were of good quality, but we rarely made a substantial profit due to our marketing strategies. That prompted me to get close to my top management supervisors to come up with a strategic plan that made us realize a substantial profit increase of 29% annually. It was an achievement to work with a leading member of the group that elevated the company to an important position in the industry. Therefore, it is my passionate desire to help the industry become the best stop for consumers."
What do you think of your previous boss?
"My previous boss was of great substantive in terms of coaching and managing his juniors. Additionally, he was strict to his words and deadline-driven and no-nonsense individual that was passionate about achieving the business's objectives. His hard and strict conditions molded me to become a strict time-bound employee, something I was never sure of completing."
Why are you leaving your current position?
"My current position has allowed me to have enough skills and knowledge; hence I am currently looking forward to accessing any potential challenges that would help to advance and broadening my skills in this industry."
What's your greatest weakness?
"Despite my love for the community, I always get it hard to address a multitude of people, which is a potential hindrance to achieving my goal of the managerial position. But with the guidelines from my previous supervisor, I was able to attend various speech workshops that enable me to overcome that lifetime fear. Eventually, I have been doing several presentations to a large population as over 100 top-ranking officials - I am not yet over it, but none can realize."
What salary are you looking for?
"My passion and interest in targeting the role per se instead of the total to pay. However, my payment should be perpendicular to my potential role in this organization. As evident from my previous work experience, fair payment is appropriate for consideration by this organization. My potential salary should target the current economic situation and cost living in the current society.
Why should I hire you?
"I have exemplary 12 years working as an Executive Assistant with numerous applause and recommendations from my previous supervisor as an individual of firm support to the organization. I have additionally advanced my knowledge and skills by attending different pieces of training and seminars to up-to-date with the current trends in the market and the technological advances in the industry. I am currently well acquainted with the current office software such as Microsoft excel and wiz, among others. What others feel is good for their service is potentially good for me."
What is your greatest failure, and what did you learn from it?
"While I was schooling at the University pursuing program sales and marketing, I also had a supplement program in the art class. Since it was an art program, I could not consider it a serious course, so I failed terribly at the end of the semester. The failure in this program made me lose my scholarship program as I was deemed a weak performer. However, I had to recollect myself to achieve the best grade in both programs in the coming semester. My greatest lessons from this are never to take anything for granted until you achieved the target dream. Strive to my ability for all the tasks before."
When were you most satisfied with your job?
"I value people. I will always be happy and ultimately satisfied through my interaction with my organization's consumers to ascertain and meet their potential needs in the industry through the delivery of the required experience. That was my best moment at work as I realized how good I was at my work, with good ratings from my customers. That is also an eventual reason I am applying for the position because I have the best foundational interaction with my consumers."
What did you like least about your last job?
"My last job had everything to enjoy and nothing less to dislike; otherwise, I would not have reached this position. I would take to the road almost once a week to share the product without potential consumers. Those were my hard times since I would not say I liked staying away from my office and the tiring aspect of the journey. However, I have realized this position is having limited travelling activities; hence it is my best choice."
Cite this page
Company Review: Silk International. (2023, Sep 07). Retrieved from https://speedypaper.com/essays/company-review-silk-international
Request Removal
If you are the original author of this essay and no longer wish to have it published on the SpeedyPaper website, please click below to request its removal: