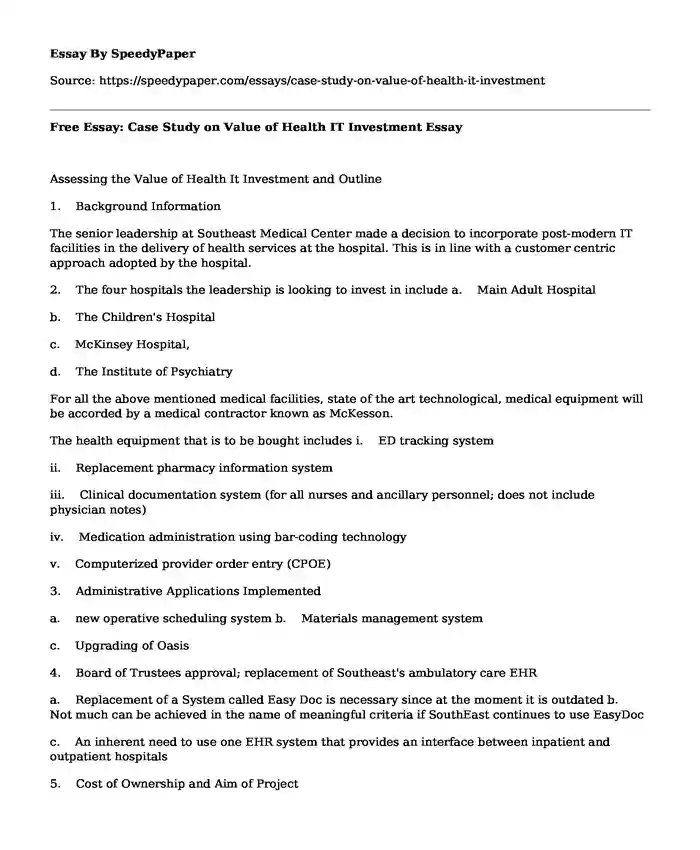 Assessing the Value of Health It Investment and Outline
1. Background Information
The senior leadership at Southeast Medical Center made a decision to incorporate post-modern IT facilities in the delivery of health services at the hospital. This is in line with a customer centric approach adopted by the hospital.
2. The four hospitals the leadership is looking to invest in include a. Main Adult Hospital
b. The Children's Hospital
c. McKinsey Hospital,
d. The Institute of Psychiatry
For all the above mentioned medical facilities, state of the art technological, medical equipment will be accorded by a medical contractor known as McKesson.
The health equipment that is to be bought includes i. ED tracking system
ii. Replacement pharmacy information system
iii. Clinical documentation system (for all nurses and ancillary personnel; does not include physician notes)
iv. Medication administration using bar-coding technology
v. Computerized provider order entry (CPOE)
3. Administrative Applications Implemented
a. new operative scheduling system b. Materials management system
c. Upgrading of Oasis
4. Board of Trustees approval; replacement of Southeast's ambulatory care EHR
a. Replacement of a System called Easy Doc is necessary since at the moment it is outdated b. Not much can be achieved in the name of meaningful criteria if SouthEast continues to use EasyDoc
c. An inherent need to use one EHR system that provides an interface between inpatient and outpatient hospitals
5. Cost of Ownership and Aim of Project
The whole EHR project will cost 30 billion USD; very capital intensive in the short run but pragmatic and result oriented.
The objective of the project is to provide a single complete electronic health record for health providers who will in turn accord patients a clear chronology of events.
Cite this page
Free Essay: Case Study on Value of Health IT Investment . (2017, Dec 27). Retrieved from https://speedypaper.com/essays/case-study-on-value-of-health-it-investment
Request Removal
If you are the original author of this essay and no longer wish to have it published on the SpeedyPaper website, please click below to request its removal: