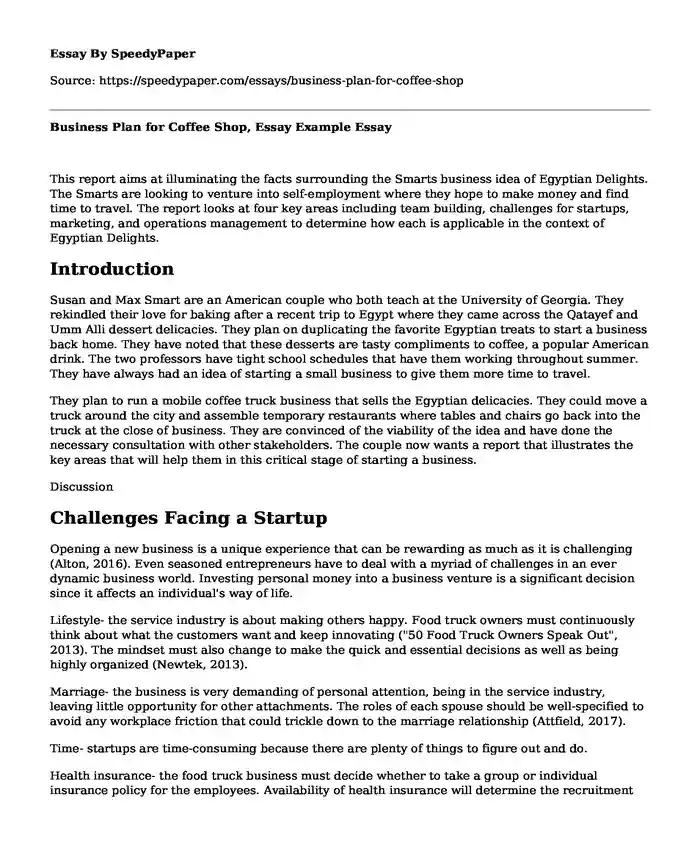 This report aims at illuminating the facts surrounding the Smarts business idea of Egyptian Delights. The Smarts are looking to venture into self-employment where they hope to make money and find time to travel. The report looks at four key areas including team building, challenges for startups, marketing, and operations management to determine how each is applicable in the context of Egyptian Delights.
Introduction
Susan and Max Smart are an American couple who both teach at the University of Georgia. They rekindled their love for baking after a recent trip to Egypt where they came across the Qatayef and Umm Alli dessert delicacies. They plan on duplicating the favorite Egyptian treats to start a business back home. They have noted that these desserts are tasty compliments to coffee, a popular American drink. The two professors have tight school schedules that have them working throughout summer. They have always had an idea of starting a small business to give them more time to travel.
They plan to run a mobile coffee truck business that sells the Egyptian delicacies. They could move a truck around the city and assemble temporary restaurants where tables and chairs go back into the truck at the close of business. They are convinced of the viability of the idea and have done the necessary consultation with other stakeholders. The couple now wants a report that illustrates the key areas that will help them in this critical stage of starting a business.
Discussion
Challenges Facing a Startup
Opening a new business is a unique experience that can be rewarding as much as it is challenging (Alton, 2016). Even seasoned entrepreneurs have to deal with a myriad of challenges in an ever dynamic business world. Investing personal money into a business venture is a significant decision since it affects an individual's way of life.
Lifestyle- the service industry is about making others happy. Food truck owners must continuously think about what the customers want and keep innovating ("50 Food Truck Owners Speak Out", 2013). The mindset must also change to make the quick and essential decisions as well as being highly organized (Newtek, 2013).
Marriage- the business is very demanding of personal attention, being in the service industry, leaving little opportunity for other attachments. The roles of each spouse should be well-specified to avoid any workplace friction that could trickle down to the marriage relationship (Attfield, 2017).
Time- startups are time-consuming because there are plenty of things to figure out and do.
Health insurance- the food truck business must decide whether to take a group or individual insurance policy for the employees. Availability of health insurance will determine the recruitment and retention of employees in the company ("3 Things Startups Should Know Before Buying Healthcare", 2014).
Personal finances- investing own funds into a business will leave little money for other purposes. Investors without external sources must account for every transaction to ensure they operate within their means. The company could experience cash flow issues when trying to expand considerably ("11 Challenges Startups Face", 2016).
Building a Team
The team building approach is superior to a mere group of employees. Studies at Xerox showed that a team setup achieves 30% more productivity compared to conventional operations (Chapter 8). Working as a team also saves time and hence the organization can achieve more. Teams work with a set target in mind, and every member has a specific role to play. It, therefore, becomes easy to achieve organizational goals that in a scenario where there are individual players (Chapter 8). Service delivery in the food truck will improve by operating as a team. Three key areas could be improved by teamwork:
Developing new recipes and menus: Different people will bring diverse ideas and tastes to the table.
Marketing and promotion operations to increase awareness.
Responding to messages and finding locations for the truck around the city.
Marketing
Marketing communicates the value of the company to the intended consumer. Therefore, it makes sense to have a business name that is readily identifiable to the public. A good name is a useful branding technique that will sell the business quickly to the intended customer. There are several tools entrepreneurs can use to name their businesses:
The thesaurus- placing words that you expect the company to convey and finding a proper combination of associated words (Trimble, 2008).
Online business name generators are another way, and they have the advantage of telling whether the business domain is available.
Using SEO to determine customer searches and formulate a name to go with the findings.
Searching the availability of a domain name.
Using industry language.
Misspelling a word to make it catchy (Trimble, 2008).
Marketing Mix
The four Ps of marketing help business owners to reach their target markets with increased efficiency (Chapter 9).
Product: A good product must satisfy a need among the public for it to be in demand. The pastries must be a product with a significant market to be viable.
Price: Entrepreneurs must set the right price after studying the market and competitors. The pricing should reflect the industry average as well as the quality of products.
Place: Placement of the product requires a smooth distribution network to avail it to the customer. The food truck should be well maintained at all times to ease movement.
Promotion: Promoting the product is a crucial step since it creates awareness among discerning buyers. Advertising the food truck will make it known to a broader audience.
Operation Management
The production of goods and services is an intricate process that goes through various stages. Administering all the available resources to achieve maximum operational efficiency is the central focus of operations management (CSCMP & Sanders, 2014). It is an essential step because it reduces wastage and improves the delivery of quality products and services. Keen attention to proper operation management structures will benefit Egyptian Delights and help it to grow in various ways:
Employee retention- the human resource function must ensure that recruitment and training are up to date and that the current employees are well catered. Grievances should be solved amicably at all times.
Inventory management- the use of technology is an essential tool for most organizations. Point of Sale terminals and other devices can help to manage the truck's inventory.
Quality control- the product development function ensures that utmost quality goes into the final item. Providing consistent quality creates a loyal customer base, and this will benefit the business.
Customer satisfaction- the marketing function is taxed with ensuring the customers are satisfied. Social media feedback and product reviews are areas where the marketing team can gauge the level of satisfaction and advice the company accordingly.
Profitability- the finance and accounting function does the necessary analysis to gauge performance against pre-set targets (CSCMP & Sanders, 2014). The food truck must have a qualified financial expert to ensure the business remains on target.
References
3 Things Startups Should Know Before Buying Healthcare. (2014). Zanebenefits.com. Retrieved 21 February 2018, from https://www.zanebenefits.com/blog/3-things-startups-should-know-before-buying-healthcare
11 Challenges Startups Face. (2016). Productiveteams.io. Retrieved 21 February 2018, from https://productiveteams.io/11-challenges-startups-face/
50 Food Truck Owners Speak Out: "What I Wish I'd Known Before Starting My Food Truck." (2013). FoodTruckr. Retrieved 21 February 2018, from https://foodtruckr.com/2013/10/what-i-wish-id-known-before-starting-my-food-truck/
Alton, L. (2016). The 8 Biggest Challenges for New Entrepreneurs. Entrepreneur. Retrieved 21 February 2018, from https://www.entrepreneur.com/article/254721
Attfield, P. (2017). Can your marriage survive starting a business?. The Globe and Mail. Retrieved 21 February 2018, from https://www.theglobeandmail.com/report-on-business/small-business/sb-managing/can-your-marriage-survive-starting-a-business/article26848392/
CSCMP, & Sanders, N. (2014). Operations Management Defined. Informit.com. Retrieved 21 February 2018, from http://www.informit.com/articles/article.aspx?p=2167438
Chapter 8. Exploring Business. http://open.lib.umn.edu/exploringbusiness/chapter/8-1-the-team-and-the-organization/Chapter 9. Exploring Business.
Newtek. (2013). 7 Habits of Great Small Business Owners. Forbes.com. Retrieved 21 February 2018, from https://www.forbes.com/sites/thesba/2013/02/26/7-habits-of-great-small-business-owners/#4a2c40f334b3
Trimble, S. (2008). 18 Strategies and Tools for Naming Your Business or Product. MarketingProfs. Retrieved 21 February 2018, from http://www.marketingprofs.com/8/how-to-name-products-companies-trimble.asp
Cite this page
Business Plan for Coffee Shop, Essay Example. (2022, Mar 11). Retrieved from https://speedypaper.com/essays/business-plan-for-coffee-shop
Request Removal
If you are the original author of this essay and no longer wish to have it published on the SpeedyPaper website, please click below to request its removal: