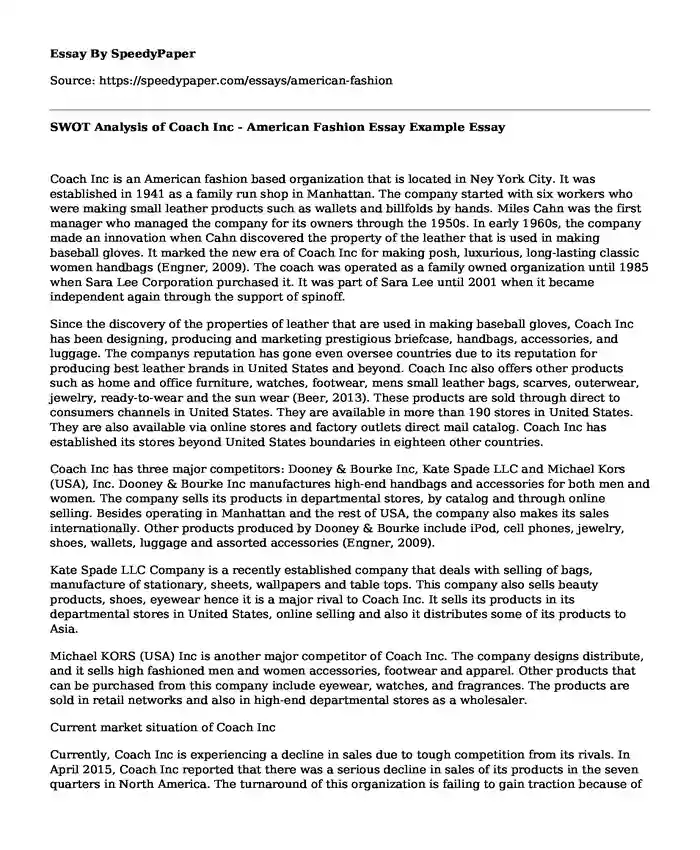 Coach Inc is an American fashion based organization that is located in Ney York City. It was established in 1941 as a family run shop in Manhattan. The company started with six workers who were making small leather products such as wallets and billfolds by hands. Miles Cahn was the first manager who managed the company for its owners through the 1950s. In early 1960s, the company made an innovation when Cahn discovered the property of the leather that is used in making baseball gloves. It marked the new era of Coach Inc for making posh, luxurious, long-lasting classic women handbags (Engner, 2009). The coach was operated as a family owned organization until 1985 when Sara Lee Corporation purchased it. It was part of Sara Lee until 2001 when it became independent again through the support of spinoff.
Since the discovery of the properties of leather that are used in making baseball gloves, Coach Inc has been designing, producing and marketing prestigious briefcase, handbags, accessories, and luggage. The companys reputation has gone even oversee countries due to its reputation for producing best leather brands in United States and beyond. Coach Inc also offers other products such as home and office furniture, watches, footwear, mens small leather bags, scarves, outerwear, jewelry, ready-to-wear and the sun wear (Beer, 2013). These products are sold through direct to consumers channels in United States. They are available in more than 190 stores in United States. They are also available via online stores and factory outlets direct mail catalog. Coach Inc has established its stores beyond United States boundaries in eighteen other countries.
Coach Inc has three major competitors: Dooney & Bourke Inc, Kate Spade LLC and Michael Kors (USA), Inc. Dooney & Bourke Inc manufactures high-end handbags and accessories for both men and women. The company sells its products in departmental stores, by catalog and through online selling. Besides operating in Manhattan and the rest of USA, the company also makes its sales internationally. Other products produced by Dooney & Bourke include iPod, cell phones, jewelry, shoes, wallets, luggage and assorted accessories (Engner, 2009).
Kate Spade LLC Company is a recently established company that deals with selling of bags, manufacture of stationary, sheets, wallpapers and table tops. This company also sells beauty products, shoes, eyewear hence it is a major rival to Coach Inc. It sells its products in its departmental stores in United States, online selling and also it distributes some of its products to Asia.
Michael KORS (USA) Inc is another major competitor of Coach Inc. The company designs distribute, and it sells high fashioned men and women accessories, footwear and apparel. Other products that can be purchased from this company include eyewear, watches, and fragrances. The products are sold in retail networks and also in high-end departmental stores as a wholesaler.
Current market situation of Coach Inc
Currently, Coach Inc is experiencing a decline in sales due to tough competition from its rivals. In April 2015, Coach Inc reported that there was a serious decline in sales of its products in the seven quarters in North America. The turnaround of this organization is failing to gain traction because of the highly competitive market (Swamynathan, 2015). The stock of Coach Inc also failed at the same rate as the decline in its sales. As a reaction to encountering this challenge posed by its rivals, Coach Inc is renovating its stores and closing down the weaker ones. More so, changes have been made in the management, and Stuart Vevers has been hired as a new creative designer director in the company. It is also merging with luxury footwear company Stuart Weitzman Holdings LLC to minimize competition. Coach is also exploring new markets in Japan and China to curb the competition challenge that is facing it making it perform poorly in the market.
Early 2015, Coach Inc Net sales dropped by 15.5% giving a net sales of $ 929.3 million. Its shares went down by 4.7% hence selling at $40.32 on the New York Stock Exchange market. The total revenue also fell from $1.1 million to $929.3 (Swamynathan, 2015). Besides the competition that has led to decreased sales of Coach Inc products, restructuring online market also affected Coach Inc negatively. The opening of 14 outlet stores and closing of 19 retail stores in 2013 also had adverse impacts on the sales of this company. To reach more clients, Coach Inc is building its brand awareness by communicating to its customers through more than 1.2 billion emails and millions of catalogs worldwide. It has established global e-commerce sites, social networking and marketing sites. In 2014 alone, Coach Inc used $130 million for advertising, direct marketing and production costs (Beer, 2013). It is expected that these costs will increase in 2015 due to tough market competition. Also, the trend indicates that the costs have been increasing from $89 million, $103 million and $130 in 2012, 2013 and 2014 respectively.
SWOT ANALYSIS
Strengths
Affordable Prices Coach Inc. prices its luxury goods to make them available to the upper middle class unlike most other players in the luxury goods markets whose goods are inaccessible except to the very wealthy, the top 3 to 5% (Engner, 2009).
Large Market The prices of Coachs luxury goods are such that it is affordable to the top 25% in wealth (Beer, 2013). This offers them a market larger than that of its competitors
Quality Coach Inc. puts a lot of effort in ensuring that they provide quality goods. This is done by thorough procurement of leather suppliers to get the beast quality leather.
Able Research Coach Inc. carries out research on the market every quarter. This is because the luxury goods market is very dynamic, and there are constant shifts in consumer demands, likes and wants. They are then able to meet these wants in their products keeping their head up in the competition.
Able Designers and Frequent Product Launches Coach Inc. puts a lot of resources in creative design that allows them to launch new styles every month. Research on their customers showed that most visit the Coach stores every two months. Monthly launchings attract the customers every month so as not to miss a new trend in the market.
Flexible Sourcing Coach has a flexible sourcing system that receives leather and finished products off shore. This system has been designed to optimize costs, lead times and construction capabilities giving Coach an edge.
Successful Multichannel Distribution Model Coachs distribution model includes wholesaling goods through a third party and direct sales of goods to customers through full price stores. Most customers frequent full price stores that give a greater profit. This model allows Coach to expand in more than one direction.
Brand reputation Coach is a known brand in North America and Asia, mostly China Hong Kong and Japan. It is, therefore, easier for it to expand. Coach Inc. has much strength that enables it to keep up with the competition. The competition, however, aims to achieve these strengths and Coach should keep upgrading and diversifying their strengths (Engner, 2009). They can strengthen their brand reputation by establishing themselves globally. They are increasing the number of full price stores. The design should be varied and diversifying
Weaknesses
Relatively Little Brand Recognition Coach is less recognized than its luxury goods counterparts such as Gucci, Chanel, and Armani. This makes it difficult for it to expand in markets monopolized by these brands such as Europe.
Little Price Exclusivity Coach as a luxury store that is wholly in the accessible market offers very little price exclusivity. With increasing number of the middle class, Coach could lose its brand in the luxury goods market
Little Entrance in the World Market Coach has mainly focused its brands in North America, Japan, and China. It operations in Europe is limited to third party sales. Its entrance in Europe may be too costly as many successful brands such as Hugo Boss started there and have already built a large customer base that are loyal to the brand.
Relatively Less Know how Coach sources its finished items from other companies and brands them. Its workers, therefore, have relatively less know how to the manufacture of quality goods unlike other lines such as Armani.
The disadvantage of Location Coach is an American company while most other luxury lines are based in Europe. Most specialists and special producers are therefore in Europe. The producers of leather in Europe, for example, could produce according to the quality required by fashion houses as they are their main customers. Coach lacks this specializing due to its location.
OPPORTUNITIES
Expansion into the Global Market Coach intends to open stores in Asian countries apart from Japan and China. India, for example, has had an increase in millionaires with successful business maharajas making it lucrative to the accessible luxury goods providers. The coach also intends to expand itself in Europe. This will prove difficult due to the establishment and strong grounding of the traditional luxury goods lines. It, however, can be done with revolutionary designs and advertisement of the brand.
Strengthening of Current market Base Coach intends to obtain more profits by increasing their sales to their current customers. Research on customer habits has helped in increasing sales among the current customers. Monthly product launches have made the customers visit the store more frequently, from once a month to twice, thereby making more purchases. The coach also intends to open more stores in U.S.A, Japan, and Asia. This will increase their sales in these countries that are known to be the top three in the purchase of luxury goods. Factory stores are also to be increased in these countries to increase the goods in the market raising revenues.
Increase of Market Share in Mens market Unlike in the past, when most women in the middle class were interested in luxury goods such as handbags, shoes, and jewelry, men have also been keen on luxury goods. Coach has in the past ignored this need for luxury clothing by men, but part of its strategies currently include expanding in the mens market (Haines, 2007). The new Coach stores in U.S.A and China mostly target men with one in Japan targeting both sexes.
Creation of Alliances
THREATS
Diffusion Lines by Successful Better known Lines Successful luxury goods lines with better brand reputation have ventured into the accessible goods markets posing a great threat to Coach. These brands have a global recognition hence will be preferred by most customers. These reduce Coachs customers and also reduce the area of expansion
Counterfeits A lot of luxury goods bought all around the world are counterfeits. Rogue manufacturers produce goods of lower quality and illegally brand them. They can sell the goods at a lower price to attract more customers or at the recognized prices to unsuspecting customers. This negatively affects the brand in two ways; the goods become common, and the brand loses revenue they would have earned otherwise.
Competition Coach Inc experience completion from other companies producing the same brands hence they threaten its success in the market. Also, it is likely to spend more money advertising its products so as to compete effectively with other companies.
SWOT analysis areas that are essential for strategic planning
Competition Coach Inc experiences tough competition especially with the entry of new firms in the market. Competition is important in strategic planning because it will...
Cite this page
SWOT Analysis of Coach Inc - American Fashion Essay Example. (2019, May 21). Retrieved from https://speedypaper.com/essays/american-fashion
Request Removal
If you are the original author of this essay and no longer wish to have it published on the SpeedyPaper website, please click below to request its removal: