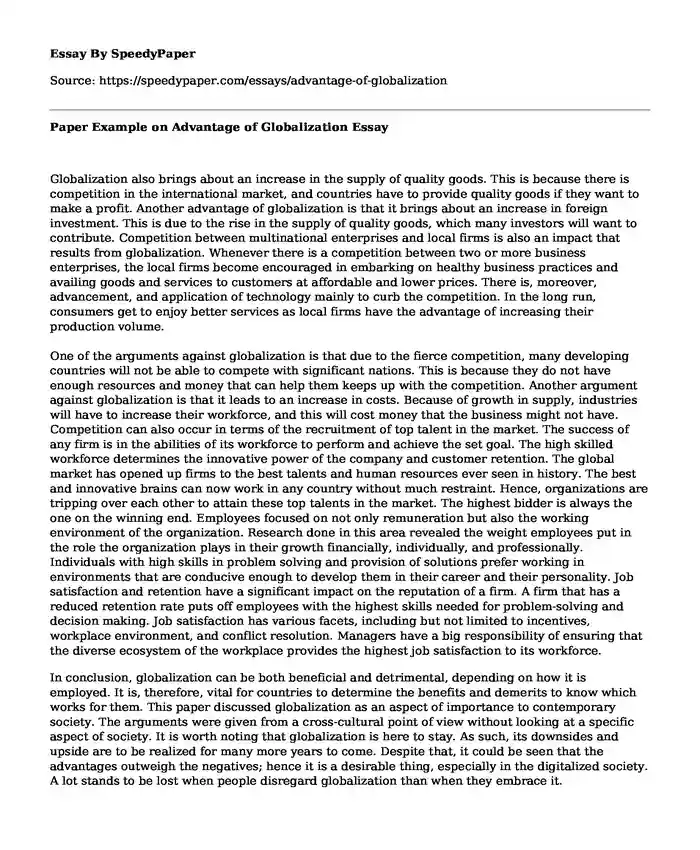 Globalization also brings about an increase in the supply of quality goods. This is because there is competition in the international market, and countries have to provide quality goods if they want to make a profit. Another advantage of globalization is that it brings about an increase in foreign investment. This is due to the rise in the supply of quality goods, which many investors will want to contribute. Competition between multinational enterprises and local firms is also an impact that results from globalization. Whenever there is a competition between two or more business enterprises, the local firms become encouraged in embarking on healthy business practices and availing goods and services to customers at affordable and lower prices. There is, moreover, advancement, and application of technology mainly to curb the competition. In the long run, consumers get to enjoy better services as local firms have the advantage of increasing their production volume.

One of the arguments against globalization is that due to the fierce competition, many developing countries will not be able to compete with significant nations. This is because they do not have enough resources and money that can help them keeps up with the competition. Another argument against globalization is that it leads to an increase in costs. Because of growth in supply, industries will have to increase their workforce, and this will cost money that the business might not have. Competition can also occur in terms of the recruitment of top talent in the market. The success of any firm is in the abilities of its workforce to perform and achieve the set goal. The high skilled workforce determines the innovative power of the company and customer retention. The global market has opened up firms to the best talents and human resources ever seen in history. The best and innovative brains can now work in any country without much restraint. Hence, organizations are tripping over each other to attain these top talents in the market. The highest bidder is always the one on the winning end. Employees focused on not only remuneration but also the working environment of the organization. Research done in this area revealed the weight employees put in the role the organization plays in their growth financially, individually, and professionally. Individuals with high skills in problem solving and provision of solutions prefer working in environments that are conducive enough to develop them in their career and their personality. Job satisfaction and retention have a significant impact on the reputation of a firm. A firm that has a reduced retention rate puts off employees with the highest skills needed for problem-solving and decision making. Job satisfaction has various facets, including but not limited to incentives, workplace environment, and conflict resolution. Managers have a big responsibility of ensuring that the diverse ecosystem of the workplace provides the highest job satisfaction to its workforce.
In conclusion, globalization can be both beneficial and detrimental, depending on how it is employed. It is, therefore, vital for countries to determine the benefits and demerits to know which works for them. This paper discussed globalization as an aspect of importance to contemporary society. The arguments were given from a cross-cultural point of view without looking at a specific aspect of society. It is worth noting that globalization is here to stay. As such, its downsides and upside are to be realized for many more years to come. Despite that, it could be seen that the advantages outweigh the negatives; hence it is a desirable thing, especially in the digitalized society. A lot stands to be lost when people disregard globalization than when they embrace it.
Bibliography
Baylis, J., Smith, S., & Owens, P. (2014). The globalization of world politics: An introduction to international relations (6th ed.). Oxford, U.K.: Oxford University Press.
Carr, E.H. (1939/2001). The twenty years' crisis: 1919–39: An introduction to international relations. New York: Harper and Row.
Ferguson, Y.H. & Mansbach, R.W. (2012). Globalization. The return of borders to a borderless world? New York: Routledge.
Inglehart, R.I. (1990). Culture shift in advanced industrial society. Princeton, NJ: Princeton University Press.
Milanovic, B. (2016). Global inequality. A new approach for the age of globalization. Cambridge, MA: Belknap Press.
Milanovic, B. (2018). Global Inequality: A New Approach for the Age of Globalization. the Belknap Press of Harvard University Press.
Veseth, M. (2010). Globaloney 2.0. The crash of 2008 and the future of globalization (2nd ed.). Lanham, MD: Rowman, and Littlefield.
Cite this page
Paper Example on Advantage of Globalization. (2023, Aug 24). Retrieved from https://speedypaper.com/essays/advantage-of-globalization
Request Removal
If you are the original author of this essay and no longer wish to have it published on the SpeedyPaper website, please click below to request its removal: