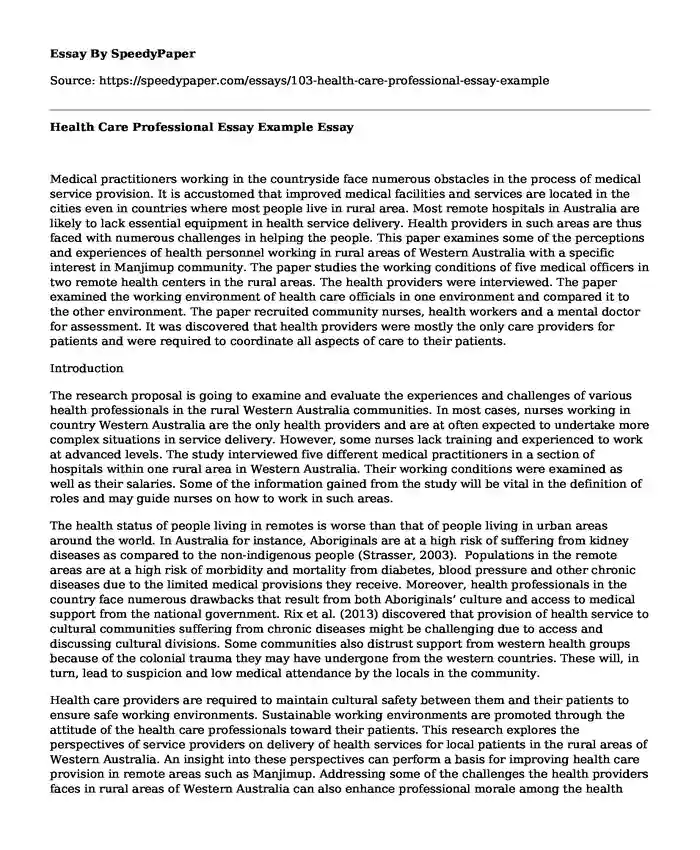 Medical practitioners working in the countryside face numerous obstacles in the process of medical service provision. It is accustomed that improved medical facilities and services are located in the cities even in countries where most people live in rural area. Most remote hospitals in Australia are likely to lack essential equipment in health service delivery. Health providers in such areas are thus faced with numerous challenges in helping the people. This paper examines some of the perceptions and experiences of health personnel working in rural areas of Western Australia with a specific interest in Manjimup community. The paper studies the working conditions of five medical officers in two remote health centers in the rural areas. The health providers were interviewed. The paper examined the working environment of health care officials in one environment and compared it to the other environment. The paper recruited community nurses, health workers and a mental doctor for assessment. It was discovered that health providers were mostly the only care providers for patients and were required to coordinate all aspects of care to their patients.
Introduction
The research proposal is going to examine and evaluate the experiences and challenges of various health professionals in the rural Western Australia communities. In most cases, nurses working in country Western Australia are the only health providers and are at often expected to undertake more complex situations in service delivery. However, some nurses lack training and experienced to work at advanced levels. The study interviewed five different medical practitioners in a section of hospitals within one rural area in Western Australia. Their working conditions were examined as well as their salaries. Some of the information gained from the study will be vital in the definition of roles and may guide nurses on how to work in such areas.
The health status of people living in remotes is worse than that of people living in urban areas around the world. In Australia for instance, Aboriginals are at a high risk of suffering from kidney diseases as compared to the non-indigenous people (Strasser, 2003). Populations in the remote areas are at a high risk of morbidity and mortality from diabetes, blood pressure and other chronic diseases due to the limited medical provisions they receive. Moreover, health professionals in the country face numerous drawbacks that result from both Aboriginals' culture and access to medical support from the national government. Rix et al. (2013) discovered that provision of health service to cultural communities suffering from chronic diseases might be challenging due to access and discussing cultural divisions. Some communities also distrust support from western health groups because of the colonial trauma they may have undergone from the western countries. These will, in turn, lead to suspicion and low medical attendance by the locals in the community.
Health care providers are required to maintain cultural safety between them and their patients to ensure safe working environments. Sustainable working environments are promoted through the attitude of the health care professionals toward their patients. This research explores the perspectives of service providers on delivery of health services for local patients in the rural areas of Western Australia. An insight into these perspectives can perform a basis for improving health care provision in remote areas such as Manjimup. Addressing some of the challenges the health providers faces in rural areas of Western Australia can also enhance professional morale among the health care officials.
Research problem
Background information
Literature has been put in place on roles and requirements of medical professionals working in both remote and urban areas as stipulated by the Nurses Board of Western Australia. However, the roles of some remote practitioners working at advanced levels have not been defined. For example, the roles of remote Mental Health Nurses lack literature (Drury et al. 2005). Organizations like the Rural Health West and Foundation for Country Health Services were put in place to provide programs that would draw and retain more health practitioners to the rural parts of the Western Australia.
Consequently, most remote hospitals in Australia lack on-site pharmacists. To address such challenges, the government recruits session pharmacists to work in these hospitals. Pharmacists a are paramount component of a hospital with services such as medical dispensation, education of staff, reconciliation of medication and review of prescriptions in clinical services. This shows that pharmacists are important professionals in rural medical hospitals. Unfortunately, these services are offered partially due to the lack of on-site pharmacists. Most remote hospitals I country Western Australia do not have the pharmacists. This has prompted the medical nurses available to dispense medication and other related services which are above their training. As a regulatory measure, a section of remote hospitals hires sessional medical practitioners to undertake the services the hospital cannot provide. This is a move aims at using the locally available resources and skills for sustainable performance.
Issue
Most health professionals avoid remote hospitals due to a number of reasons. This study will outline some of the shortcomings that discourage nurses and other professionals from working in a rural setting. The shortcomings may be in practice, professional and personal. In practice, medical providers avoid client diversities, lack of support in management, a limited number of resources, poor community engagement and lack of technology in medical provision. Professionally, medical health providers avoid rural hospitals in fear of isolation professionally, a limited number of staff, little support from the government, less career development opportunities and lack of specialists for advanced levels. The health professionals may also have personal challenges like family isolation, lack of incentives, cultural hostility and long hours of working.
Literature Review
Rural or district medication has historically been associated with inadequate resources in Australia. The district hospitals would often rely on charity groups and churches for support. However, according to Madsen and Bradshaw (2008), due to increasing government practices, district nursing practices transformed from community-based management technique to a corporate system. The authors, nevertheless, criticize government intervention as it too was accompanied by some barriers and boundaries. For example, their article states that nurses at district hospitals attended to fewer patients as they spend most of their time documenting their daily activities, local nurses are no longer answerable to their communities but follow a set of rules and regulations put in place by the government. This explains the challenges nurses at district hospitals face in their course of duty.
An equivalent case study by Drury et al. (2005) explored the experiences of mental health nurses working in remote hospitals. The authors found out that some of the common experiences of the interviewed mental health nurses were isolation, caseload numbers, holistic observation of patients and advanced level practices. Most of the experiences put across by the interviewed nurses were the challenges and obstacles they face working in remote hospitals. In a related study, McDonald et al. (2010) conducted research aimed at promoting health care provision to Aboriginal communities in Australia. The study looked at vital ecological, social and economic factors that led to unhygienic situation in most rural communities. Such conditions promote disease occurrence hence forcing health service providers to work for a longer timed and also force them to reach advanced medical level some of which they may not understand.
Some studies in Australia show that most remote health centers lack on-site pharmacists. Such institutions are thus obliged to sessionally employ pharmacist to cover the gap. The study found out the importance of pharmacist in health care and the need to continuously have one. However, implementation of sessional pharmacist employment is associated challenges in funding and government support (Tan et al. 2014). Another publication by Baumann et al. (2008) balanced how government regulation and rules in healthcare would fit rural setting for a sustainable workforce. Unfortunately, health professionals in rural communities of Western Australia would not meet the policies due to a number of challenges they faced working in rural communities.
The study by Baumann et al. (2008) found out that health care policy was biased as it was majorly applicable in urban areas. There is little information about remote health care professionals since their health care data is mostly reported regionally. Rural hospitals also lack proper funding from the government to enable them to enact sustainable workforce. Government policies meant for the larger health care sector may, therefore, not work for rural community patients and the hospitals. The authors proposed a health care database that includes a remote variable that will help the government understand rural communities. Strasser in 2003 mentioned access as the main challenge facing rural health care institutions around the world. The author argued most countries face challenges of shortages medical professionals in up countries as most resources are located in the cities. This creates a professional challenge to the professionals placed in such areas as they work in a disadvantaged society (Tessonet al.2005).
Methodology
The research model will entail both explanatory and exploratory sections. The explanatory component will include results into tests of challenging hypotheses about the connection between poverty in rural communities and the challenges health professionals face in rural hospitals. The exploratory component, on the other hand, will use both quantitative and qualitative techniques to examine the perspectives of health professionals in country Western Australia (Richards L, & Morse, 2013). The objectives of this phase of study will be to gather the perspectives of health professionals working in rural Western Australia. The phase will also examine the conditions of service in rural parts of Western Australia (Manjimup) and current government interventions into challenges facing rural health service provision. Hospital facilities will be associated with access to government infrastructure while Aboriginal culture will be related to service provision and rural setting will be associated with professionalism. The associations will be observed after the assumption of other factors like socio-economic status and age (Liamputtong, 2007).
The study will take place for two weeks of field work in Manjimup, Western Australia. Manjimup is a significant location for this study to due to various reasons. First, Manjimup is located in the rural areas of Western Australia where most of the population are Aboriginal communities. Most occupants of the region are remote communities that are more involved in cultural practices and beliefs. Secondly, the village has a small population and few hospitals that will enable a detailed research of the question. The proximity to health centers in Manjimup will ensure less erratic results and conclusions.
Data collection
Semi-structured and unstructured interviews: The main method of data collection will be interviews for the two weeks. The reason for open-ended interviewing will be to evaluate the perspectives of health professionals working in such rural area. I will encourage the volunteers to express themselves in what they feel about working in remote areas on Manjimup. I will also ask the health workers to give their experiences of working in Manjimup. The other method of data collection I will use is free listing where I will ask the health workers to write an anonymous list of their experiences and working conditions. I will also create questionnaires to be field by health professionals on specific questions of importance to the study.
Data analysis
The objectives of the case study demand resuming early preliminary analysis of the collected information such as from interviews and observation so as to ascertain the kind of question significant for the consecutive steps. This must be completed before resuming survey component. Further analysis will be conducted at the school institution to concentrate on the examination of ethnographic information. Analysis of the free list will focus on the frequency with which informants mentioned given terms. I will also carry out sampling by probability proportionate to size method. Hospitals will be contacted invited to participate in the research. A team of assistants will also be added to help in data sampling.
The study will test the hypothesis associating cultural obstacles with health care for remote Aboriginals in Western Australia (Veitch & McBain, 2011). I will examine the relationship between cultural diversity and the challenges health workers face. I will also look into an associative model to improve health care quality for rural Australians (Durey et al. 2012).
Ethics
Ethical issues may arise in the course of the survey as a result of participation and interviews. I will make signed informed consent document to sign before engaging in my interview. I will also ensure that my participation in survey will not violate healthcare ethics and regulations by requesting permission from relevant personnel before engaging an individual or an area.
Significance
This study is vital for a number of reasons. Studying the perspectives of health professionals in rural health centers helps understand challenges health workers faces in remotes areas (Fredericks, 2010). The study will also give an insight of how government resources are utilized in both rural and urban hospitals. The study can also be used to determine the method of improving the lives of health workers and the health status in rural areas of Western Australia. (O'Donoghue, 1999). The study can be used for future reference in similar studies.
Limitations
The research will involve a small sample size of five health professionals and two hospitals. This is because there are a limited number of hospitals and health professionals found in our given area of study. The methods of data collection are also limited due to lack of funding and support.
Cite this page
Health Care Professional Essay Example. (2018, Mar 21). Retrieved from https://speedypaper.com/essays/103-health-care-professional-essay-example
Request Removal
If you are the original author of this essay and no longer wish to have it published on the SpeedyPaper website, please click below to request its removal: