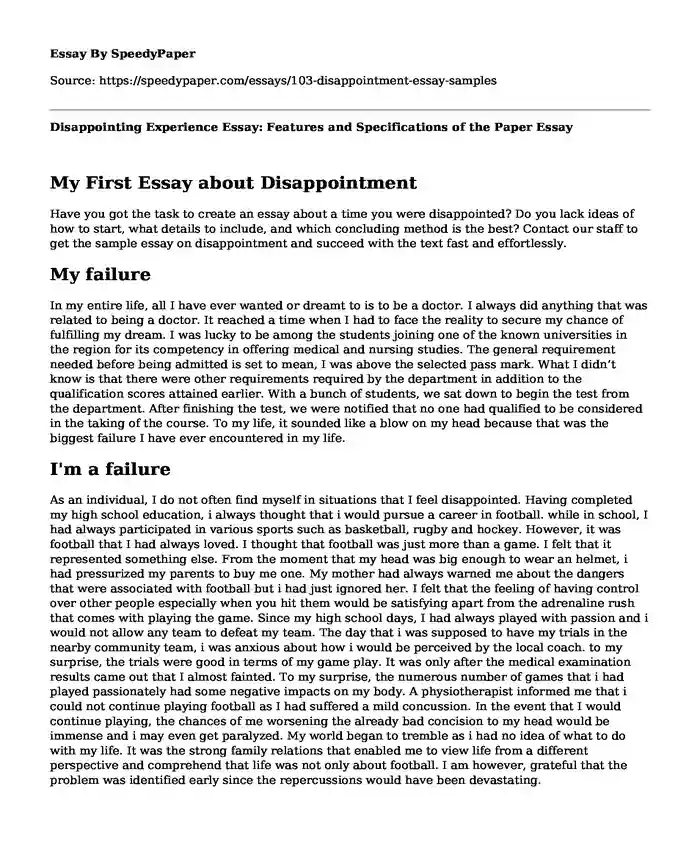 My First Essay about Disappointment
Have you got the task to create an essay about a time you were disappointed? Do you lack ideas of how to start, what details to include, and which concluding method is the best? Contact our staff to get the sample essay on disappointment and succeed with the text fast and effortlessly.
My failure
In my entire life, all I have ever wanted or dreamt to is to be a doctor. I always did anything that was related to being a doctor. It reached a time when I had to face the reality to secure my chance of fulfilling my dream. I was lucky to be among the students joining one of the known universities in the region for its competency in offering medical and nursing studies. The general requirement needed before being admitted is set to mean, I was above the selected pass mark. What I didn't know is that there were other requirements required by the department in addition to the qualification scores attained earlier. With a bunch of students, we sat down to begin the test from the department. After finishing the test, we were notified that no one had qualified to be considered in the taking of the course. To my life, it sounded like a blow on my head because that was the biggest failure I have ever encountered in my life.
I'm a failure
As an individual, I do not often find myself in situations that I feel disappointed. Having completed my high school education, i always thought that i would pursue a career in football. while in school, I had always participated in various sports such as basketball, rugby and hockey. However, it was football that I had always loved. I thought that football was just more than a game. I felt that it represented something else. From the moment that my head was big enough to wear an helmet, i had pressurized my parents to buy me one. My mother had always warned me about the dangers that were associated with football but i had just ignored her. I felt that the feeling of having control over other people especially when you hit them would be satisfying apart from the adrenaline rush that comes with playing the game. Since my high school days, I had always played with passion and i would not allow any team to defeat my team. The day that i was supposed to have my trials in the nearby community team, i was anxious about how i would be perceived by the local coach. to my surprise, the trials were good in terms of my game play. It was only after the medical examination results came out that I almost fainted. To my surprise, the numerous number of games that i had played passionately had some negative impacts on my body. A physiotherapist informed me that i could not continue playing football as I had suffered a mild concussion. In the event that I would continue playing, the chances of me worsening the already bad concision to my head would be immense and i may even get paralyzed. My world began to tremble as i had no idea of what to do with my life. It was the strong family relations that enabled me to view life from a different perspective and comprehend that life was not only about football. I am however, grateful that the problem was identified early since the repercussions would have been devastating.
Failure in life
In life, one has to go through lots of challenges and disappointments. I remember the day when I attented an interview for a very serious job. I had been jobless for several years, and this was the greatest opportunity for me to prove that I was the right person for the job. The interview was at 8:00 am morning. Therefore, I had to wake up by 6:00 am to prepare for the interview. By 7:00 am, I was on the way, unfortunately, the vehicle broke down, it took us 30 minutes to repair it. We had to speed off so that we can be able to reach the venue of the interview on time only to be arrested by the traffic police for overspeeding. and that how i failed.
Making the wrong decision
While growing up, I failed to understand why people ended up complaining about being disappointed in their lives. What I never knew is the fact that once in a while, those close to you will always come back to disappoint you. My case is neither an exception. I remember it was on a Sunday when one of my friends called me requesting for my assistance to drop them somewhere. Knowing that he did not have enough time given the fact that he was reading for his final examinations, I saw it as a good deed to offer the assistance. Before commencing the journey, we had to conduct the engine service to the vehicle we were using that being a change of oil. Once that was completed, we decided to commence on the journey not knowing that we did not follow instructions as given by the owner of the car. Later that evening on coming to explain the entire service proves to the owner of the car who happens to be my friend, and he started arguing stating that we should have called fast before doing the practice. To my surprise, I never understood with the fact that what we had done was favoring him. I ended up feeling disappointed in the manner in which my close friend took the situation. Ever since that day, I have lived regretting ever accepting to offer my help.
Worst Day Ever
Life had been tough for me when I was only sixteen and it felt like a thousand years. This was the time that I felt like I had a disappointment which would linger in my mind for two lifetimes. I was still young and I had an ocean of problems it felt like I was between the devil and the deep sea. At this time of my life a relative took me from school and took me home, and I found my mother's corpse lying on the sofa after she succumbed to food poisoning. Her death was suspicious because for a long time her in-laws were fighting over property which my father left behind for us. I had taken care of her two weeks before that fateful day when I was taken impromptu from school to see my mother. I felt so much disappointed because she was my only remaining parent and I had spend a lot of my holiday time taking care of her. I was certain she would be well. I banked my emotions and my hopes that she would be well. On this fateful I felt also disappointed in God. I did not know who to blame; whether the devil who took my mother, God for not taking care of her or me for going to school. When I saw her tears welled in my eyes and I begun to shiver. I started to shake her hoping that 'they'' were all wrong about her death. Reality eventually hit me so had, and as a child I had to learn to be strong and accept my sad reality. With time I have been able to feel better but my mother's sweet memories continue to linger in my mind. The only thing that gives me peace is that she is in a better place. That was my greatest disappointment and it feels like yesterday every other day.
Our custom writing service offers assistance with completing all kinds of academic assignments, even the most challenging ones. We have been helping thousands of students when pursuing their degrees. Feel free to get in touch with our support team anytime to order essay online. Our experts will start writing your paper as soon as you provide all the initial instructions. Your assignment will be completed by the deadline! Getting high grades is plain sailing with our professional assistance!
What a disappointment
Early in the morning, I woke up as usual. I had been running for six months every morning as exercise to keep my body fit. I took to my heels just from my door-step. The birds were chirping so happily in the trees as if they were thanking their creator for a new day they had seen. Only a few people in the estate were awake and I could here them especially in their kitchens dropping utensils here and there. Life was just so perfect and I was wondering how God created all these beings perfectly. I had been running for around twenty five minutes when I saw a group of four energetic men running just behind me. They all wore black track suits and grey caps. My heart felt warm and I knew they were surely after me. I ran faster and faster just after a corner. I felt my heart beating like a drum. The unknown guys increased their speed and so did I. I was in their hot pursuit for around thirty minutes when I felt I could go no more. I was completely exhausted and I decided to give up. I stood and put my hands up as the guys approached. Just when they approached I could see them smiling and I was shocked. They came to me thanking me for making a good pacesetter for them. They said they were in the army and lived in the nearby barracks. They laughed as they explained how they had a good exercise with me. I shouted at them that I almost lost my breath to their silly game but all they could do was laugh. I felt so disappointed that I felt like bombing them all. How could they use me as a training dog? What a disappointment!
Our writing service is ready to give you a helping hand whenever you require assistance with completing college assignments. We have an unsullied online reputation because our experts are real professionals ready to complete any assignment you need. Our ENL writers will help you boost your grades and get excellent academic success. Order custom paper and stop racking your brains on how to deal with a pile of assignments. Count on our qualified specialists and excel in studying! We'll help you cope with a huge chunk of work.
Disappointment examples
Disappointments, just like success stories, are part and parcel in the life of human kind. I have had several disappointments in life. However, the one which affected me greatly happened in 2002 when I received my final high school results. For three years, I was among the best students in class and this raised my expectations of passing with flying colors. The results were released and to my surprise, though I had passed, I was behind the government cut off line by one point. I was pressed between a rock and a hard ground as I was left to choose either to repeat the fourth year or to join the university as a self-sponsored student. Judging from our family's economic status, the self-sponsorship seemed a hard nut to crack. I also did not want to go back to high school. This situation affected me greatly as I always felt as if I was a loser. However, I decided to acquire a job as a restaurant cashier and through this, I managed to enroll myself in the university and helped my parents pay my school fees. Though I overcame and today I am a proud graduate of finance, the situation still lingers in my mind, and I still consider it the worst disappointment I ever had.
Cite this page
Disappointing Experience Essay: Features and Specifications of the Paper. (2018, Feb 05). Retrieved from https://speedypaper.com/essays/103-disappointment-essay-samples
Request Removal
If you are the original author of this essay and no longer wish to have it published on the SpeedyPaper website, please click below to request its removal: