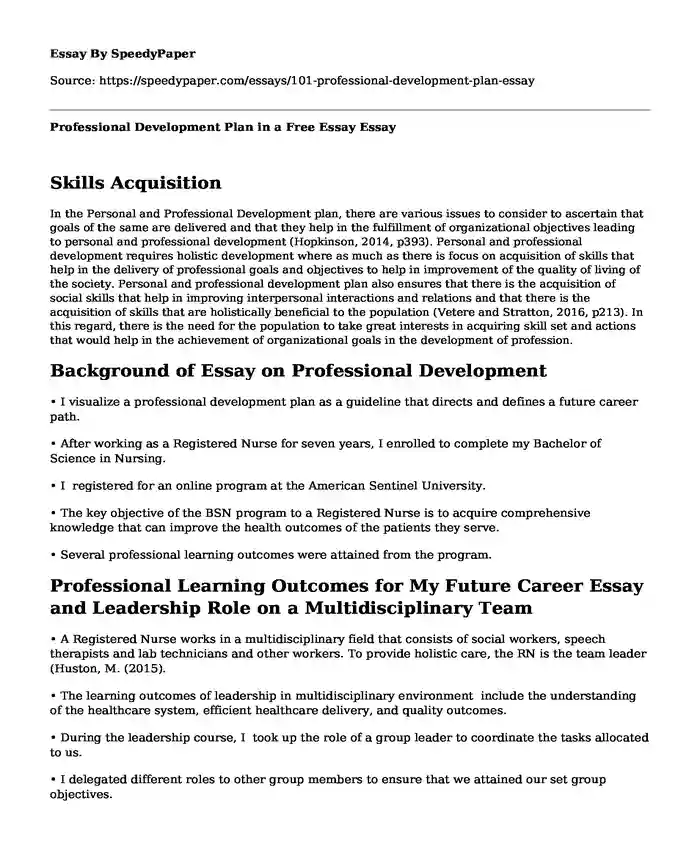 Skills Acquisition
In the Personal and Professional Development plan, there are various issues to consider to ascertain that goals of the same are delivered and that they help in the fulfillment of organizational objectives leading to personal and professional development (Hopkinson, 2014, p393). Personal and professional development requires holistic development where as much as there is focus on acquisition of skills that help in the delivery of professional goals and objectives to help in improvement of the quality of living of the society. Personal and professional development plan also ensures that there is the acquisition of social skills that help in improving interpersonal interactions and relations and that there is the acquisition of skills that are holistically beneficial to the population (Vetere and Stratton, 2016, p213). In this regard, there is the need for the population to take great interests in acquiring skill set and actions that would help in the achievement of organizational goals in the development of profession.
Background of Essay on Professional Development
• I visualize a professional development plan as a guideline that directs and defines a future career path.
• After working as a Registered Nurse for seven years, I enrolled to complete my Bachelor of Science in Nursing.
• I registered for an online program at the American Sentinel University.
• The key objective of the BSN program to a Registered Nurse is to acquire comprehensive knowledge that can improve the health outcomes of the patients they serve.
• Several professional learning outcomes were attained from the program.
Professional Learning Outcomes for My Future Career Essay and Leadership Role on a Multidisciplinary Team
• A Registered Nurse works in a multidisciplinary field that consists of social workers, speech therapists and lab technicians and other workers. To provide holistic care, the RN is the team leader (Huston, M. (2015).
• The learning outcomes of leadership in multidisciplinary environment include the understanding of the healthcare system, efficient healthcare delivery, and quality outcomes.
• During the leadership course, I took up the role of a group leader to coordinate the tasks allocated to us.
• I delegated different roles to other group members to ensure that we attained our set group objectives.
• I was also involved in a multidisciplinary team that investigated the techniques of improving the delivery of health services.
• I conducted a research on the significance of a multidisciplinary team in the delivery of quality health services.
Development of Nursing Research and Practice Capabilities
• The course illuminated the significance of Evidence-Based Practice (EBP).
• According to the ANA Standards (2010), it is important for nurses to integrate research and evidence in their work.
• The learning outcomes for the objectives include The application of the Evidence Based Practice in the nursing practice, ensuring credibility and providing accountability for best research.
• During the coursework, I conducted an investigation on how to use Evidence Best Practice in various nursing contexts and the barriers that affect the effective implementation of EBP.
• I was also involved in a group that examined how to improve the implementation of EBP in the emergency department.
• I also gained more understanding of EBP and how it can be integrated into my workplace. For instance, in making clinical decisions and how to implement patient-centered care.
Designing Care for Individuals, Groups, and Communities
• The course on Community and Public Health Nursing was essential in providing facts about designing care for individuals, groups, and communities.
• The learning outcomes of the course were centered on developing the most appropriate care for groups, individuals, and communities.
• During the coursework, I conducted an assessment on the health challenges that individuals, groups, and communities face. I took note of critical health challenges such as obesity, diabetes, and heart disease.
• I designed a care plan for patients with specific conditions such as diabetes. Such patients require the supply of insulin, education of how to manage the condition and nutritional follow-up.
• During the course, I also conducted community follow-ups for patients that I had encountered in my workplace.
• As disclosed by Shani et al. (2014), in their study, a follow-up for patients such as those with diabetes is essential in improving their health outcomes.
Health Promotion, Education of Families and Groups
• The program introduced me to the fact that health promotion and the education of families and groups is significant.
• During the community course, we conducted research about the most effective approaches to health promotion and education.
• We also made practical visits to the community to apply the strategies learned in class.
• I participated in a class discussion that examined how health promotion and education can eliminate disparity in the provision of health services for underserved populations.
Personal and professional development plan (PDP) is way in which a person sets out the goals, outcomes and strategies of either training or learning while working with their mentors, teachers or their supervisors. The same is of great importance as it ensures that a person conforms to professional program which one studies and that they meet the requirements of regulatory and statutory bodies about the continuing professional development (CPD) (Moon, 2013, p168). The same seeks to ensure that there is re-corroboration that a person is fit to practice and conforms to the professional frameworks for the benefit of the industry; this seeks to demonstrate professional standing thereby showing the way individuals work to conform to professional requirements to ensure that their profession are certifies and remain of credibility and authoritative. In personal and professional development plans, there is definition of time frames, outcomes and activities that help in the definition of goals, and specification of dates to help in reviewing meetings with supervisors, teachers and lien managers (Driessen and van Tartwijk, 2013, p196). Plans differ from one individual to another and learning activities includes a more diverse framework of structures among them being attending meetings, attending both formal and informal meetings, acquisition of new skills, making observations from colleagues, and development of new skills to help in meeting career goals.
Assessment of the learning needs of trainees and students is an activity that is carried out on daily basis, and the same is doe both formally and informally. Skills required to do the same is ingrained in the core characteristics of very competent teachers who have the ability to mentor trainees and students to acquire the relevant knowledge and information for the benefits of students (McLeod and Julia, 2014, p126). There are skills that teachers must have to be competent in mentoring students and help them acquire the right goals and fulfill organizational goals and one of them is empathy with students and trainees. Such deals with the ability of trainers and teachers to the communicate educational goals, develop the students and the desire to help students and trainers to make an improvement in their personal and professional skills (Hill et al., 2015, p76). Such proves that the trainers have quality in their daily roles and that they are people of integrity and they have the ability to deliver their goals.
The other characteristic of credible teachers who are able to instill the right skills on the students and learners is that they need to have relevant knowledge and skills on how to use diverse assessment tools towards the development of different skills in learners. The ability to use different tools makes it easy for trainers to employ various skills in the process of mentoring students (Swain, 2016, p121). Moreover, credible teachers need to have proper understanding of the curriculum, assessment of criteria and standards to help them to deliver goals of proper mentorship. Additionally, there is the need for the leaders to have the right expectations and performance of leaners that is based on learning outcomes so as to produce learners that have relevant skills and can achieve their personal and professional plans. The final characteristic of teachers that have the right competence is that they need to identify strengths and weaknesses of learners in accordance with outcomes and assessment criteria (Hopkinson, 2014, p394). This provides the opportunity for the mentors and trainers to advise learners how to achieve their goals in different ways to achieve their personal and professional goals.
Contents of PDP
In the development of personal and professional development plan, there are various issues to consider and ensure that the goals of the same are delivered for the development of a successful plan of an individual. The stages in the process of creation of both personal and professional development plan help in reflecting on previous activities and streamlining the next activities to make them conform to the personal and professional development plans (Vetere and Stratton, 2016, p217). In this manner, the same helps to evaluate leadership development and the focus on how training and development would help in the development of leadership attributes of the population. Creating a personal and professional development plan follows the stages below.
Stage 1 – Personal Analysis
This is the stage where there is the examination of strengths and weaknesses and the same relies heavily on one's career and how one's course have helped in the development of both personal and professional excellence. Additionally, the same are supplemented from the opportunities that a person has had and how the effects that such opportunities have helped in the improvement of a person's success and how it has helped exposed an individual to challenges in the professional world (Moon, 2013, p170). The goal of personal analysis is to examine the effect of a person's efforts in the delivery of professional goals and objectives.
Stage 2 – Setting Goals
In the stage of setting goals, there is the need to ensure that there are clear and well defined goals that can be achieved to achieve personal and professional development in an individual. The goals that have been set need to be measurable, realistic, and timely. In the process of setting goals, there is the need to identify such goals and make them practical to ascertain that they are achievable in their daily living conditions (Driessen and van Tartwijk, 2013, p199). To have the ease of setting workable and credible goals, students and trainers need to consult their immediate trainers on what they need to do to become successful in their plans and develop their professions the right way.
Stage 3 – Personal Objectives
The final stage, which the setting to personal objectives deals with the personal needs and plans of an individual and how the same affects the success of an individual in the process of delivery of organizational and professional success. It is a matter of great importance to acknowledge the fact that personal objectives greatly improve the ease of fulfillment of personal objectives in the society (Hill et al., 2015, p77).
As a professional, a career development plan has always been a great strategy to handle the challenges that come with the transition in career, particularly, the transition from a registered nurse, to a nurse practitioner. A well-crafted career development plan always helps one to go over their change in career successfully, knowing what to do at every level. With a profession development program, one can develop a curriculum vitae, have a professional development plan with regulations understanding, comprehend the scope of practice, conduct self-assessment, analysis of networking strategies, and have an elaboration of my career's growth (State Practice Environment, (n.d.).
Advanced Practice Nurses Scope of Practice
All state have differ in their Advanced Practice Nurses (APN) regulations. As an APN, one should seek a comprehensive understanding of the rules in the states where they practice. The regulations are classified as either limited, reduced or full practice (Nurse Practitioner Scope of Practice Laws, 2016). Often the key areas of variation are the academic or the practice milestones that one has to achieve to become an APN. It, therefore, defines the freedom that one has to become an APN (MacLellan, Levett-Jones, and Higgins, 2015).
For one to acquire an APN in Arkansas, one has to obtain a Registered Nurse license, a graduate degree, as well a national certification. These requirements are classified as a reduced practice for an APN professional. This translates to nurse practitioners having room to own self-directed clinics and also work with primary health providers. However, they must collaborate with physicians who are legally allowed to prescribe medication (Nurse Practitioner Scope of Practice Laws, 2016). Physical therapy, signing handicap permits, and issuing death certificates are some of the prescriptions that the NPs are legally authorized to make. In Arkansas, APN's work in collaboration with the physicians to have comprehensive patients care where they work as primary care providers. Having identified the different scope within which an APN may practice, APNs should be aware of the legislations regarding APNs in states they intend to practice.
Personal Professional Assessment
In accordance to Banner's self-assessment, I am starting as a novice in my practice. I have basic knowledge of my responsibilities but have no prior experience as an APN (Benner, 2001). I have trained and worked as a registered nurse, but I am yet to get any experience as a nurse practitioner. However, I have worked with nurse practitioners on a personal basis in office visits but am yet to work along one. The knowledge that I have in this field is from the knowledge gained so far in my Master's degree.
In answering questions in Banner's model, intend to focus my skills work with pediatrician patients, prescription of medication, and building relationships with my patients and support staff. I am yet to familiarize myself with the skill sets of APN, but I am excited to learn and apply the skills in different fields (Benner, 2001). More so I am excited to extend my health care services to pediatric patients because I have not had the chance to familiarize myself with pediatric care. It is my anticipation to manage and form a panel of patient's care where I will assign them individuals who will look into their challenges more keenly. I intend to the kind of primary care provider who is well aware of the impact of my actions while rendering health care. I look forward to training the patients on who to carry out a personal care in the management of their care at home.
Among my worries is a mistreatment or a misdiagnosis of my patients. An even bigger fear is the patients not responding well to my treatment or my approach towards patient care. I hope to gain long life relationships with patients and skills will continue to develop as I continue to work. Beyond building a career, I hope to create a life that I will be excited to move into daily.
My approach towards the new position is first to understand my responsibilities within the first month. I intend to star with an entirely new mindset as my role changes from a registered nursing to an advanced nurse practitioner. I hope to create a self-understanding within the new working environment and start developing a sense of patient's panel. Eventually, I hope to be an asset to the facility and begin to see more patients. I look forward to gaining a better understanding of medical prescriptions and in the remainder of the year build a better personal understanding. I purpose to grow from a novice to an advanced beginner.
Networking and Marketing Strategies
Career networking today has shifted from the traditional strategies to dependence on online platforms such as personal websites, LinkedIn, Facebook and Twitter (Kaplan Baron, 2013). Employers today depend on online sources of information while hiring making it necessary to exploit web platforms for personal advertising. Often there are local and national postings employment advertisements for APN. However, these positions are highly competitive necessitating for individuals to exploit any edge that would present a comparative advantage. Strategic online marketing can help with this which has been found to eliminate job searches completely. It is done by creating professional online accounts with video resumes to help stand out from competitors for the same position. LinkedIn in profiles makes it possible for employees to keep in touch with employers and colleagues. It also keeps employers updated with the advancement one makes in the development of their career.
Social media accounts also present a reliable platform to inform potential employers with the information on the development of the career. Twitter, Facebook, and Google + account have functionalities for reporting on one's career and qualifications (Kaplan Baron, 2013). Employers today access the information of potential employees based on the information they provide to this accounts. It reveals the great importance that they accrue to this accounts making it necessary to present the updated certifications on this platforms.
Often, the employers do need to make requisition on the applications rather; they carry out an online assessment of the potential employees' information on such platforms. This makes it necessary for me to create and update my qualifications along with the video on a personal channel on YouTube as well as the other accounts. Professionality is of importance while making the updates since they depict one's persona (Kaplan Baron, 2013).
Employment opportunities can be found on newspapers adverts, online job postings on AdvancedPractice.jobs.com, nursepractitionerjobs.com, monster.com and indeed.com. These are easily accessible avenues to start a job search. They are often is dictated by the understanding of the standard procedures followed while hiring an APN. For instance, APNs with a family practice have the liberty to work in different capacities including hospitals and clinics. They may also have their clinics but must have a physician to prescribe medication (Kaplan Baron, 2013).
Conclusion
After carrying out an assessment of this plan along with the requirements of my careers transition, I feel more focused and confident in moving forward to the transition. Often the early stages of transition are iconized by enthusiasm, focus on skills mastery as well as optimism, however, this translates to anxiety (MacLellan, Levett-Jones, and Higgins, 2015). It is a normal feeling uneasy but it will not stop my process of transition rather I will be guided by this plan through the confusion. An understanding of the scope of practice and the regulation of practice makes it easy to begin the transition having come up with networking strategies and developed a career development plan.
Cite this page
Professional Development Plan in a Free Essay. (2018, Apr 10). Retrieved from https://speedypaper.com/essays/101-professional-development-plan-essay
Request Removal
If you are the original author of this essay and no longer wish to have it published on the SpeedyPaper website, please click below to request its removal: