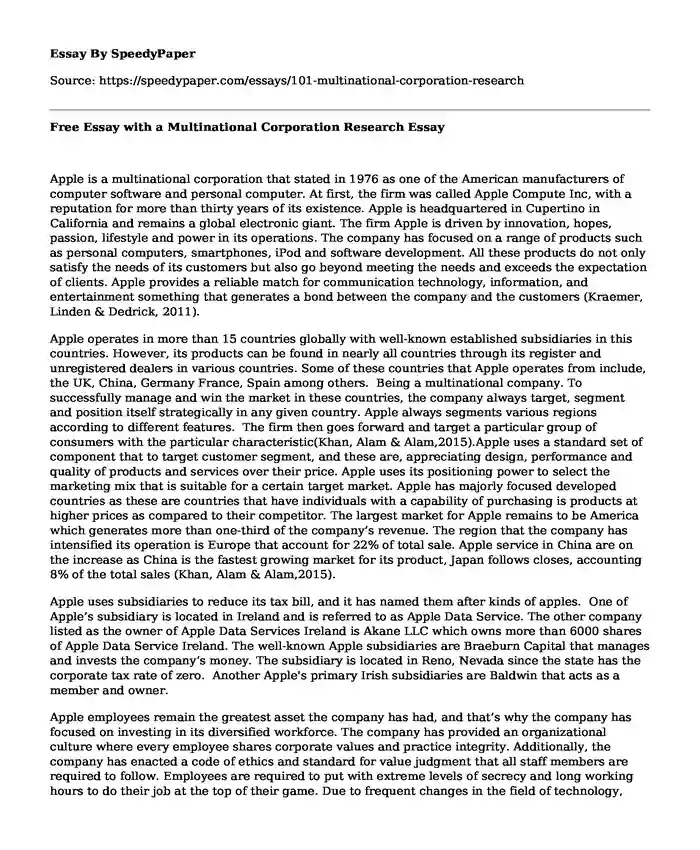 Apple is a multinational corporation that stated in 1976 as one of the American manufacturers of computer software and personal computer. At first, the firm was called Apple Compute Inc, with a reputation for more than thirty years of its existence. Apple is headquartered in Cupertino in California and remains a global electronic giant. The firm Apple is driven by innovation, hopes, passion, lifestyle and power in its operations. The company has focused on a range of products such as personal computers, smartphones, iPod and software development. All these products do not only satisfy the needs of its customers but also go beyond meeting the needs and exceeds the expectation of clients. Apple provides a reliable match for communication technology, information, and entertainment something that generates a bond between the company and the customers (Kraemer, Linden & Dedrick, 2011).
Apple operates in more than 15 countries globally with well-known established subsidiaries in this countries. However, its products can be found in nearly all countries through its register and unregistered dealers in various countries. Some of these countries that Apple operates from include, the UK, China, Germany France, Spain among others. Being a multinational company. To successfully manage and win the market in these countries, the company always target, segment and position itself strategically in any given country. Apple always segments various regions according to different features. The firm then goes forward and target a particular group of consumers with the particular characteristic(Khan, Alam & Alam,2015).Apple uses a standard set of component that to target customer segment, and these are, appreciating design, performance and quality of products and services over their price. Apple uses its positioning power to select the marketing mix that is suitable for a certain target market. Apple has majorly focused developed countries as these are countries that have individuals with a capability of purchasing is products at higher prices as compared to their competitor. The largest market for Apple remains to be America which generates more than one-third of the company's revenue. The region that the company has intensified its operation is Europe that account for 22% of total sale. Apple service in China are on the increase as China is the fastest growing market for its product, Japan follows closes, accounting 8% of the total sales (Khan, Alam & Alam,2015).
Apple uses subsidiaries to reduce its tax bill, and it has named them after kinds of apples. One of Apple's subsidiary is located in Ireland and is referred to as Apple Data Service. The other company listed as the owner of Apple Data Services Ireland is Akane LLC which owns more than 6000 shares of Apple Data Service Ireland. The well-known Apple subsidiaries are Braeburn Capital that manages and invests the company's money. The subsidiary is located in Reno, Nevada since the state has the corporate tax rate of zero. Another Apple's primary Irish subsidiaries are Baldwin that acts as a member and owner.
Apple employees remain the greatest asset the company has had, and that's why the company has focused on investing in its diversified workforce. The company has provided an organizational culture where every employee shares corporate values and practice integrity. Additionally, the company has enacted a code of ethics and standard for value judgment that all staff members are required to follow. Employees are required to put with extreme levels of secrecy and long working hours to do their job at the top of their game. Due to frequent changes in the field of technology, Apple takes most of its employees on a various global workshop and for further studies (Khan, Alam,& Alam,2015).
From this research, it is evident that products from Multinational Corporation are regarded of high quality regardless of their market price. A multinational corporation such as Apple is the reputable company that has explored various regions all over the world due to its quality product. Also, the product is retailing at high prices as compared to other same products from different manufacturers.
Trying to buy any given products from various manufacturers that are not well known is hard. Some of these companies such as Apple have invested a lot it trying to understand the consumer behavior before coming up with some of their products. Most of this product lacked one or two things that I was looking for. Also, the seller of this product could not explain exactly some of it feature as the user guide was complicated. The product I was trying to buy was a smartphone and I could not by it considering that it had even no warranty. The name of the manufacturer could not be even recognized by anyone, and some of the phones feature appeared just on the box but not on the handset itself. This were some of the reasons I could that made me not to purchase that phone. Also, most of my friends have smartphones from companies such as Samsung, Apple and I asked myself, whom we I consult if I had a problem with that phone? If it was Samsung, at least I know so many Samsung users that can help me in case am not able to operate various features on the phone.
The thing I learned is that consumers requires safety and security while buying products, and to achieve this, they always want to buy from a reputable manufacturer. Also, if consumers realize that a particular product is commonly used by other, they will go for the same as they will feel secure than buying a different brand from others.
References
Khan, U. A., Alam, M. N., & Alam, S. (2015). A Critical Analysis of Internal and External Environment of Apple Inc. International Journal of Economics, Commerce, and Management, 3(6), 955-961.
Kraemer, K., Linden, G., & Dedrick, J. (2011). Capturing value in Global Networks: Apple's iPad and iPhone. University of California, Irvine, University of California, Berkeley, y Syracuse University, NY. http://pcic. Merage. UCI. Edu/papers/2011/value_iPad_iPhone. pdf. Consultado el, 15.
Cite this page
Free Essay with a Multinational Corporation Research. (2019, May 06). Retrieved from https://speedypaper.com/essays/101-multinational-corporation-research
Request Removal
If you are the original author of this essay and no longer wish to have it published on the SpeedyPaper website, please click below to request its removal: