B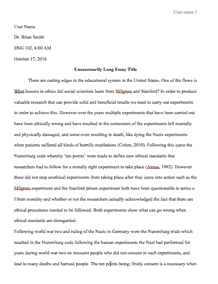 University/College:
Sewanee University of the South
This essay has been submitted by a student. This is not an example of the work written by our professional essay writers.
The argumentative essay template model elements of hook, thesis and list of supportive reasons offered an insight on how to defend the pros and cons of a certain class work learning concepts and activities. The argumentative essay template model can also be used to defend some real-life situations and activities. For example, in a real life situation such as taking political stands, the hook can be used to draw the attention of the listener. Through the hook, the speaker can convince the listener on the relevance of the topic to the listener, and pull their interest to speak. The thesis element can be used to initiate a stand, questionable stand that the listener can easily accept or refute. For example, when taking a stand or thesis regarding the political debate, the speaker should be eloquent enough so that the listener can choose easily either to defend or accept to side with the debate. Through the reasons element, the speaker can offer three basic reasons on why they take a certain political stand. In real life, most politicians who rely on the argumentative essay template model wins their debate and are able to pull more electorate to their side. For example, former president barrack Obama mastery of use of rhetoric speech elements was in line with the argumentative essay template model.
Need a paper on the same topic?
We will write it for you from scratch!
Request Removal
If you are the original author of this essay and no longer wish to have it published on the SpeedyPaper website, please click below to request its removal: