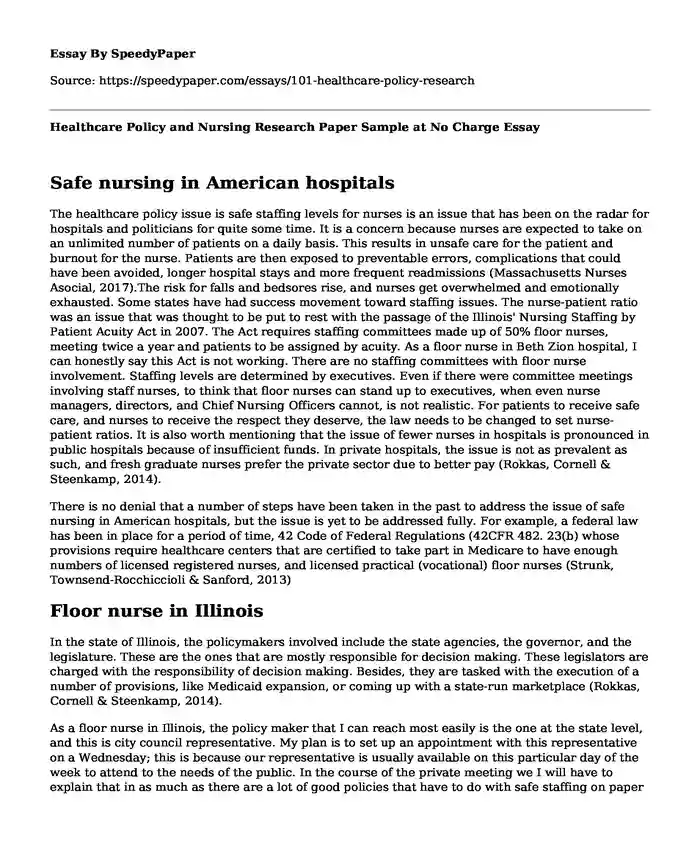 Safe nursing in American hospitals
The healthcare policy issue is safe staffing levels for nurses is an issue that has been on the radar for hospitals and politicians for quite some time. It is a concern because nurses are expected to take on an unlimited number of patients on a daily basis. This results in unsafe care for the patient and burnout for the nurse. Patients are then exposed to preventable errors, complications that could have been avoided, longer hospital stays and more frequent readmissions (Massachusetts Nurses Asocial, 2017).The risk for falls and bedsores rise, and nurses get overwhelmed and emotionally exhausted. Some states have had success movement toward staffing issues. The nurse-patient ratio was an issue that was thought to be put to rest with the passage of the Illinois' Nursing Staffing by Patient Acuity Act in 2007. The Act requires staffing committees made up of 50% floor nurses, meeting twice a year and patients to be assigned by acuity. As a floor nurse in Beth Zion hospital, I can honestly say this Act is not working. There are no staffing committees with floor nurse involvement. Staffing levels are determined by executives. Even if there were committee meetings involving staff nurses, to think that floor nurses can stand up to executives, when even nurse managers, directors, and Chief Nursing Officers cannot, is not realistic. For patients to receive safe care, and nurses to receive the respect they deserve, the law needs to be changed to set nurse-patient ratios. It is also worth mentioning that the issue of fewer nurses in hospitals is pronounced in public hospitals because of insufficient funds. In private hospitals, the issue is not as prevalent as such, and fresh graduate nurses prefer the private sector due to better pay (Rokkas, Cornell & Steenkamp, 2014).
There is no denial that a number of steps have been taken in the past to address the issue of safe nursing in American hospitals, but the issue is yet to be addressed fully. For example, a federal law has been in place for a period of time, 42 Code of Federal Regulations (42CFR 482. 23(b) whose provisions require healthcare centers that are certified to take part in Medicare to have enough numbers of licensed registered nurses, and licensed practical (vocational) floor nurses (Strunk, Townsend-Rocchiccioli & Sanford, 2013)
Floor nurse in Illinois
In the state of Illinois, the policymakers involved include the state agencies, the governor, and the legislature. These are the ones that are mostly responsible for decision making. These legislators are charged with the responsibility of decision making. Besides, they are tasked with the execution of a number of provisions, like Medicaid expansion, or coming up with a state-run marketplace (Rokkas, Cornell & Steenkamp, 2014).
As a floor nurse in Illinois, the policy maker that I can reach most easily is the one at the state level, and this is city council representative. My plan is to set up an appointment with this representative on a Wednesday; this is because our representative is usually available on this particular day of the week to attend to the needs of the public. In the course of the private meeting we I will have to explain that in as much as there are a lot of good policies that have to do with safe staffing on paper i.e. in the constitution, the situation is not the same on the ground. My plea to the politician would revolve around the need to make the nursing profession much more impacting to the American populace (Khamisa, Oldenburg, Peltzer &Ilic, 2015).
There is usually a long line of people that look to meet with the city council representative whenever he is in his office. If I just have a talk with him he is probably going to forget our conversation; I wouldn't have a lasting impression on the representative. So on top of talking to him, I would leave him with a letter that would highlight the pertinent issues that we as nurses face in the course of our practice. The letter would also urge him to make sure that there is a reiteration in Congress regarding the issue of safe staffing and advocacy on all the current policy issues (Cowen & Moorhead, 2014). What's more, I would make a point of taking the phone number of the politician and ask to call him every once in a while to keep tabs on progress; his email would also come in handy because I would not want to call all the time and be perceived as some cold caller trying to do marketing.
American health officials
The city council representative is looking to use his tenure in office well so that he may be re-elected next time. I proposed to him an offer that he would not refuse. What I affirmed to him is that if he made sure he would table the plight of nurses such as me in parliament, I would see to it that I rally support for him among all my nurse and physician friends in Illinois and beyond. Besides, if he needed signatures from the nurses in support of the motion, I would like the first to sign. All the representative had to do was to make sure the bill on staffing and wages was tabled in parliament; an offer that he would not have refused (Cherry & Jacob, 2016).
If the visit and presentation are successful, the politician will take to heart whatever it is that I told him regarding increasing the number of nurses in public health care institutions and raising the salaries of the said nurses so that working in the public sector becomes more appealing. It would also be successful if the politician perceives, through my presentation, that it is in his best interest to follow up and present the issues of nurses in Congress and the Senate; if anything, it will help him to get more votes from this particular faction of American laborers (Cowen & Moorhead, 2014).
There has been a lot of disgruntlement among American health officials regarding the amount of money the country budget allocates to matters of healthcare; pertinent issues such as the wages and salaries paid to nurses. All this issues I will present to the legislator and conduct a follow up with the expectation that everything will be better. Some critics have gone as far as blaming the government for committing a lot of money to the military and forgetting the basic needs of Americans and their health care provisions. It would be very much helpful if the politician I got finds a chance to talk to make sure that the issues I raised revolving around better staffing practices and remuneration are tabled at Congress. From then on there will be more awareness of what America needs. At the moment, the presidency of the United States is looking to conduct a complete overhaul of the Medicare and Medicaid systems; this should be done with better policies in mind for the American nurses and people. Policies that will address all the pertinent issues in healthcare would have to put into consideration the issues faced by the providers of the said health care; nurses are the key drivers of health care provision.
References
Cherry, B., & Jacob, S. R. (2016). Contemporary nursing: Issues, trends, & management. Elsevier Health Sciences.
Cowen, P. S., & Moorhead, S. (2014). Current issues in nursing. Elsevier Health Sciences.
Khamisa, N., Oldenburg, B., Peltzer, K., &Ilic, D. (2015). Work related stress, burnout, job satisfaction and general health of nurses. International journal of environmental research and public health, 12(1), 652-666.
Rokkas, P., Cornell, V., & Steenkamp, M. (2014). Disaster preparedness and response: Challenges for Australian public health nursestA literature review. Nursing & health sciences, 16(1), 60-66.
Strunk, J. A., Townsend-Rocchiccioli, J., & Sanford, J. T. (2013). The aging Hispanic in America: Challenges for nurses in a stressed health care environment. Medsurg Nursing, 22(1), 45.
Cite this page
Healthcare Policy and Nursing Research Paper Sample at No Charge. (2018, Oct 22). Retrieved from https://speedypaper.com/essays/101-healthcare-policy-research
Request Removal
If you are the original author of this essay and no longer wish to have it published on the SpeedyPaper website, please click below to request its removal: